Best Seat in the House
Lifelong Fenway fan Daveson Pérez, BS '15, is living the dream as manager of baseball communications and media relations for the Boston Red Sox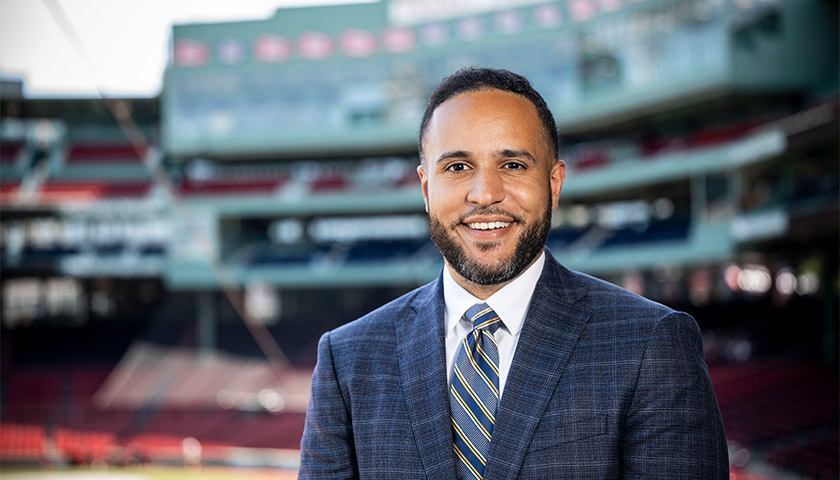 Daveson Pérez, BS '15, was 6 years old when he fell in love—with baseball and Fenway Park.
"My parents took me to my first game on my birthday, and I was hooked right away," he says of that memorable day. "I remember being so short that I had to stand on my seat to see the game."
Fast forward 24 years and Pérez now has one the best seats in the house.
As manager of baseball communications and media relations for the Boston Red Sox, he has a commanding view of all the action inside America's most beloved ballpark. Working for his hometown major league team is "a once-in-a-lifetime opportunity," he says. "It's given me a lot of pinch-me moments," including the chance to work with boyhood heroes like David Ortiz and an on-field view of the final game of the historic 2018 World Series.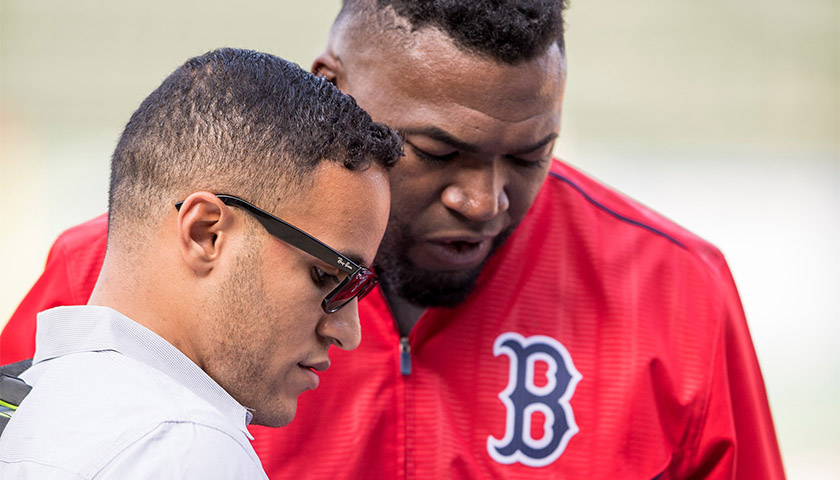 In his media relations capacity, Pérez spends games in the press box or the clubhouse, fielding questions from members of the media and setting up interviews with players before and after each game. It's a role that demands lots of quick decision-making and the ability to "tactfully deliver both good and bad news to people," says Pérez, "A lot of what I and my colleagues do is manage personalities, learning how best to work with players on the team and individuals throughout the organization."
In his baseball communications role, Pérez works closely with the team's marketing department to amplify and promote the brands of the player's and the organization as a whole. "Community events, fashion, real estate—we're always looking for new areas and platforms to explore," he says.
A great communicator
Pérez, who grew up in Boston, played center field as a student at both Boston Latin Academy and Dedham High School. One of the things he most appreciates about the game, he says, is its relative parity, particularly in the pros. "In baseball, any team can win it all from year to year. And any player, no matter their size, can make it to the big leagues."
At Suffolk, Pérez majored in broadcast journalism, honing his skills as co-producer of "Clash of the Rams," the University's official sports talk show; as a production intern at Studio 73, Suffolk's on-campus television studio; and as a reporter for Suffolk in the City, where students get on-air experience through a partnership with New England Cable News.
Beyond learning how to write, put a story together, and feel comfortable in front of the camera, Pérez discovered "how to meet deadlines and operate with a sense of urgency." Suffolk professors, he adds, "always pushed us to do things the right way."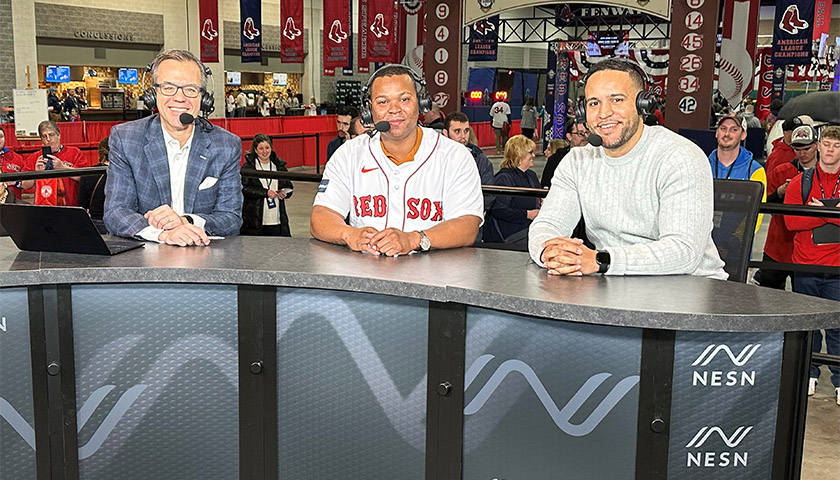 One of those faculty members can still remember Pérez's excitement the first time he walked into the Suffolk TV studio. "He wanted to learn everything he could, and those are the students who I love and want to see succeed," says Jerry Glendye, director of broadcast facilities for the College of Arts & Sciences. "Daveson's biggest strength is that he is a great communicator. He's bilingual and just so genuine when it comes to talking with people."
Pérez started his professional career as a freelance photographer for Univision Boston. In 2016, he began his first stint with the Red Sox as a media relations assistant, expanding the team's Spanish social media accounts and serving as a translator for Hispanic players during local and national interviews. He went on to work as a sports reporter/anchor at WAGM-TV in Presque Isle, Maine, and as a sports director for an ABC affiliate in Peoria, Illinois. He rejoined the Sox in 2022.
This spring, Suffolk University honored Pérez with its 10 Under 10 award, which recognizes graduates from the past ten years who are making major contributions in their field and in the community.
Pérez—who met his wife, Casey (Waldron) Pérez, BSBA '16, at Suffolk—called his award a "manifestation" of the hard work and sacrifices of his parents, Juan and Esperanza Pérez, "two Dominican immigrants who came to this country wanting a better life" for Daveson and his two brothers.
Most days, Pérez says he takes a moment to look out his office window, still a little amazed to find himself at Fenway. "For a kid who grew up in this wonderful city as a big Red Sox fan, this job means the world to me," he says. "There is nothing better than being around the ballpark doing something you love."