Man With a Mission
For Suffolk administrator and US Army veteran Kevin Barthelemy, building community is the mission—a lesson he learned during his ten years in the military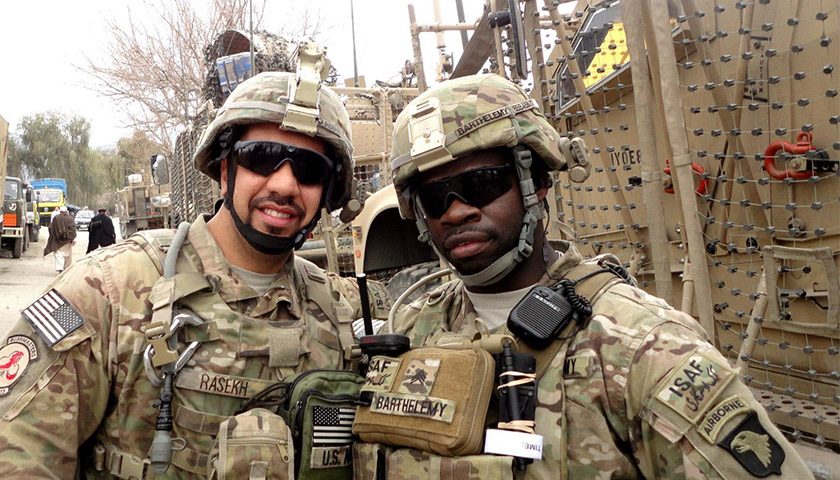 If there's one thing Kevin Barthelemy, BSBA '17, MBA '23, took from his time in the military, it's that he always completes the mission.
Whether he's serving as associate director of Off-Campus Housing and helping Suffolk students navigate Boston's housing market, or advising fellow veterans looking for homes, or simply lending an ear to someone after a busy day, Barthelemy is constantly uplifting those around him. That sense of dedication grows out of the 10 years he spent serving in three different branches of the military.
"My time in the military shaped me," says Barthelemy, who left the army as a staff sergeant and was awarded a Purple Heart for his service in Afghanistan.
This Veterans Day, Barthelemy wants to lift up veterans' experiences, both at Suffolk and in the greater community.
"Every veteran is different. A lot of us put in blood, sweat, and tears, and we've seen our fellow brothers and sisters not make it back home," he says. Recognizing those sacrifices, he adds, is an essential way to honor veterans for their service.
"Veterans get to live our lives and continue on. We're living for others who didn't get that chance, and some carry guilt as a result," he says.
'There was always room for growth'
A Boston native, Barthelemy enlisted with the US Air Force Reserves immediately after high school, with plans to get his college degree after earning his veteran status. Barthelemy says he always had a desire to be an active-duty soldier. When he discovered the air force wasn't the most direct way to accomplish this, he took advantage of an option that allows service members to transfer their remaining time to another branch, serving first as a reservist in the US Navy and then enlisting as an active-duty soldier in the US Army.
"I loved the army because I liked what I did and believed in the missions that we were on," Barthelemy explains. "In the army, there was always room for growth."
His six-and-a-half years in the army added up to a powerful education.
"You know the saying, 'from boy to man'? That's what the army does," he says. "You start thinking about things differently because in certain situations, it is life or death. You know you can't play around."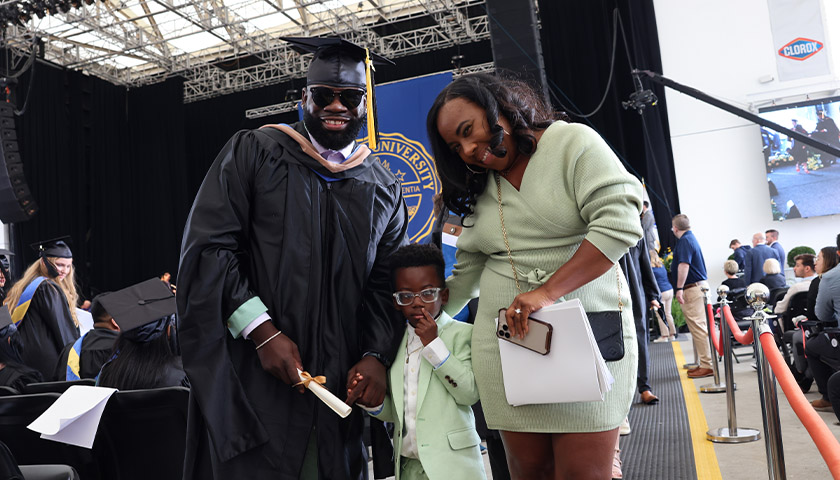 Assigned to the 101st Airbourne Division at Fort Campbell, Kentucky, Barthelemy volunteered for every class and opportunity he could, and quickly climbed to the rank of staff sergeant.
Barthelemy's first of two deployments brought him to the Korengal Valley of Afghanistan from 2010 until 2011. As a rifleman and long-range shooter, he served in various roles, including SAW gunner and vehicle turret gunner. An injury in the line of duty sidelined him; it also earned him a Purple Heart. Returning to the front lines, he served as a platoon radio telephone operator conducting battalion-level missions and air-assault operations.
Barthelemy utilized the leadership skills he developed on his first deployment on his second tour from 2012 to 2013, when he served as a noncommissioned officer working with company leaders to plan missions and maintain troops in the field. Later, he landed back on the battlefield, serving as a squad leader overseeing nine soldiers and $2 million in military equipment.
As a leader, Barthelemy says he led from the front and tried his best to inspire those he served with to complete the operations they were tasked with.
'Giving back to the community that raised me educationally'
Following his retirement from the service, Barthelemy set his eyes on his next mission: a college education. He enrolled at Suffolk, earning his undergraduate degree in marketing, followed next by a paralegal certificate and then his MBA. Barthelemy says he chose Suffolk because he considered it "the most veteran friendly school in the state," citing the University's participation in the federal Yellow Ribbon Program, which provides GI Bill benefits to eligible veterans, and support from the Veterans Services Office.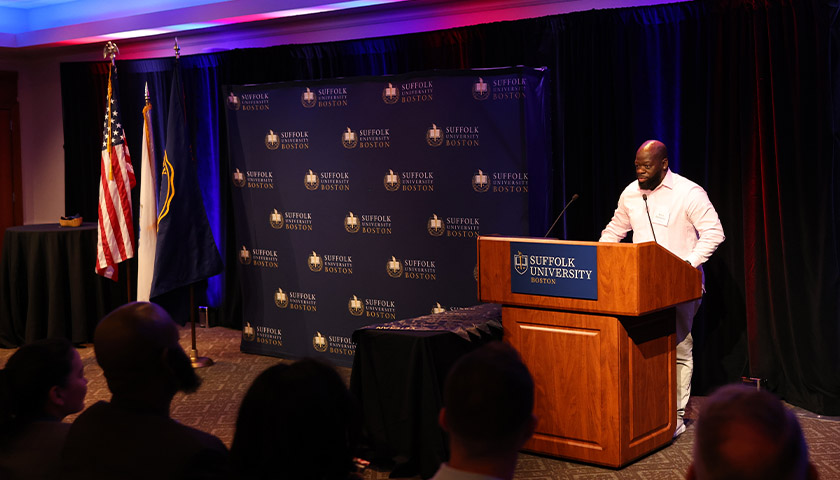 The work ethic, discipline, and leadership skills he learned in the army have served him well as both a student and now as a professional, he says.
As a student, he became involved with the Veteran Student Association and as a graduate student, served as a fellow with Veterans Services.
Now, as the associate director of Off-Campus Housing, Barthelemy is a vital resource for the roughly 50% of Suffolk students who live in the surrounding community. He compares working with students preparing to move off campus to working with new soldiers in the army.
"When soldiers first come in, privates don't know how to do certain things and you have to teach them," he explains. Barthelemy aims to do the same thing for students moving off campus, teaching them how to find housing and adjust to living independently.
To Barthelemy, this is his way of "giving back to the community that raised me educationally."
Barthelemy's transition to civilian life was, he says, relatively smooth, because he plotted a path for himself. Not that it was always easy: He battled both depression and PTSD. But he learned his triggers and how to cope with them.
This Veterans Day, he wants to emphasize that for some veterans the transition to civilian life can take years. Not all veterans' struggles are the same, he adds, nor are they visible.
While Barthelemy's mission has changed since his time in the military, he still holds his community close to his heart.
"Suffolk is ingrained in me, like the army—now it's like home," he says. "I get to help students as best as I possibly can."