Suffolk inducts its inaugural first-generation honor society class as part of a weeklong celebration of first-gen college students
Suffolk University capped its annual First Generation Week celebration on November 9 with a very special first: its first-ever induction ceremony into Tri-Alpha, the national honor society for first-gen college students.
Seventy-four students and 10 faculty and staff members were inducted into Suffolk's Eta Theta chapter of Tri-Alpha.
The recognition, said Lisa Rivera, Suffolk's first director of first-generation student initiatives, was richly deserved. "It is such a pleasure and honor for us to be holding this ceremony for you, for all of the things you have accomplished and for the things that you continue to do," she told the audience.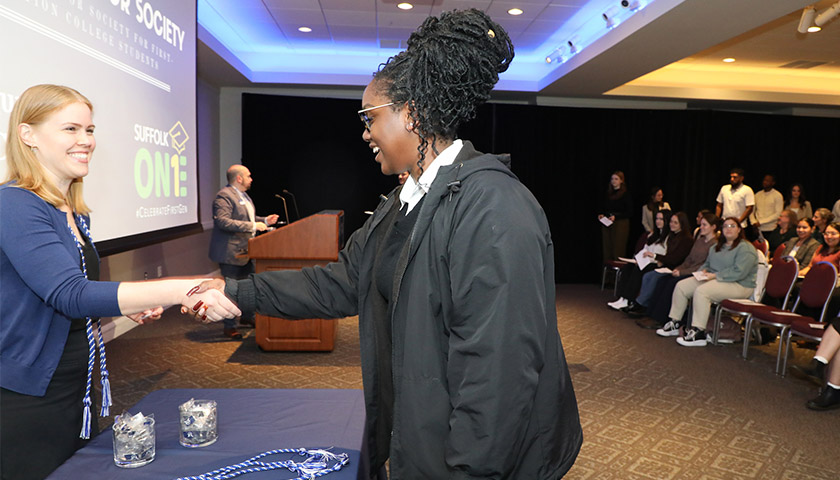 During the ceremony, inductees were awarded Tri-Alpha membership certificates and pins bearing the honor society's logo: a star in the center of several concentric circles, each representing the various communities that members belong to. The star represents the first-gen students themselves, lighting the way for others to follow their lead into higher education.
'Worthy of belonging'
Areta Odiah, a junior honors broadcast journalism major who is minoring in public relations, said she joined the society as a way to connect more deeply with the first-gen community.
"Just seeing that there are people here that I recognize that are first gen makes me feel seen," she said. "It makes me feel like I can have a community to rely on."
Odiah hopes to help other first-gen students, and students who might not yet know they are considered fist-gen, learn more about Tri-Alpha and all of the resources it can offer to them.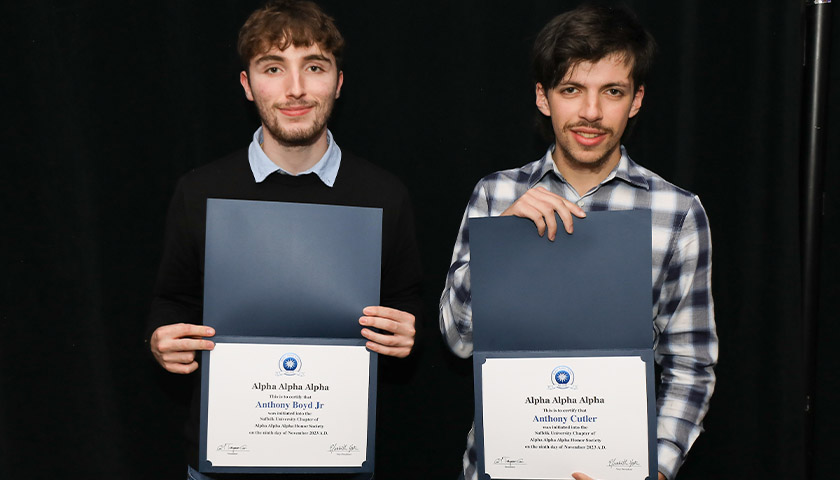 Nayellie Estrella, a senior sociology major and philosophy and law double minor, became emotional during the induction ceremony, remembering how hard she and her parents worked to figure out the college application process, complete the FAFSA form, and pay for her education. She said she hopes to pave the way for her younger siblings and inspire them to pursue higher education.
"As a first-generation student who is also a minority, it's difficult to combat the imposter syndrome that comes with pursuing higher education," she said. Sometimes, she added, it's even "difficult to believe that the education I'm pursuing is meant for me and that I am allowed to have this knowledge."
"Acknowledging that we are worthy of belonging in spaces like this is no small feat," she said. "I hope I can continue to share my experiences and validate those of other first-gen students."
Ready to take risks
The Tri-Alpha chapter will be led by co-advisor and chemistry professor Kelsey Stocker, herself a first-gen student, and will host social activities during the spring semester.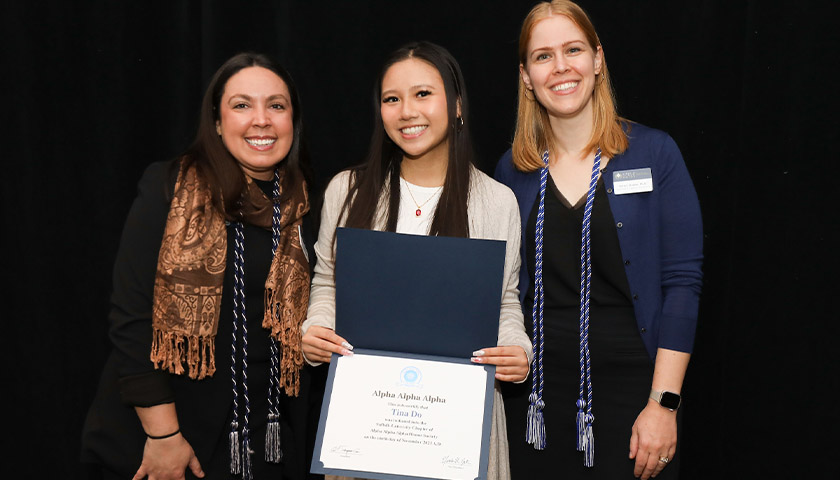 "From an early age my parents emphasized the importance of education and always supported my academic interests," Stocker said. "Looking back, I really appreciate the risks that being a first-generation college student empowered me to take.
"Being a first-generation college student and graduate student really taught me the power of mentoring relationships at every step in my higher education as I moved further into uncharted territory," Stocker said. "One of my greatest joys is to now be in a position to mentor the next generation of first-generation college students who are ready to take risks and make the most out of college."
The induction ceremony was the culmination of a weeklong series of events hosted by the Center for First-Generation & Educational Equity, including a kick-off event exploring the Center's new "I am the ONE who…" campaign, a special edition of the "Chew on This" panel discussion series featuring BIPOC and first-gen students, a luncheon event for first-gen faculty and staff, and an open talent night.