Spending the semester reviewing and translating materials from French Resistance members wasn't just an opportunity for Greg Fortier to put his language skills to the test. It was a chance to connect with his grandparents. His grandfather served in the Navy during World War II, while his grandmother made rubber boats in Rhode Island. For Fortier, there was something special about being able to study the conflict on a deeper level.
Since early January, Fortier has spent hours going through interviews of female French Resistance members conducted in French by Professor Emerita Margaret Collins Weitz for her book Sisters in the Resistance. His work includes creating English-language summaries of the interviews, cataloging documents, and translating select interviews into English.
Women's personal stories of Resistance
Armed with little more than their wits, these women risked their lives as couriers, spies, printers, medics, and arms smugglers.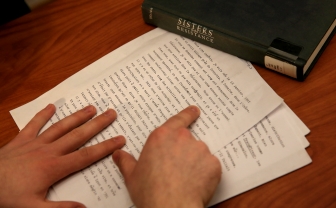 Lucienne Gozenac had to assume a new name after she gave her identification papers to a Jewish girl to protect her from the concentration camps. She worked in a printing shop that published many of the underground newspapers disseminating accurate information to the French populace and was the sole survivor of a Vichy raid on the print shop.
Anne-Marie Soucellier's interview highlights the dangerous work of couriers: "When people say that this was only liaison work, they forgot how dangerous it was. You could be arrested twenty times a day because you went to twenty mail drops." Arrest often resulted in torture and deportation to the concentration camps such as Ravensbrück.
Fortier has been working on this long-term project with history Professor Patricia Reeve and archivists Julia Howington and Jessica Sedgwick of the Moakley Archive and Institute.
Revealing historical evidence
The project offers an opportunity to illuminate an important but little-known historical narrative and to make these primary resources available for Suffolk courses.
"This is not a part of World War II which is well known," says Fortier, a French and international relations double major, who is Reeve's research assistant. "What these women (of the French Resistance) did was incredible. You get to see another aspect of World War II."
Fortier's project is part of an ongoing collaboration between College of Arts & Sciences faculty, Sawyer Library reference librarians, and archivists from the Moakley Archive and Institute to create Open Educational Resources. The collaboration began last fall and its goal is to develop inquiry-based educational materials—grounded in the primary sources available through the Moakley Archive and Institute--that can be used to develop research and critical thinking skills in students.
Fortier's work is the first step for a potentially longer project. Howington says that the archive will be applying for a grant to translate and digitize Weitz's materials, from interviews to correspondence. The goal is to make the materials available to researchers, either online or through the reading room. Fortier's project is an example of the special types of research that can come out of The Moakley Archive and Institute, according to Howington.
"This project is essential to our work at Suffolk and to our educational mission," she says.
"By integrating our collections into the curriculum in meaningful ways, we hope to introduce faculty and students to new and engaging resources.