Update: Students began attending class in the new 20 Somerset academic building as the fall semester began on the evening of September 8, and a ceremonial ribbon cutting celebrated the addition to the Suffolk campus the following afternoon.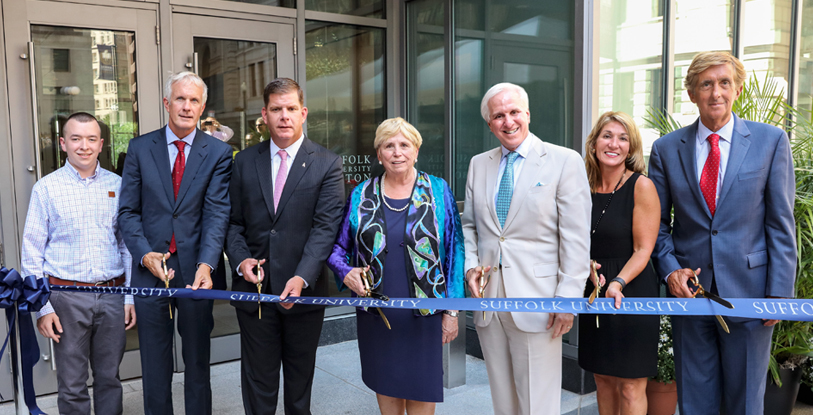 Collaborative learning is the focus of Suffolk University's innovative new academic building opening for the fall semester at 20 Somerset St.
Suffolk President Margaret McKenna will officiate at a ribbon-cutting ceremony to be held at 2 p.m. Wednesday, Sept. 9, on the adjacent Roemer Plaza, which has been newly renovated by the University as a gathering space for the campus community and neighbors. Boston Mayor Marty Walsh and Massachusetts Lt. Gov. Karyn Polito will take part in the celebration.
Students will lead tours of Suffolk's light-filled academic home, which features team-based learning environments, specialized science classrooms, media production and editing suites, and more. The building was designed to provide students with a learning environment that connects them more closely with faculty and peers for a collaborative and interactive approach to scholarship. It also puts an increased emphasis on science teaching, in line with the University's focus on preparing graduates for careers in the Massachusetts life sciences industry. And 20 Somerset was planned with attention to sustainable design, construction and operation, with the aim of attaining LEED Silver certification.
Education and careers
"This facility supports Suffolk University's focus on providing students with the broad knowledge and the specific skills they need to influence a changing world, whether that's through public policy, the sciences, business, communications or other areas," said McKenna, who joined the University this summer and heads a leadership team that includes new deans in the College of Arts & Sciences and Law School. "The academic building is perfectly situated and designed to help Suffolk students prepare for the needs of emerging industries and to respond to the changing needs of the community."
Suffolk professors worked closely on design concepts with NBBJ, the award-winning architectural firm that designed the building.
Encouraging teamwork in the sciences
"Architects talked with us about how we teach, good teaching strategies and what's good for the students," said Professor Rachael Kipp, chair of the Chemistry and Biochemistry Department. "The faculty in every science discipline asked for a more team-based atmosphere."
Science is the focus of the top four floors at 20 Somerset, and the building incorporates the latest design ideas about configuring science classrooms.
"These labs emphasize teamwork and team learning, so they give our students a chance to really practice the skills they will need on the job, no matter what discipline they're in," said Kipp. "The way the old labs were configured, the students were isolated; they worked by themselves. Here, everybody is brought together, and that's the future of education in science."
Peer learning
Government Department Chair and Associate Professor Rachael Cobb said the space is perfect for students working in committees as part of congressional simulations.
"There's a real dynamism to the kind of learning that this space encourages," Cobb said. "These classrooms encourage students to get up, walk around, go to the whiteboard and talk with each other about ideas. One of the things that we know is that students often learn difficult concepts from each other better than they learn them from a professor. This will enable that kind of concept building."
Professional setting
For government majors and graduate students, the building's location is "absolutely perfect," she said. "It is a quick walk to the State House, the attorney general's office, all of the executive agencies, the interest groups, lobbying firms, non-profits, advocacy organizations. All of them have internships and opportunities for our students and opportunities where our students can go watch, study and learn."
Unifying the Suffolk campus
Where Suffolk buildings were once scattered across Beacon Hill, the University now has a core campus: the 20 Somerset Building looks across Roemer Plaza to the Sawyer Building, which is adjacent to Miller Hall and steps from 73 Tremont St., where the main library for the colleges and departmental and administrative offices are housed.
Built for learning
With a student body made up of resident and commuter students, Suffolk University puts particular emphasis on bringing together students traveling different paths. The 20 Somerset building was configured to promote community.
"We've sprinkled lounge spaces from the ground floor all the way to the top, basically internalizing what you would call a student center," said interior designer Elyse Ayoung of NBBJ. "There are whiteboards on every floor at the lobby spaces so that teaching is always on display. There's always this running theme of education happening, even when a class is not in session. So we're always trying to make sure that the students are engaging with each other and with the faculty."
Building community
Biology major Brandon Smolarek, Class of 2016, appreciates that the new academic building brings unity within Suffolk's downtown setting.
"It's bringing everything together and it will feel a lot more like a campus," he said. "And this building is more open, with lots of windows and natural light. There's seating everywhere, and if you want to stop and recap a lesson on the marker board right outside of class, you're not bothering anybody. I think it's going to be a lot better learning environment."
Cobb said that the light-filled open staircases and the nooks and crannies throughout the building provide opportunities "to pull over to the side and have a quick sit-down or a longer conversation. There's just a lot of opportunity now for connecting with each other in a way that we couldn't previously do. Space matters to community building."
Neighborhood involvement
The University worked closely with the community as it planned the building and reconfigured the downtown campus.
"The University appreciates the efforts made by our Beacon Hill neighbors and city and state officials throughout the process of siting and designing 20 Somerset and the adjacent plaza," said Senior Vice President of External Affairs John Nucci. "Their feedback helped us plan and build a facility that will enhance our students' education while augmenting the neighborhood environment."