Student Teachers Learn Priceless Lessons in Vietnam
Trip confirms undergraduates' plans to work overseas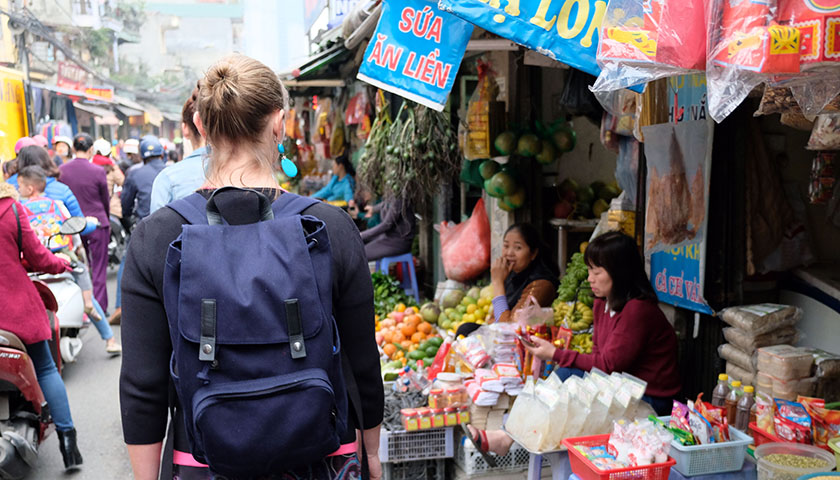 Two weeks before Spring Break, eight Suffolk students learned they'd be traveling halfway around the world from snow-covered Boston to humid Hanoi for a whirlwind week of student teaching. They set out with their newly-obtained VISAs, a few helpful Vietnamese conversational phrases, and teaching theories they'd learned but never practiced. They returned with a wealth of experience and, for some, a passion for teaching abroad.
Full cultural immersion
The students are enrolled in the Teachers of English to Speakers of Other Languages (TESOL) certificate program, which offers international teaching preparation and opportunities to work with international students studying in the United States. The Hanoi trip fulfilled the program's practicum requirement, as students worked with a wide variety of English language learners throughout the week.
Funds from the Rosenberg Institute for East Asian Studies helped defray the students' travel costs, making the life-changing trip possible on short notice. Travel scholarships from the Rosenberg Institute have allowed Suffolk students to study in Cambodia, China, Hong Kong, India, Japan, Korea, Singapore, Taiwan, and Vietnam.
Benjamin Mimoso's family experience spurred an enduring interest in how non-native speakers learn English. His father grew up in a Portuguese-speaking community in New Bedford, Massachusetts, and learned English at school. Mimoso, Class of 2019, a history major, wants to teach English as a second language overseas before pursuing a career as a history teacher. The trip to Vietnam was his first time leaving the United States.
"I thought I'd be uncomfortable and in culture shock," he says. "Instead, I fell in love with everything quickly. We weren't in tourist areas. We were riding motorbikes through the city, and little kids would shout 'hello' from the backs of their bikes."
Gaining classroom experience
For Georgia Bourikas, Class of 2018, the trip was a chance to have a fully immersive cultural experience before graduation. Bourikas is a fine arts major and all-star basketball player for the Suffolk Rams whose year-round practice and game schedule precluded a traditional study abroad semester.
Although she has worked as a teaching assistant in the Art & Design Department's printmaking shop, Bourikas had never before been in charge of a classroom. That changed as she and her classmates planned for and taught English lessons to Vietnamese students ranging in age from 18 months to 45 years-old.
"Working with little kids is very difficult, but they were remarkable. Three-year-olds could have little conversations with us in English already, telling time, counting, sharing emotions," says Mimoso.
Bourikas and Mimoso teamed up to present a conversational English class on clothing and shopping to a group of first-year students at Hanoi University. The experience gave them practice with crafting and presenting a lesson and also led to valuable cultural exchange with their peers.
"They wanted to know about American culture -- like are we obsessed with superheroes? -- and we talked about the differences in our schools. We became Facebook friends," says Bourikas.
One common bond was music, says Mimoso, who noted that a love for the rapper Jay-Z knows no geographical bounds.
The director of the Golden Key Language School, which provides English-language instruction for students of all ages, hosted the Suffolk students. And although the students spent long days teaching and many evenings lesson planning, they were able to experience some of the sights -- and tastes -- of Vietnam.
Bourikas and Mimoso both enjoyed the country's food culture, which included everything from a wide array of vegetarian options for Mimoso to a feel-good start to their kindergarten teaching day preparing a hot breakfasts for the kids.
They visited temples and waited in a silent, winding line for three hours to enter the Ho Chi Minh Mausoleum, one of Vietnam's most popular and revered sites.
A trip outside the city to Vietnam's oldest pottery workshop showed the students another side of Vietnamese life and made a big impression on fine arts major Bourikas, who reveled in watching the delicate hand-painting by skilled craftspeople.
Lasting lessons
Working with students in Vietnam has reaffirmed Mimoso's plans to pursue a teaching career. "It was interesting to see how another culture teaches," he said. "Taking the positive and negative lessons from that will make me a better teacher."
Running wildly different classes each day was an eye-opening trial by fire for Bourikas:
"I learned that it's never a good idea to fly by the seat of your pants. Prepare, and be ready to handle the things that can go wrong. As a teacher you need to have a bag of tricks and be able to improvise. If I want to teach, now I know I can do it."