Healthcare from the Inside
MHA graduate students experience different sides of the Boston medical scene during summer internships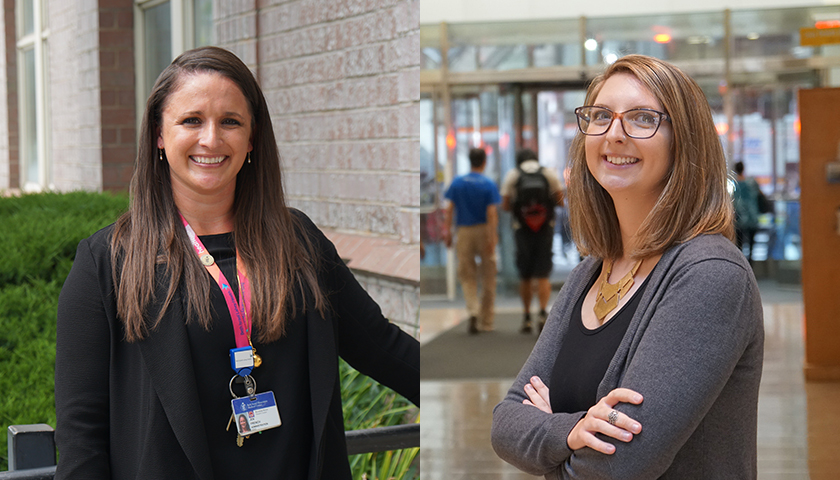 Boston is arguably the center of the healthcare universe, not just in the United States but quite possibly in the world. The combination of world-class hospitals, leading medical schools, a multibillion dollar biotech/health sciences industry, and cutting-edge public policy make the Boston metro area very influential when it comes to healthcare.
That means that Suffolk students in the Master of Healthcare Administration (MHA) program have numerous opportunities for internships that span the Boston healthcare spectrum, from large teaching hospitals to small community health centers. Two students in the MHA program recently gained valuable experience and knowledge through internships with two very different kinds of healthcare organizations.
In the community
Jen French is very familiar with Bowdoin Street Health Center (BSHC) in Dorchester, Massachusetts. She's worked on its Community Health team for ten years and currently oversees its Wellness Center, which has numerous offerings, including exercise programs, weight training, a community garden, and even a demonstration kitchen.
But French wanted to deepen her knowledge of how the center operates and how its systems work. So with the support of the Center's executive director, Philly Laptiste, MHA '12, French used her internship to start working on the clinical side, looking for ways BSHC could improve its delivery of care.
"I've always really liked the idea of system integration," says French, "so it's been nice to transition from a programmatic focus to the clinical side. I know enough about it to know what I'm doing, but I'm still a fresh set of eyes. I really do like the excruciating details and organization needed."
French worked on numerous projects, everything from triaging patient calls to prepping for accreditation visits to streamlining the onboarding process for new hires.
"I really like the idea of cutting down wasted time in systems and in the flow of things: To create a few more hours in the day where people can take care of more patients," says French. "I've been fortunate that I've been given lot of freedom to come up with ideas, present them to the team, and pilot them."
In the hospital
At Tufts Medical Center, one of Bri Lemkin's responsibilities in the Department of Rheumatology, Allergy, and Immunology was to implement a pilot study for a virtual interactive portal called Patient Pathfinder, which helps patients streamline and set goals for their treatment process.
"The advantage of the portal is that it helps patients have a clear understanding of what they want to talk about during a clinical visit—to not miss anything, not forget anything, and not talk about things that aren't necessary to talk about at that specific appointment," explains Lemkin, who worked directly with patients to figure out how to improve the portal and then reported to the company that created the application.
She also did research for a business plan, worked on a provider scheduling project, and shadowed a team in primary care.
"The internship definitely gave me a hands-on perspective on what it would be like to work on the administrative side, especially in operations specifically," said Lemkin. "But I think I'm going to move more toward the operations/management side of addiction studies. I'm definitely considering that as my career objective now."
Contact
Greg Gatlin
Office of Public Affairs
617-573-8428
Ben Hall
Office of Public Affairs
617-573-8092