The historian's craft
History students heard firsthand accounts of Vietnam-era military service and protests, challenges facing women in academia, and how Suffolk University has evolved over time, all while gaining experience as public historians by conducting oral history interviews with eminent Suffolk retirees.
The interviews were the culmination of an effort to preserve the personal narratives that bring Suffolk's history alive.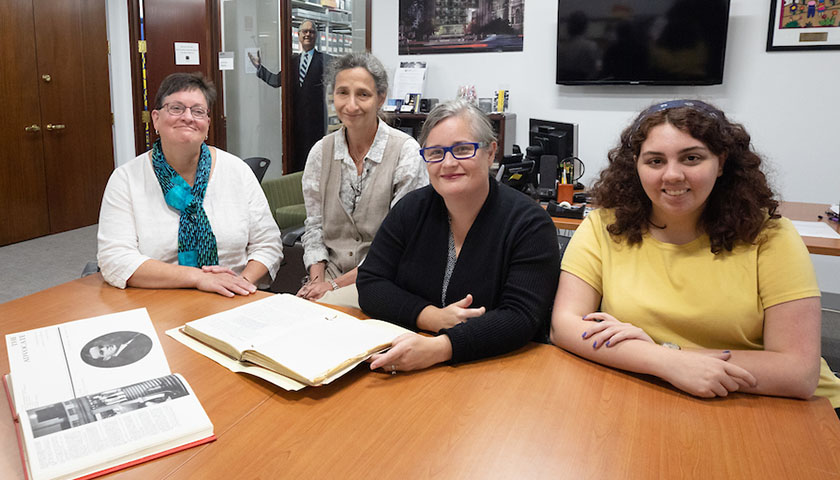 "We have history books full of facts about the institution. What you need for a full picture is the stories and the different perspectives," says Nancy Stoll, who retired as dean of students in 2016.
Suffolk was an integral part of Stoll's life for nearly three decades, and she found she wasn't ready to completely disconnect at retirement. One way she is staying involved is by reviving a University oral history project begun years ago.
Stoll found strong support from Suffolk President Marisa Kelly, who proposed that students be involved and helped arrange for training sessions.
Historical thinking & digital experience
The vehicle for the oral history project was the History Department's methods class, "Gateway to the Past: The Historian's Craft." The required course "introduces history majors to historical thinking and research," says Professor Patricia Reeve, the department chair and course instructor.
"By and large the interviews felt very positive. The retiree subjects were pleased to be doing something that engaged them with students once again."

—Professor Patricia Reeve
The course initially focused on a written research paper but has evolved over time.
"For job seeking it's better to have digital communication experience," says Reeve. Students have produced online exhibits, podcasts, and more. The videotaped, transcribed, and archived oral histories add another area of digital expertise.
"The students used oral history as a way of knowledge production," says Reeve. "They learned interview and research skills. By time they were ready to conduct interviews, they knew their subjects cold."
Getting to know you
Chianna Calafiore and her team spent a good amount of time in the University's Moakley Archive looking at Government Department newsletters and other material as they prepared to interview Government Professor Emeritus John Berg.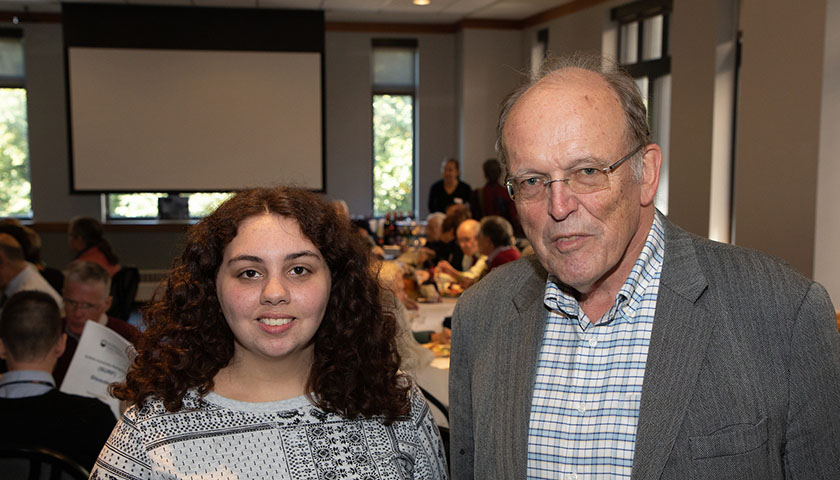 University Archivist Julia Howington was a big help, says Calafiore. "We listened to other oral history interviews to see what worked and what didn't."
Despite an initial case of nerves, Calafiore soon realized that "it's a conversation among a few people. I love talking to people, so I was excited to do this."
On teaching and learning
During his interview, Berg observes that a student could read books and journals in a library to glean most of the material learned in college courses, but "you have the course because you wouldn't do that otherwise. And maybe you need an explanation of some things."
He says that most faculty prepare for their courses and research through library work. "You don't necessarily get somebody to teach you. You learn, right?"
"What we're trying to teach is how to learn, how to channel that process… .You have to sort of understand what a student wants to learn and why they want to learn it and how you can help that and continually remind yourself that the point isn't to make sure they learn a particular set of things that you have in mind from the beginning. …Their motivation is more important than telling them what they have to learn."
Hitting the mark
Any student jitters about videotaping the oral history interviews were soon put to rest by the subjects.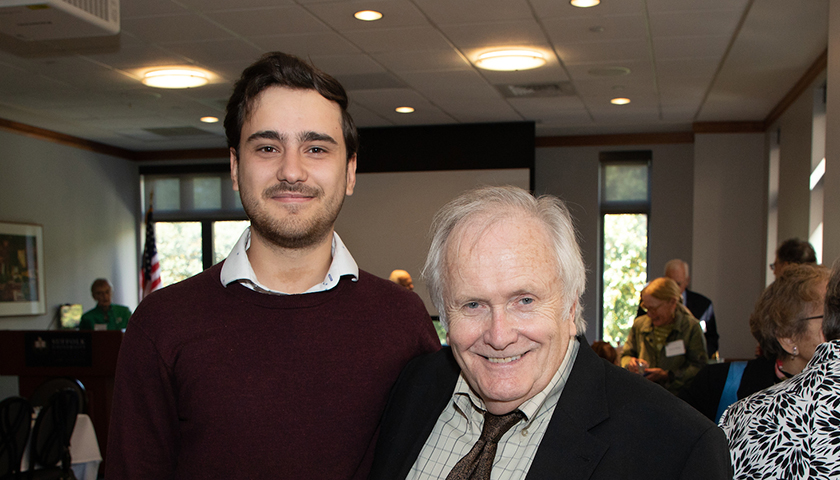 Danail Koychev and his research group had spent a semester studying oral history methods and delving into the career and poetry of English Professor Emeritus Fred Marchant. Koychev's initial nervousness melted away in talking with the poet, who "was very friendly, very enthusiastic. Everybody was pretty comfortable, including him."
A question from student Bertha De Valle-Diaz stunned and delighted Marchant.
Q: "There is a line from 'Tipping Point' that took our attention, where you say, 'I told him I did not belong to any nation on earth.'…Could you explain what you meant by that?"

Fred Marchant: "I really want to thank you so much, all of you. First of all, that you read the work, and that you should go to that line. I mean I have chills, okay. …You're the first persons who have asked me about that line. And it's one of my most cherished lines in my poetry."
Marchant explained that the particular line of poetry Diaz had asked about stemmed from his time in the military during the Vietnam War. After much soul-searching, he had applied for conscientious objector status and, during an interview with a general, had answered a question about his principles with the words that later appeared in the poem. He explained what he meant by the words:
"I was saying, I didn't belong to the nation…I wasn't owned by it. I was going to make this decision on the basis of what I thought was right," says Marchant.
Filling in the blanks
Yvonne Dhimitri, who loves research, says Reeve's class was one of her favorites from her time at Suffolk.
"This was different than other research projects, because we had the actual person to talk to, to fill in the blanks from the research we did," says Dhimitri, Class of 2019, who was part of the team interviewing Stoll. "It was an enjoyable experience."
Stoll echoed the sentiment—saying it was "enjoyable to look back over the years and reminisce" about the Student Affairs Office's evolution, her role in its development, and "the satisfaction and success that came along with it."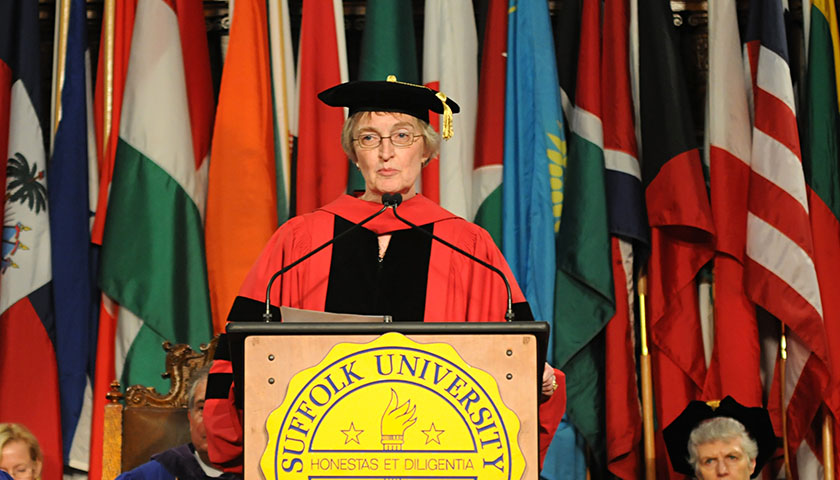 Suffolk was a commuter school when Stoll became dean of students in 1987, with most students working and tending to obligations at home.
"The concept of trying to build some community amongst the student population was a real challenge," Stoll told her interviewers.
Dhimitri, who had met Stoll twice before the former dean retired, says the interview left her impressed by all that Stoll had accomplished.
"She built so many programs at Suffolk," says Dhimitri. "She started the Performing Arts Office, She created a residence life program in 18 months: Suffolk went from a commuter school to opening residence halls in just 18 months, and she was ready."
"Some of the greatest joys I had were the direct contacts with students and watching them grow and blossom and really take advantage of what they could get out of Suffolk."
Stoll relished the challenges that came with change.
"Being able to create a residential life program from scratch is something that most people in the student affairs world don't get to do because it is just not that common that institutions go through that change," she says.
"We opened 150 Tremont, which is now Smith Hall. ...And then Miller [Hall] came along and then 10 West and then the Modern. And so I had my own hard hat because we were building residence halls through that whole time. My staff got me my own hard hat with "Nancy" on it so I would always have it for construction projects. I got to know a lot about building residence halls.…"
Balancing courtesy & discovery
Berg has never flinched from discussing his antiwar efforts as a doctoral student at Harvard, but Calafiore and her team were a little shy about bringing it up during his oral history interview. However, Berg brought it up himself.
"I had been involved as one of the leaders [when students] actually took over the administration building at Harvard. And eventually I was suspended from Harvard and then continued to speak on campus despite orders not to. And so they eventually prosecuted me for assault and battery on the dean of Harvard College. And we were quite radical. We…were convicted and sentenced to nine months in the Middlesex County House of Correction. The jury was shocked. …I'd sort of held the dean by his elbow and walked him out of the building. But no one had ever…gotten prison time for assault and battery when there was no injury before in the history of Massachusetts."
In addition to Marchant, Stoll and Berg, the 13 students in Reeve's class interviewed former Athletics Director James "Jim" Nelson and Professors Emerita Martha Richmond and Margaret Collins-Weitz.
Forever Suffolk's "Coach"
In his oral history, Nelson describes his early life, including his time at Boston College, where he played basketball with the legendary Bob Cousy. He discusses the growth of Suffolk University, the evolution of the
Athletics Department
, and notable sports highlights.
Q: "The students, the other faculty, they call you Coach. What does that mean to you, that you have that kind of persona around campus, even to this day?"

Jim Nelson: "Well, I'm honored by it. …You know, a coach is a teacher. A coach is a mentor. A coach is a lifelong friend. And, obviously, from my very first years here at Suffolk University, those individuals are still my friends. And when I meet the individuals, former players, they're forever eighteen to twenty-two years of age in my eyes. You know, because that's when I really knew them the most…So, for me, the coach kind of brings it all together, that they're forever not my players, in some regard, by extension, they're my children as well."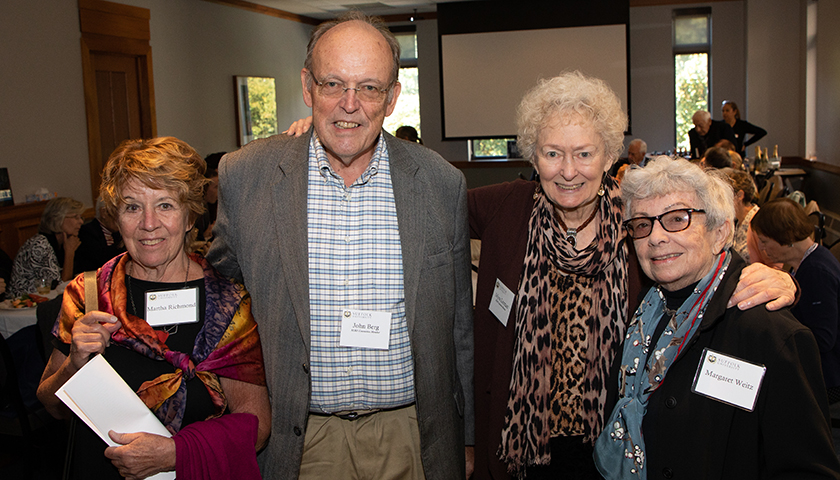 "Mansplaining" in science
Richmond, who taught biochemistry and was director of the environmental studies program, discusses her experience as a woman in the field of science, changes in her field, and the evolution of Suffolk's science program. She also discusses her retirement and her post-Suffolk work.
"In those days, and...to some extent right now, too, women are still discouraged from going into the so-called STEM fields as though we lack an innate neuron somewhere that makes it possible for us to be good scientists….I liked the beauty of science...I liked the idea of mastering something that explained a lot of phenomena to me….I think there's still a lot of mansplaining. I've actually gone to meetings and counted the number of times women's questions are answered as frequently as men's. And surprisingly still, it's less."
Balancing work and studies
Weitz, former chair of the Humanities and Modern Languages Department, discusses her nontraditional path into academia. For six years she attended college full time from 6:30 to 10 p.m. four nights a week while working full-time in retail. She compares this experience to that of Suffolk's working students.
She eventually earned a Ph.D. from Harvard. Weitz also tells of her Fulbright experiences in France, which inspired her seminal research into women in the French Resistance.
"The French have noncompulsory childcare. It starts at six months. …And then, from two and a half on, they have what they call an École Maternelle. …By age four, ninety-some percent of French children are in these schools whether the mother works or not… .And I had three kids in this little French town, a fishing village. …I found out about it from somebody and applied. …That was the first time I really felt part of France, or French people. I got to know them because we shared our children. …One day, they said to me: 'Well, Madame…tell us about the École Maternelle in the States.' And I said, 'Well, we don't have them.' You know, consternation. 'What do American women do?' And a very good question…."
A growing oral history collection
Reeve will offer the oral history component in her methods course again in spring 2019, and she will train retirees to conduct the interviews with one another to keep the project going.
"These interviews add new perspectives to an existing oral history collection that includes 42 interviews with faculty, staff, and alumni," says Howington.
All interviews have been added to the University's Moakley Archive for long-term preservation, and Calafiore, who works part-time with Howington, helped prepare the transcripts, which were around 40 pages long.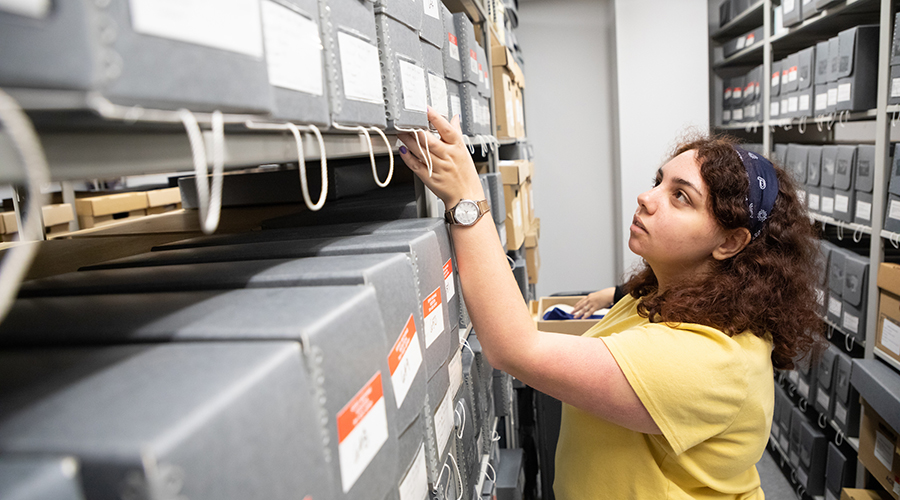 "I had to listen to each oral history three times" to check and recheck the transcribed text, says Calafiore. "It's different than editing an essay."
She also helped Howington write letters to the subjects asking them to approve the transcriptions. The experience has influenced her goal of working in a library or archive after completing her Suffolk degree.
Transcripts and recordings are online at the Moakley Archive's Digital Collections site, which includes additional historical resources such as University publications and photographs.