'Be Intentional. Be Present.'
Words of advice and affirmation from the 'Massachusetts Women Leading the Way' Luncheon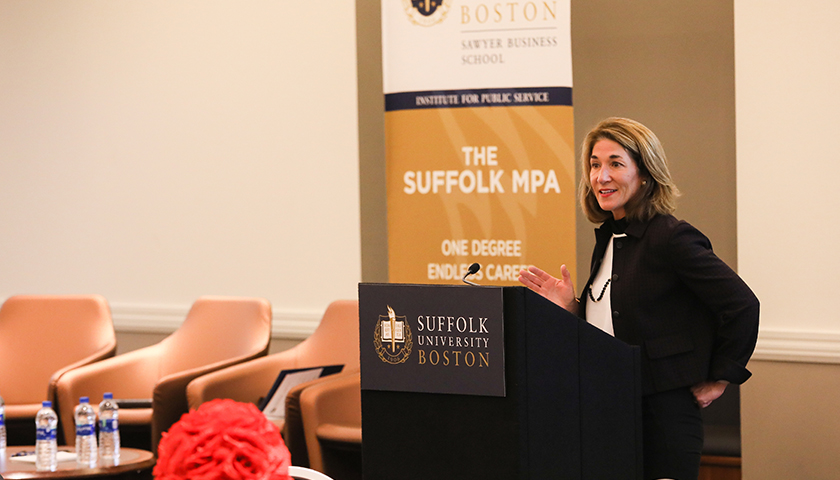 It just so happened to be the birthday of suffragist Elizabeth Cady Stanton when seven Massachusetts women leaders gathered at Suffolk to share advice and anecdotes about their journeys to success at the second annual "Massachusetts Women Leading the Way" luncheon, hosted by the Sawyer Business School's Institute for Public Service.
Stanton was a key figure in the 1848 Seneca Falls Convention, considered the first women's rights convention in the United States, and the luncheon was a fitting echo of that historic meeting.
"We need to be intentional"
"We have to support each other and figure out ways to get more women involved at many levels," said Lt. Gov. Karyn Polito in the keynote address. She described her public service path from selectwoman in Shrewsbury, Mass., to 11th Worcester district state representative to the Governor's office and noted how significant the "Women Leading" luncheon is.
"It's so important that you keep this going. You have to be intentional about how to support women in our community," Polito said.
Suffolk Professor Sonia Alleyne, MPA '01, moderated a wide-ranging panel discussion that kept returning to the common theme of women helping women achieve success.
Key points
Gabrielle King Morse, President and CEO, Center for Women and Enterprise (CWE)
In her work at CWE and her previous roles at other nonprofits, Morse strives to help women understand "the crazy rules" society has created when it comes to finding money for college or starting a business. "These women are super passionate and super knowledgeable. They're going to make it happen," Morse said. "All we're doing is helping them find confidence—because we all need that."
Massachusetts State Rep. Liz Miranda, D-Roxbury
In her remarks, Miranda talked about the challenges of growing up in Dudley Square and the culture shock that came when she was a student at Wellesley College.
"Going there for four years showed me a lot about what economic injustice looks like. I was a public-school student, and when I got to campus everyone asked me, 'Where did you go to school?' And I would say, 'O'Bryant School of Mathematics & Science! Yay!' And everyone is, like, 'Where's that?'" Miranda said to huge laughs. "It was the first time I'd met women of color whose parents were doctors and lawyers. I had to grow into a woman who appreciated being from Roxbury and appreciated having a working-class family."
Her biggest advice: "Learn to be teachable."
Philly Laptiste, MHA '12, Executive Director, Bowdoin Street Health Center
Suffolk alumna and Business School lecturer Philly Laptiste told a riveting story about how she came to work at Bowdoin Street: it started when her 1-year-old daughter was a patient there. Laptiste, a second-generation resident of the Bowdoin-Geneva neighborhood in Boston, had never been to the health center before. But she was so impressed with the care and attention paid to her daughter that, looking for a new job, she took the health manager position that happened to be open at Bowdoin. Her advice for supporting others: "Always say thank you. That means so much. And don't burn any bridges: Relationships matter." (Laptiste journey as a Suffolk student.)
"As a student at Wellesley, it was the first time I'd met women of color whose parents were doctors and lawyers. I had to grow into a woman who appreciated being from Roxbury and appreciated having a working class family."
Liz Miranda
Massachusetts State Representative, D-Roxbury
Jackie Glenn, Principal & Founder, Glenn Diversity & HR Solutions
At last year's luncheon, Glenn mentioned that she hoped to write a book about being an immigrant in corporate America. Twelve months later, the book has been published, and Glenn has completely remade her career. One key to her success: "Enter into life with a positive attitude, even when things don't go your way. Rise above it. People will always remember if you leave with a bad attitude."
Tina Chéry, Founder & President, The Peace Institute
Chéry related one of the more somber stories of the day: She and her family founded the Peace Institute in 1994 after her son was murdered in the cross fire of a shootout. Since then the Institute has worked to serve families impacted by murder. Her advice for working through life and career challenges: "For me, I found myself mentors. Any woman I saw, I would go to them and self-proclaim them my mentors."
Amy Spurling, Cofounder and CEO, Compt
At the end of the discussion, Alleyne asked each panelist how she would define happiness. Spurling's honest answer resounded with many of the attendees: "Happiness is a different combination of things. So it's figuring out what makes you happy."
To continue the theme of being intentional and being present, moderator Sonia Alleyne asked the women in attendance to exchange business cards and contact information. Her hope is that, at next year's luncheon, attendees will be able to share stories about how the connections they made at this year's event turned into long-term business relationships and friendships.
Contact
Greg Gatlin
Office of Public Affairs
617-573-8428
Ben Hall
Office of Public Affairs
617-573-8092