Political Science Student Chosen for Nationwide Digital Literacy Project
One of 11 MediaWise college correspondents trained to help new voters recognize truth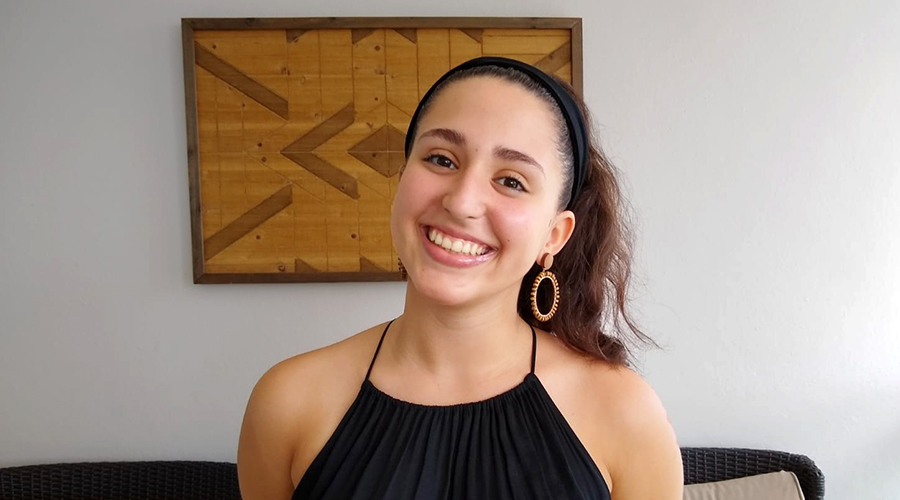 Zuna Ramos Maza believes in the political process, and she aims to help peers separate fact from fiction as a college correspondent for the Poynter Institute MediaWise Voter Project.
She first heard of the project through a Political Science Department e-mail describing the Poynter Institute's search for college students to serve in a nationwide program aimed at teaching digital literacy skills to 2 million first-time voters by the 2020 election.
"I could not believe there was this opportunity based on something I am incredibly passionate about," said Ramos Maza, Class of 2023, who is one of 11 college correspondents selected from student applicants from across America.
Her efforts complement the University's efforts to encourage student voters.
"Zuna's dedication to a vibrant democracy and her efforts to inspire the next generation of voters, participants, and knowledgeable citizens is remarkable," said Professor Rachael Cobb, chair of the Political Science & Legal Studies Department and co-leader of Suffolk Votes, a University-wide initiative. "It is young people who are leading the way, connecting with other young people, and awakening the civic spirit."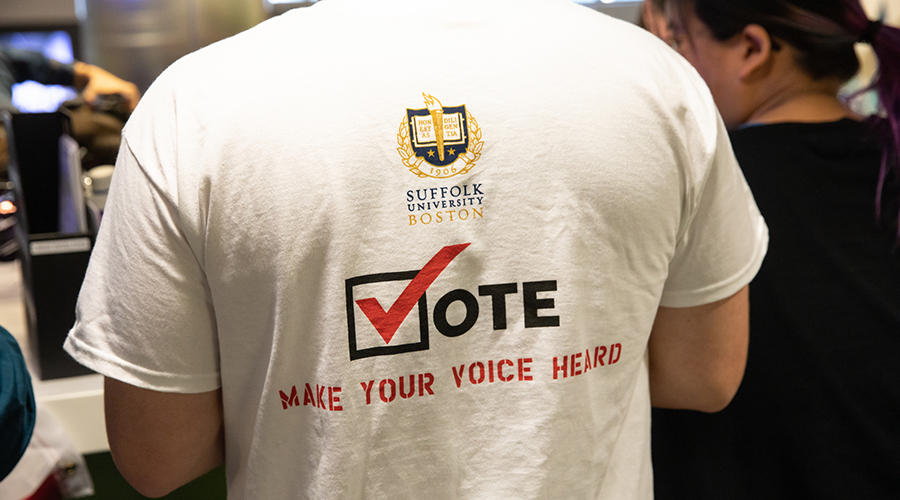 Separating fact from fiction
Ramos Maza, a political science major who hails from Puerto Rico, attended a training session in early March in St. Petersburg, Fla., home of The Poynter Institute. There the college correspondents learned how to teach other students to discern fact from fiction online through in-person workshops and social media resources such as Instagram, Twitter, TikTok, and YouTube.
"They gave us some ideas, content, and style we should be focused on in spreading the word about media literacy and civic engagement," said Ramos Maza. "I'm very grateful to be working with such talented, innovative, and dedicated people. We are going to do great things, and I cannot wait to see the end result of our program in November."
Ramos Maza was particularly interested in learning how viewers choose certain social media platforms to get their information. "Analyzing all the data was my favorite part," she said.
Virtual presentation
Putting what she learned into practice, Ramos Maza recently gave a virtual presentation to a Suffolk communication, journalism & media class. She worked with students on what they need to know to distinguish fact from fiction online as it pertains to the 2020 election, and she encouraged first-time voters to exercise their civic right in November.
"Suffolk students are constantly looking for ways to get involved, especially anything related to government," said Ramos Maza. "I believe this partnership with MediaWise is the perfect opportunity to strengthen our bond as a community while educating the future of our country."
Ramos Maza, who hopes to become an immigration lawyer one day, is involved on campus even beyond the MediaWise Voter Project.
She has worked in the Psychology Department's Youth Development in Context lab, helping to provide cultural and linguistic translation for a study on bullying among adolescents in Puerto Rico and has been involved in analyzing data for a Vulnerability Among Immigrant Families study.
"Zuna has incredible potential to not only understand complex research findings and methods, but to then use those findings and apply those methods to the benefit of our broader communities," said Professor Amy Marks, chair of Suffolk's Psychology Department. "I have no doubt that she will be an extraordinary success in the future."