Chemistry thesis based on NASA-funded study
Making a lasting impact through a project that could benefit both NASA and the International Space Station (ISS) was a highlight of Mary Siriboe's Suffolk experience and confirmed her decision to study chemistry.
Through a NASA-funded research contract, Siriboe, Class of 2020, studied the formation of a contaminant in the U.S. water-processing assembly on the ISS.
Siriboe focused her senior thesis on the compound Dimethylsilanediol (DMSD), collecting data to help NASA engineers fix the contamination problem it creates on the ISS. Her computational research involved determining the thermodynamics through a four-step mechanism, and she discovered that the formation of DMSD is thermodynamically favorable, which means, in simple terms, that the reaction does not need energy in order to happen.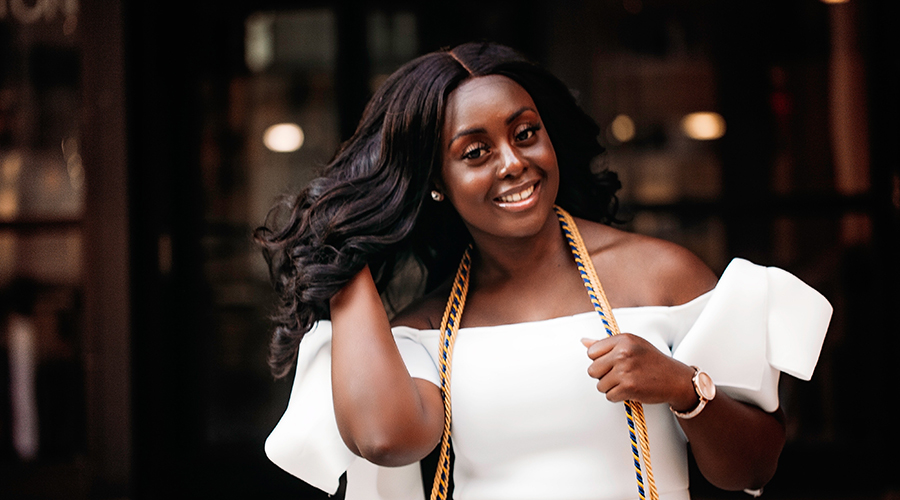 McNair Scholars Program
This project taught Siriboe to work independently and attend to detail. It also satisfied her passion for problem-solving challenges.
"I just want to know more about how and why things work the way they do," said Siriboe, who was a McNair Scholar while at Suffolk and is headed for a doctoral program. "The more research I do, the more I learn."
For her NASA project research, Siriboe delved into related scientific literature and tried some of the methodology she discovered there.
"I learned that I have to be constantly reading or finding articles that can help with my research so that I can gain new insights and predict possible outcomes," she said.
Faculty support
Professor Kelsey Stocker, Siriboe's adviser, provided support and guidance throughout the research process.
"Professor Stocker allowed me to be an independent researcher, and she was always there for me when I had questions," said Siriboe. "She explained things in depth and went above and beyond to help me become a better researcher and overall student."
Stocker, who teaches physical chemistry, says Siriboe has blossomed into a confident chemist, evidenced by her work on the NASA project.
"Mary's senior thesis was impressive, and she was able to tell an interesting story about the complexity of chemical reactions that are possible on board the ISS," said Stocker. "It's wonderful to be able to involve students with research that has such a direct connection to real-word problems."
Pursuing chemistry PhD
Siriboe is about to enter the chemistry PhD program at the University of Rochester in New York, with the goal of eventually performing pharmaceutical research.
"I want to be able to expand on the strong foundation I've built at Suffolk and look forward to making an impact in any way, shape, or form in the scientific community," she said.