Risk Takers and Difference Makers
Suffolk honors the accomplishments and service of young alumni at its 10 Under 10 celebration.
WBFF-TV Fox 45 News reporter Dan Lampariello, BSJ '14, holds his 10 Under 10 award.
As students, they took different paths. As graduates, they pursued different careers. But the young alumni honored at the 2020-2021 10 Under 10 celebration each followed a similar recipe for success.
Honoree Lauren Nouchi, BSBA '13, knows that recipe by heart: "Take your education seriously. Follow your passion. And most importantly, don't be afraid to take risks."
Nouchi took a risk when she left her home in Marseilles, France at age 17 to study global business and marketing at Suffolk. Today she is the founder of APPARIS, a wildly popular vegan clothing brand, and her faux-fur coats are sold in more than 500 stores, including Bloomingdales and Saks Fifth Avenue.
Honoree Daniel Lampariello, BSJ '14, took a risk when, as a member of the Suffolk U News team, he covered the Boston Marathon bombing. Today he is a multimedia journalist with WBFF-TV Fox 45 News in Baltimore, and the winner of two regional Emmy Awards for his reporting.
Honoree Dannielle Jones-Pinson, BA '15, MPA '17, took a risk when, after dropping out of college for a few years, she transferred to Suffolk and found her academic home at the Sawyer Business School's Institute for Public Service. As corporate relations manager at the Greater Boston Food Bank, Pinson helped raise more than $7.5 million annually, as well as emergency relief funds during the pandemic.
Suffolk President Marisa Kelly said all 10 alumni embodied Suffolk's commitment to excellence, inclusion, and deep engagement with the world. "That is our mission on paper, but more importantly in reality," she said. "All we have to do is consider tonight's honorees to know that is true."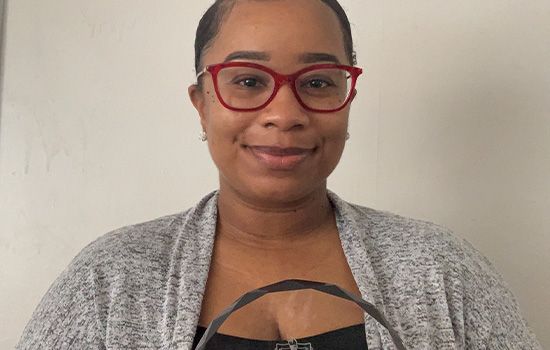 The April 26 virtual celebration was hosted by WBZ-TV reporter Breana Pitts, BA '12, herself a past honoree, and the awards were presented by Provost Julie Sandell and Deans Maria Toyoda and Amy Zeng. Honorees are selected by members of the Suffolk University Graduates of the Last Decade (GOLD) Council, and the event was organized by the Office of Advancement's Associate Director of Recent Graduate Programs, Amy Siegel, BS '14, MPA '20.
Honoree Huy Le, BS '12, now a trial attorney with U.S. Department of Justice and a judge advocate with the U.S. Army Reserve, thanked Suffolk for "embracing an 18-year-old kid and allowing him to pursue what I now know is the American dream."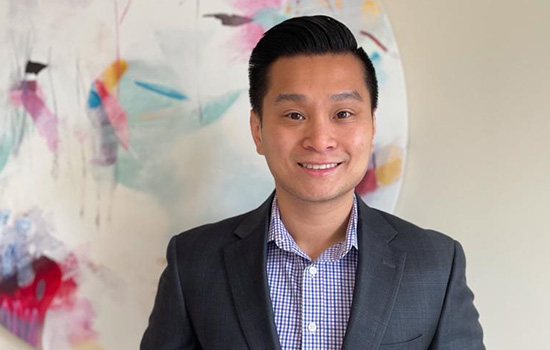 Huy gave special thanks to Professor Allan Tow: "Having no lawyers in my family, Allan became the mentor I surely needed. I thank him for showing me what it means to be an attorney — and more importantly, an Asian American attorney in today's society."
This year's other 10 Under 10 honorees are:
Connor Charland, BS '16, a writer-producer at HBO, who creates promotional assets for shows like "Succession" and "Watchmen," and whose work has been recognized with a bronze Clio Award.
Chardline Chanel-Faiteau, BS '12, who, as resource development manager for the City of Boston's Center for Youth and Families, helps oversee 30 community sites and senior centers. She also runs a popular lifestyle, fashion, and body positivity blog with more than 60,000 followers.
Michael Farago, BSBA '11, MBA '17, the CEO of Concord Dental Laboratories and founder of Dental Nexus, which provides dentists with educational resources for new technologies.
Kacie Kirkpatrick, BA '10, a theater arts major who also has graduate degrees in theater and severe special education. At Watertown High School, she combined all her strengths to build an inclusive drama program from the ground up.
Moss Lynch, BSJ '12, MA '14, who serves as assistant manager for training and communications with the Massachusetts Office of Disabilities. He also runs his own award-winning photography business, and is now serving his sixth year on the College of Arts and Sciences Alumni Board, where he is communications chair.
Jose Ramon Riestra, BSBA '14, who is president and CEO of Empire Management Group, a central Florida association and property management company. Under his leadership, the company has been named one of Orlando's top places to work for six years running, and he was recognized as one of the region's top CEOs for his effective response to the pandemic.
Watch the 2020-2021 10 Under 10 ceremony.