From Studio 73 to 'Meet the Press'
Suffolk in the City and the Rosenberg STEP program prepare CJN student for top media internship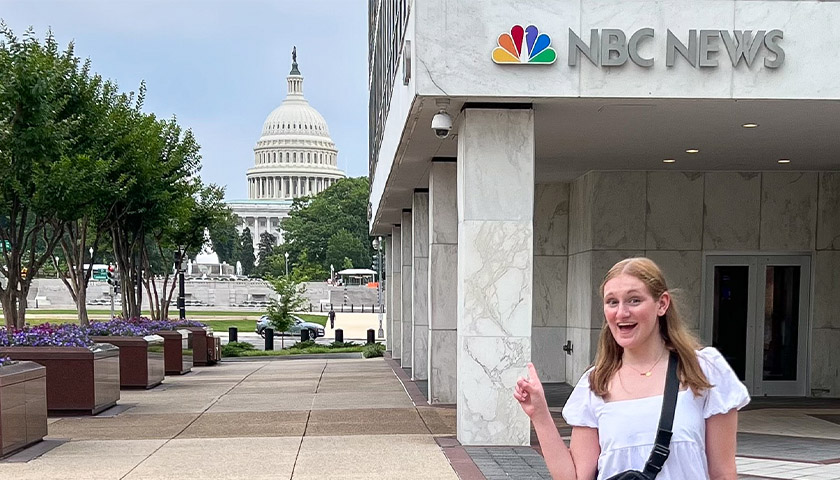 Shannon Stanton always dreamed of a career in broadcast news.
Finishing her college tour of Suffolk University, Stanton had one request: She wanted to see Studio 73, the broadcast journalism studio. She recalls meeting a student who was setting up to film a project. Seeing Stanton, the student offered to demonstrate what he was doing. The moment stood out to Stanton.
"He wasn't being paid to do that; he wasn't a tour guide. He just genuinely wanted to help me and show me what he was doing," Stanton says.
Stanton never forgot that first tour, and soon after found herself back on campus. Taking full advantage of her opportunities, she joined the team at Studio 73 and earned a spot as a Rosenberg Student Training Employment Program (STEP) intern with University Media Services.
Now a broadcast journalism major, Stanton is taking on her next big role. This fall, she started work as an intern with NBC's "Meet the Press" in Washington, DC.
"Meet the Press," the longest-running television program in the United States, is particularly meaningful for Stanton, as generations of her family watched history unfold on the show.
"My grandma said her father used to watch the show. My great-grandfather, who I never met, watched it. That's such a long show history, and now I'm a part of that."
Shannon Stanton
Broadcast Journalism, Class of 2024
Stanton is excited at the chance to get hands-on experience with everything from helping guests navigate the set to researching and writing questions for the host.
She is particularly excited to combine her passion for politics and reporting, stepping into the show just as the presidential election cycle begins to heat up.
"Being part of that ups the stakes but also exposes me to a lot more," she says.
Suffolk in the City
Stanton credits her success to her experiences at Suffolk, dating back to that first tour.
As a transfer student, Stanton took advantage of as many opportunities as she could starting the minute she arrived on campus her junior year. Back in Studio 73, Stanton found herself first as a student in TV News Production, taught by TV Studio Manager Jerry Glendye, and later as a student reporter with Suffolk in the City, a partnership with New England Cable News (NECN) and NBC Boston that gives broadcast students unparalleled on-air experience in one of the country's largest television markets
Impressed by Stanton's work, Glendye recalls one package she created about Snowport, a holiday market in Boston's Seaport neighborhood.
"Her vision in the way that she looks at putting her story together is artistic," Glendye explains.
As a Suffolk in the City reporter, Stanton wrote and presented news stories, sometimes live, on NECN. She and her fellow reporters took charge of their segments, from pitching ideas and setting up shots through to editing the finished product. It takes teamwork, and Glendye emphasizes that Stanton uses her broadcast talents to inspire her classmates.
"She gives a really great insight when they're shooting out there," Glendye says. "She is instilling that into the other students too. She's like, 'Well, hey, think outside the box.'"
Stanton says her time in Studio 73 propelled her towards success, helping her develop professionally and connect to her community.
"I met the best friends coming in as a transfer student. Not to be cliché, but it's kind of like its own little family in a way. People are genuinely supportive of you and want to see you succeed," Stanton says.
Throughout its 13-year history, Suffolk in the City has served as a launching point for many successful journalists, including Stanton.
"Those alumni are in studios all over the country," Glendye says. "I'm proud of all of them. And [Stanton] is just another shining example."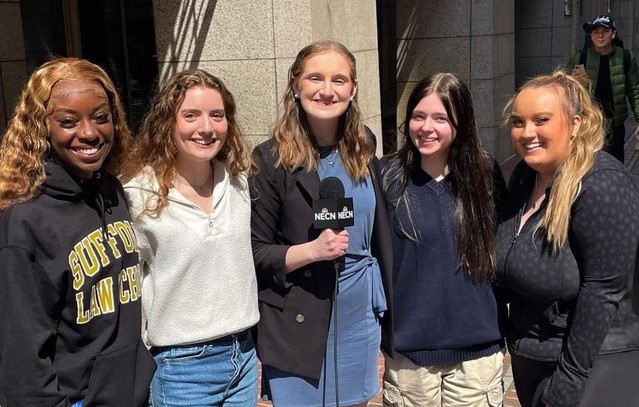 The STEPs to success
Outside of her time at Studio 73, Stanton hones her production skills as a media services production assistant with University Media Services through STEP. STEP, a program made possible by a generous endowment from Barbara and Richard Rosenberg, BSJ '52, HDCS '91, gives students practical work experiences with departments on campus. Students are compensated for their work and walk away with the confidence and technical knowledge to succeed after graduation.
During Stanton's internship with Digital Media Production Manager Jonathan Wardle, she quickly began editing and producing media of all sorts. Wardle works with his STEP interns to ensure the work they do will benefit their future careers.
"It's really important to be able to have an internship with hands-on training like STEP when you're trying to figure out if a career is the right thing for you, as opposed to just going to get coffee or to the mailroom," Wardle says.
Wardle wants his students to leave the program with more than just technical skills.
"When you walk out of here at the end, you're not just walking out with STEP on your resume. You have something tangible. Whether that is a portfolio of writing or a portfolio of productions, all those are available for your resume," Wardle says.
As she takes the next step toward achieving her dream of working in broadcast news, Stanton reflects on her time at Suffolk. She hopes that students take advantage of opportunities to reach their own goals.
"Sometimes it might take a few years of work to get to them. You might have to reapply to different jobs on campus. But if you keep on doing it, and you get involved and ask for feedback from your amazing professors, you're going to get there eventually," Stanton says.