TV Studio
Broadcast journalism is not a theoretical discipline. Our students must be prepared to face the unique challenges of the real-world, real-time media.
Studio 73
Studio 73: Suffolk's On-Campus High-Definition Television Studio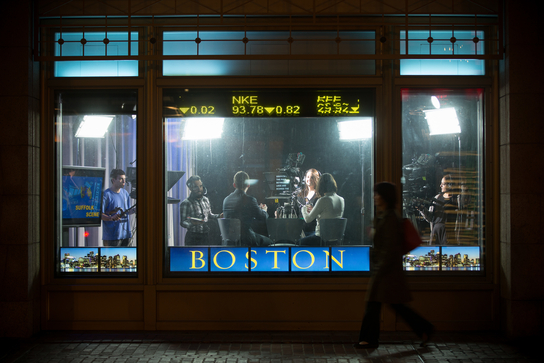 At Suffolk's Studio 73, students work alongside seasoned production professionals to write compelling stories, edit polished television packages, conduct interviews, and film live segments.
Studio 73 combines the most advanced HD technology with an unbeatable location, just steps away from the State House and Boston Common. Opportunities are available on both sides of the camera to provide students with a 360-degree view of the television news experience. Under the direction of Studio Manager Jerry Glendye, student crews work on projects such as:
"Suffolk in the City," a weekly segment on New England Cable News (NECN), featuring Suffolk University students as real LIVE news reporters
Producing additional interviews and shows for NECN and Comcast Newsmakers
Several production classes allow students to earn credits while gaining practical experience creating complete programs in a state-of-the-art facility
Hosting and interviewing guests in studio, including Governor Charlie Baker, Secretary of State John Kerry, State Representative Robert Kennedy, and Senator Elizabeth Warren, and entertainment and sports celebrities such as Edward Burns, Tom Green, Cam Neely, Fred Lynn, and Bob Ryan.
See Studio 73's Facebook page for the latest activities and opportunities!
Suffolk in the City
Suffolk University partners with NECN to offer students a rare on-air opportunity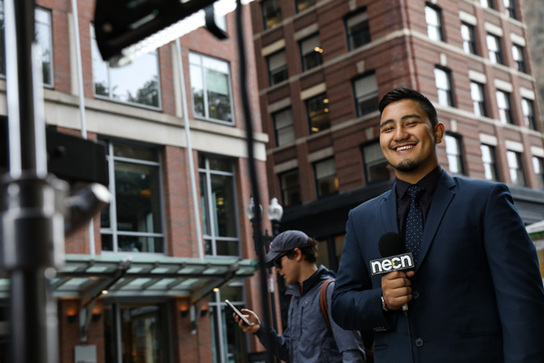 Even the most starry-eyed broadcast journalism majors know they'll pay their dues writing, sourcing and researching stories for other people before they get their big break on camera. But thanks to a partnership between New England Cable News (NECN) and Suffolk University's Studio 73, every six months three lucky and talented students are getting a taste of live reporting in a segment called "Suffolk in the City" that airs on the network's Morning Show.
Unique opportunity for students
Following a rigorous audition process, NECN selects three Suffolk University students each semester to act as the main "Suffolk in the City" reporters for six months. The students work on weekly story pitches with NECN producers, tape person-on-the-street interviews, edit their footage into tv-ready packages, and participate in live Q&As with NECN anchors.
"Where else can you do that?" asks Monika Raesch, former chair of Suffolk's Department of Communication, Journalism, & Media. "There's the on-camera experience, but then also the exposure to the business side of journalism. It's invaluable experience."