Skip Navigation
Hear What Students and Alumni Have to Say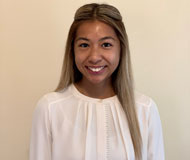 Elizabeth Le, MSCJS '19; BA, Sociology '18
"During the program, I gained an understanding of the needs of diverse populations with varying ages, backgrounds, and cultures. I'm grateful to have been taught and supported by many sociology and criminal justice professors, and to have found mentorship with faculty that took the time to listen and genuinely cared about my concerns. I look forward to applying what I learned at Suffolk throughout my time in a demanding and rewarding career."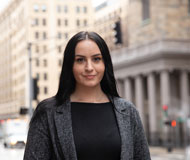 Emma Feeney, MAC (Public Relations and Advertising) '21; BA, Public Relations, '19
"I went to Suffolk for my undergraduate degree and absolutely loved it. I knew that I wanted to further my education at the graduate level and thought there would be no better place than Suffolk to do so based on my positive learning experience during my undergraduate career.
My professors were very personable through their teaching stylings and really engaged every student. Their enthusiasm and passion for Advertising and Public Relations not only inspired me but made me excited to apply what we would learn in class to our current or future careers."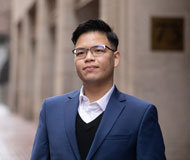 Ezra Bezaliel, MA in Communication Student
"The main reason I chose Suffolk as my first college choice was because Suffolk was (and still is) one of the best Regional Universities in the North. Other than its rank, Suffolk is located in the most scenic area in Downtown Boston. I can personally say from my own experience that Suffolk trained me to be more than a good student, but to be a professional worker in my field of study. And I can't forget to mention that Suffolk has the friendliest professors and staff I've ever met. They will teach you and help you with great patience and professionalism."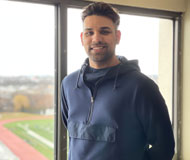 Humza Usman, MAGPP '21; BS, Government Law & Public Policy, Philosophy Minor, '20
"I believe obtaining my MAGPP is beneficial in a variety of ways. It opens further possibilities within my field. My undergraduate degree focused on public policy at a local and national level. With the MAGPP degree, I now also have a focus at the international level. I was accepted into the accelerated program, which helped me save both time and money.
Every professor is passionate about what they teach, and they go above and beyond to convey the material and make sure the students get a proper grasp of it."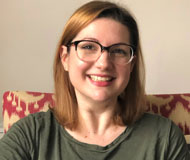 Joanna Mahoney, MA in Graphic Design Alumna
"Throughout my time at Suffolk, my professors and peers encouraged me to step out of my comfort zone, pushing me to incorporate joy and experimentation into my design process. This program didn't just teach me about current design tools and applications, it taught me how to think, how to innovate, and how to use my personal strengths and interests to my advantage as a designer. A lot of people told me going into graduate school that you get out of it what you put in, and I believe that's true of this program. I gave it my all, and in turn it has given me skills that will help me move forward with confidence in my graphic design career."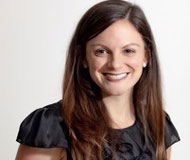 Megan Simmons-Herring, MPA
"My professional path has been far from what I envisioned when I decided on Suffolk University, rather it has developed into a platform allowing for connection and growth. I greatly benefitted from the Suffolk alumni connection, opening up a professional opportunity with the Department of Defense about six years ago that I never would have known of otherwise. In combination with my Master of Public Administration from Suffolk, this position has allowed me to pivot with my spouse to different locations throughout the country and fostered my advancement through three promotions. I am hopeful and confident that my MPA and experience will continue to open up new possibilities in the years to come."
Niru Dhawan, MBA '20
"Interning, working and living in Boston, I have come to love and appreciate the diverse learning opportunities this city offers. This makes Suffolk's MBA program a truly unique experience. I wanted a program that fueled my academic and professional aspirations and embodied my values as a student and Suffolk spoke to that very notion. With their international travel seminars, I knew I could have an immersive MBA experience that would allow me to learn new cultures and experience international business firsthand."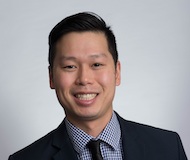 Nicholas Ye, MBA '21
"Suffolk University helped me tremendously with my professional path. The Career Services Department here at Suffolk paved the way to my current employment. With the help from the staff there, I applied to my first internship. Ever since then, I climbed up the corporate work ladder."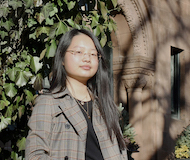 Sabrina Ng, MAAP'20; BS Political Science, Law + Public Policy Concentration, '19
"I chose Suffolk for graduate school due to its proximity to City Hall and the State House, as well as the many grassroots organizations in the area. Suffolk's location attracted me to for both an undergraduate degree and graduate degree."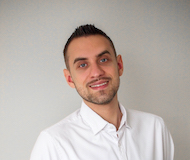 Nikita Smirnov, MBA/MS in Marketing '20
"My MBA/MS in Marketing prepared me well for the field. Being an active member of both the Graduate Student Association (GSA) and Association of Latino Professionals for America (ALPFA) provided me with opportunities to interact with Suffolk University graduate students by organizing and planning upcoming events and socials, which, in turn, was also one of my favorite things about Suffolk. Through these responsibilities, I have gained strong communication, presentation, and research skills."