Building More than a Home
Service learning journey to Cambodia readies students for conflict & resolution course
Students are learning about conflict and resolution through an international service-learning experience that brought them to Cambodia over winter break.
The Suffolk group helped build a Habitat for Humanity home working alongside the Cambodian family who will reside there. They also visited historical and cultural sites, experiences that provided the underpinnings for their spring semester Government course examining the historical context of a region that has experienced generations of warfare and genocide.
Living and working among Cambodian people "was a life-changing experience for all of us," said Political Science graduate student Yash Patel, Class of 2018. "Everyone worked together with the same goal of helping others, and it taught me personally how to step out of my comfort zone and the importance of teamwork."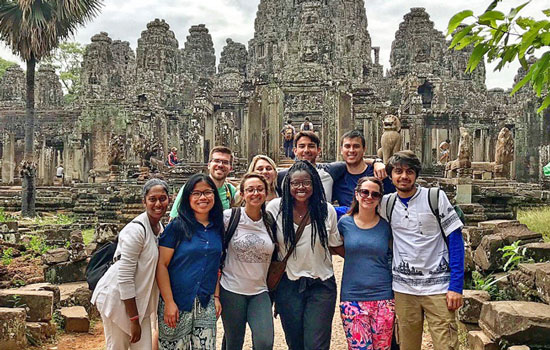 Patel, whose goal is to work for the United Nations, said his Cambodian experience gave him "more than I expected" and, beyond helping others, expanded his organizational, leadership, and time management skills.
Lessons in history and public policy
The Alternative Winter Break trip to Cambodia is part of the spring semester Government course "Conflict and Reconciliation in Asia," through which students learn about the history and public policies in the region and reflect on their experiences in Cambodia.
The course is taught by International Relations Professor Roberto Dominguez. He and Center for Community Engagement Assistant Director Dennis Harkins accompanied the students to Cambodia.
Speaker to address "Healing from Genocide"
In a related Alternative Winter Break event, Arn Chorn-Pond, a Khmer Rouge genocide survivor, will speak on "Healing from Genocide: Creating Peace Through the Arts in Cambodia," from 9:25-10:40 a.m. Thursday, March 9, in the Sargent Hall function room. The appearance by the musician and human rights activist is sponsored by Suffolk's Center for Community Engagement, Government Department, Philosophy Department, and Rosenberg Institute for East Asian Studies.
History of helping
Suffolk's Center for Community Engagement has organized annual Alternative Winter Breaks since 2007. Previous service-learning experiences have brought students to El Salvador, Vietnam, and India. The center also sponsors Alternative Spring Break service-learning trips nationwide, with students this year performing service in:
Denver, Colorado
Bel Air, Maryland
Meridian, Mississippi
Gulfport, Mississippi
Clarkesville, Georgia
South Bend, Indiana
Washington, D.C.
Grand Canyon National Park, Arizona