Alternative Winter Break
What are you doing during winter break? Apply for Suffolk's Alternative Winter Break (AWB) program, where you can learn and serve internationally with Habitat for Humanity International's Global Village program.
AWB 2022 Update
Information below reflects past programming. We intend to resume travel volunteer programs as normal in AY 21-22, as long as public health conditions allow. We will update this page as information becomes available.
Tentative Winter 2022 Travel Dates: January 5-16, 2022
AWB is open to all interested undergraduate and graduate students and is a collaboration between the Center for Community Engagement and the Political Science & Legal Studies Department.
More information and applications will be available at the start of the fall semester.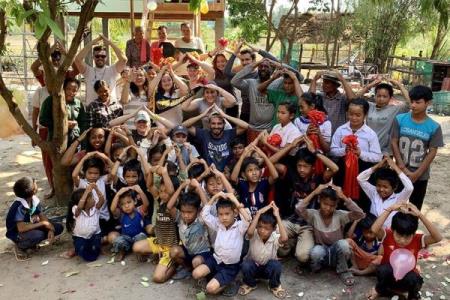 2019 AWB team in Banteay Sri District, Siem Reap Province, Cambodia posing in front of a newly built home for a family in need.
Participating students will spend the end of their winter break traveling, learning, and building with communities in Myanmar or Cambodia for 12 days.
When they return, students take an international relations course called "Conflict and Development" that reviews crucial political and economic events in the region, processes of reconstruction of the rule of law, democracy, and sustainable development.
Requirements
All participants must register for an international relations course in the spring semester, called "Conflict and Development," following acceptance into the program. Undergraduates will enroll in GVT-387 and graduates will enroll in GVT-687
Minimum of 2.5 GPA
Students must participate in out-of-class learning experiences as directed by the program
Students must be in good conduct standing with the University
Cost
You will pay a portion of the total cost of the trip, which includes transportation, meals, and housing. Total costs of the program are partially subsidized by the Center for Community Engagement. The trip payment will consist of a $750 deposit due upon acceptance to the program, and a final payment before the start of the trip, both of which will be billed through Suffolk University's student accounts.
Contact the Center for Community Engagement for more information on specific costs and available scholarships.
Scholarships and Financial Aid
A limited number of need- and merit-based scholarships are available to help subsidize the cost of the program; Please contact Assistant Director Dennis Harkins for more details.