Two-week Washington Center seminar
No matter what query Suffolk students posed to the congressmen, policy makers, and lobbyists they met during a two-week seminar in Washington, DC, they always seemed to get the same initial response:
"Great question."
Thoughtful and knowledgeable questions made the 20 Suffolk undergrad and graduate students stand out among peers from across the country as they were immersed in government policy and politics through an
Inside Washington seminar
organized by The Washington Center.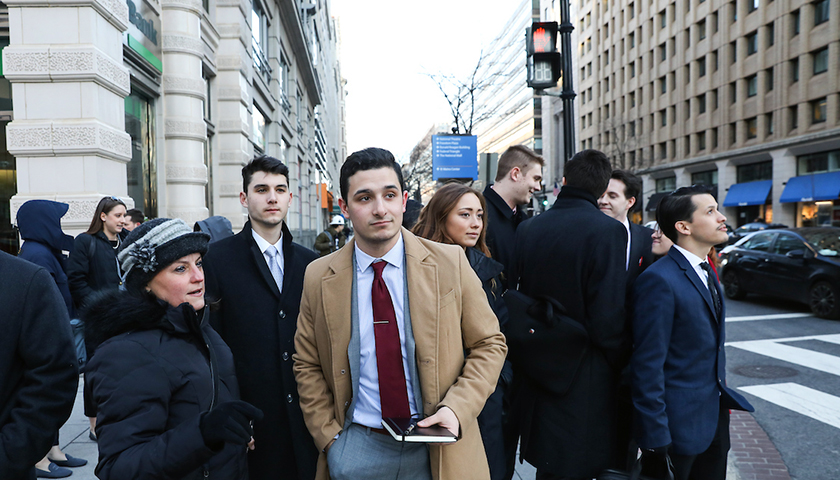 The Wall & the Government Shutdown
The Suffolk group was in Washington to see government in action, and although the seminar coincided with the January government shutdown, they met with politicians trying to end the stalemate, and the crisis offered plenty of fodder for dialogue with policy makers, journalists, lobbyists, and average citizens they encountered.

The discussion took off on their second day in Washington, when Suffolk students had gathered to watch and discuss President Donald Trump's prime-time address about the United States' Southern border and his demand for a multi-billion dollar expenditure to build a wall.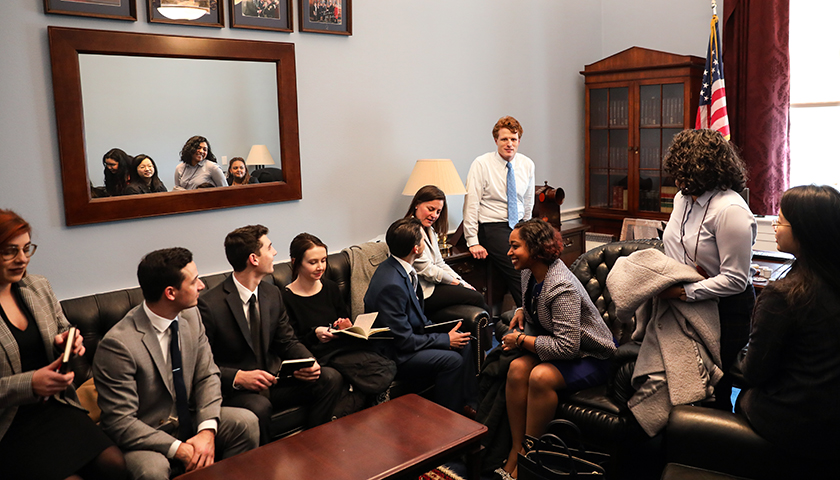 We join them later in the week, when Suffolk students pepper Congressman Joe Kennedy, D-Mass., with questions as they crowd into his Capitol Hill office:

Ryan Pocock: "What was the tipping point for the government shutdown over the wall?"

Kennedy: "We could have solved that problem fifteen times over if the House had been allowed to vote on it. There was a deal…."

Sandy Ruelas: "How are your constituents reacting to the shutdown over the wall?"

Kennedy: "I'm hearing outrage and being told not to cave in to Trump's demands."

A loud buzzer interrupts the conversation, and an aide tells the students that it's time for the congressman to head to the House floor for a vote.
Related stories
Washington Experience Boosts Alumni Careers

Students comment on takeaways from the Inside Washington experience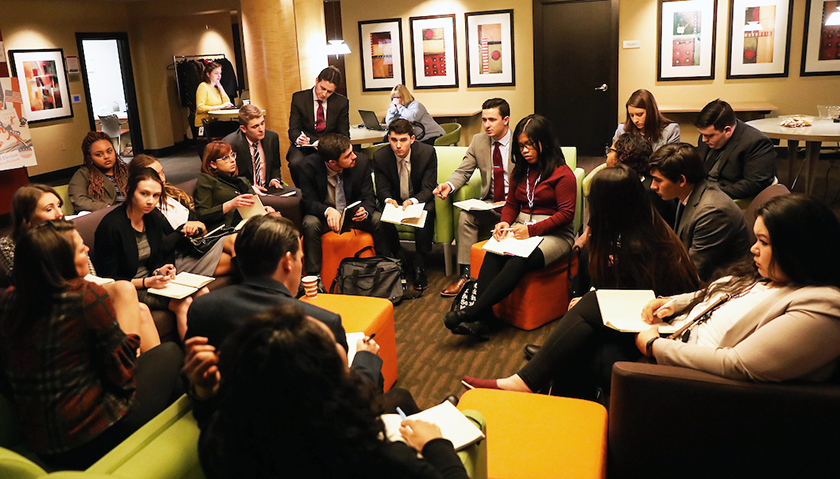 Checks & Balances
The students process the day's events in a class discussion with Suffolk
Political Science & Legal Studies
Professor
Christina Kulich-Vamvakas
, who is teaching the spring-semester course connected to the Washington seminar.
Part of the discussion centers on the government shutdown, the border wall and the competing priorities of branches of government controlled by different parties. Kulich-Vamvakas reminds the students of a point made by foreign policy expert Alina Polyakova during a panel discussion that morning: President Barack Obama had employed an executive order to push through the Iran nuclear deal, "so making an end run around Congress is definitely not without precedent. Shutdowns over policy disputes are also not without precedent. What about declaring a State of Emergency?"
The students contend that separation of powers, checks and balances, and more are at stake if the president skips past Congressional oversight by resorting to an emergency order.
Moreover, "if you give in on the wall to reopen the government, it might encourage people to use that ploy again. They should open the government first and then discuss it," says Sara Solomon, Class of 2019, a Government major with a concentration in
Law and Public Policy
who also is working on a
paralegal certificate
.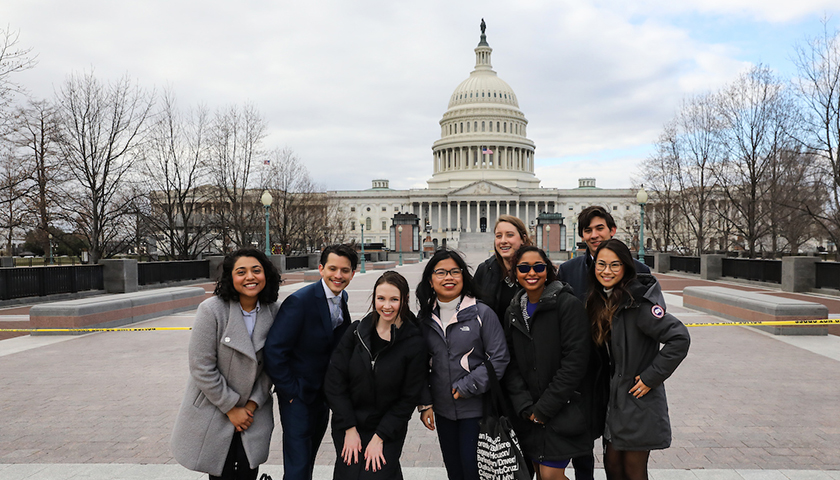 Seeing the House in Action
The students are on hand on the evening of January 8 as the U.S. House takes up a bill to close loopholes in the system of background checks for gun buyers.

It is the eighth anniversary of the Tucson, Arizona, shooting that claimed six lives and wounded 13 people who had gathered for a constituent meeting with then-Congresswoman Gabby Giffords, who survived a gunshot wound to the head inflicted that day.

Giffords is on the House floor for the bill's introduction and for a moment of silence for victims of gun violence.

"I didn't know she was going to be there," says Serenity Mahadeo, Class of 2019, a law major, who was particularly moved because she is an Arizona native.

Kulich-Vamvakas says it was eye-opening for students to see firsthand what's happening on the floor of the House rather than to merely read about it.

"A moment of silence was forced on the whole chamber on the anniversary of a mass shooting, and Sen. Kyrsten Sinema (D-Arizona) came over from the Senate in a coordinated Democratic effort to set an agenda for a Congress no longer dominated by one party," says Kulich-Vamvakas. "For students to see how hard-baked those core beliefs are—or are not—is fascinating."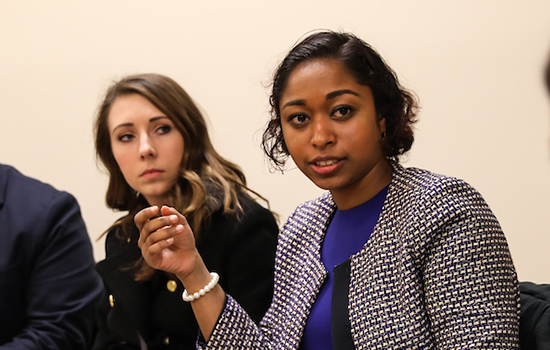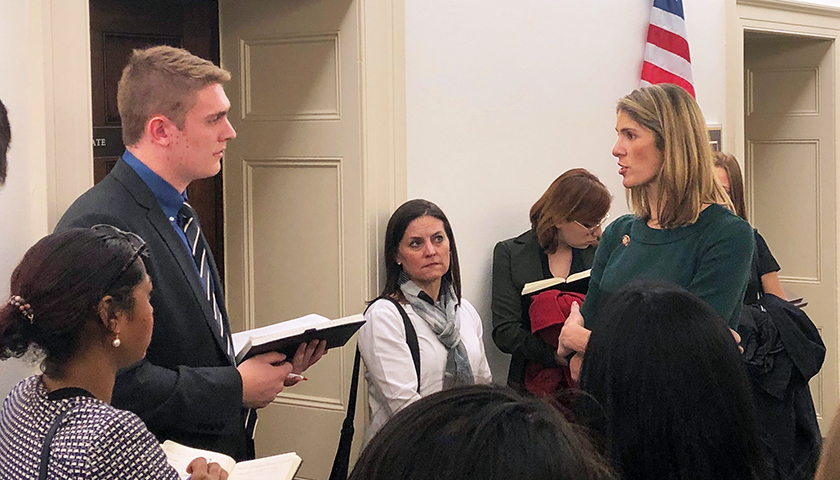 Politicians Seen as Ordinary…
For graduate student Ryan Pocock, the House visit dispels any notion that representatives are rarefied elites.

"It was the most casual thing," with members talking informally between votes and behaving like "everyday people," he says.

Perhaps most surprising to Pocock was seeing that the chamber is, for the most part, empty when House members give their speeches, with only the eye of the C-Span camera on them, transmitting to whatever audience may be tuned in.

"One member said: 'This is my first speech ever,' but there were only three staffers on the floor," notes Pocock, who is studying Political Science and American politics.

…Or Exceptional?
Solomon was particularly excited about meeting Congresswoman
Ayanna Pressley
, one of the progressive newcomers who have created a stir in Congress.
"As a woman of color, meeting with Ayanna was such an empowering experience," says Solomon. "During my two weeks at the Washington Center I had yet to see a black female panelist speak to us, and I'm grateful for Professor Kulich and her ability to set this meeting up."
Andres Cayuela Pomar, Class of 2019, an International Relations major who, like Solomon, has roots in Europe, is fascinated by the American response to politics and politicians.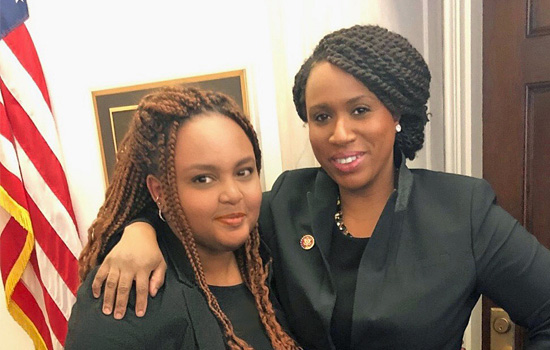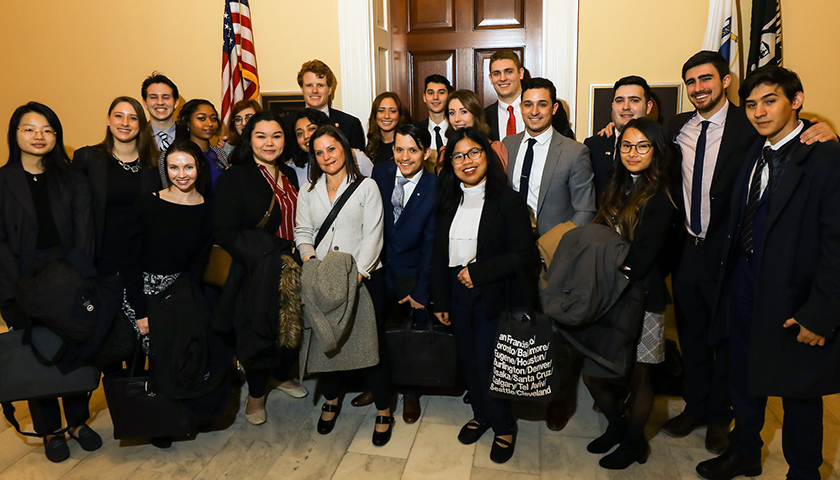 "One interesting thing is to see how they deal with meeting celebrity politicians, such as when we met Representative Kennedy," says Cayuela Pomar. "For a lot of them it looked like they were meeting a monarch, and it is really interesting to see how these people are elevated to such a social status that [some students] have no words to describe how they feel meeting these governmental officials."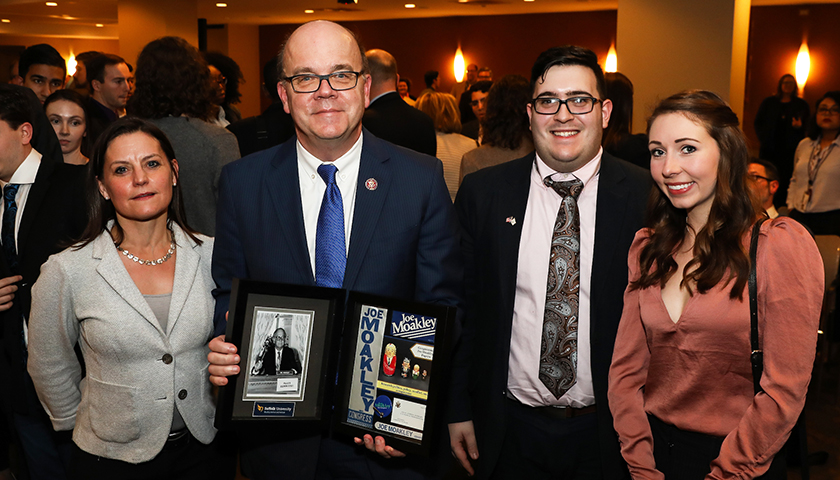 Bridging the Divide
In a conversation that would surprise many Americans in this era of fierce partisanship, Congressmen
Jim McGovern
, D-Mass., chair of the Rules Committee, and
Tom Reed
, R-NY, cochair of the Problem Solvers Caucus, discuss areas of agreement. The Problem Solvers Caucus is made up of equal numbers of Republicans and Democrats seeking common ground on issues.
McGovern at one point responds to Reed's assertion that voters of all stripes need to be listened to and that representatives should develop relationships across the aisle by declaring: "I agree with everything he's saying. If I know someone, if I know his family, I may disagree with him, but I'll disagree in a different way."
The comment was in response to a question from Alexandra Polaski, Class of 2020, who follows up by saying: "Thank you for giving us hope." That spurs a round of applause from all the students gathered for the evening discussion at the Washington Center.

Both congressmen say that they followed a path to Congress because they wanted to help people, even though they might have different ideas about how to do so.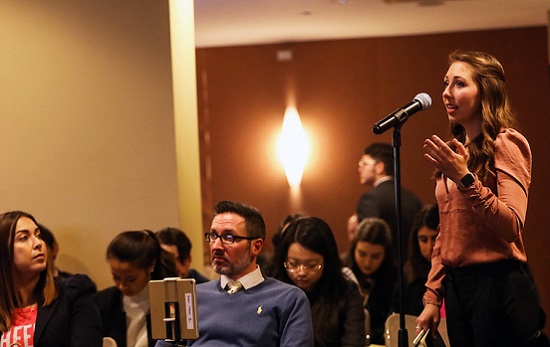 An International Perspective on Bipartisanship
The emphasis on bipartisanship and compromise interests Cayuela Pomar.

"Not coming from the United States, I'm getting to see not only how the American government works, but also how Americans themselves view it," he said. "I've been asking a lot about polarization. Where I come from, in Spain, polarization is kind of the norm. Even eighty years after the [Spanish] Civil War, there is still violence in the streets based on your beliefs. So it's interesting to see Americans talk about how difficult it is to work together because of polarization, coming from a place where you can get stabbed or jumped for your views. On the other hand it's really interesting to see the desire for a return to an era where there was more agreement across the aisle."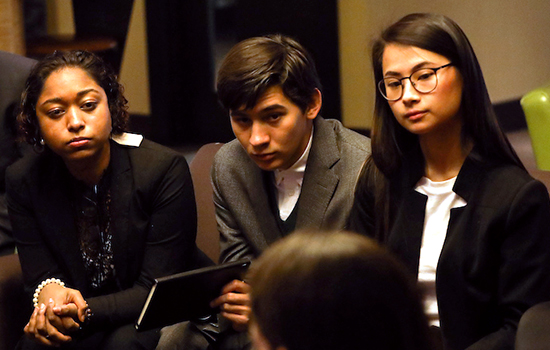 Cayuela Pomar sees bipartisanship as a pragmatic approach for a party that's not in power.
"From the Democratic side, the reason they emphasize bipartisanship a lot is because… it is hard to come to an agreement on the ends, what the goals are, and so they have to focus on the means, and the means are bipartisan agreement," says Cayuela Pomar. "But by doing that they are letting go of the willingness to fight for something.
Roger Fisk
told us the key factor for a candidate is honesty —honesty for their beliefs, their goals. If a candidate hasn't expressed goals in terms of: Here's what I want to do with policy; here's where I want to get our country to, and instead says: I want to go to Congress and be a compromising bipartisan, they're not being honest with the voters."