At the intersection of Theater and Art & Design
Creating a theater set involves painstaking planning and design. Yet when the production is over and the stage cleared, little or no artifacts remain.
"They're working tools, not art," says Theatre Professor Richard Chambers. "They get torn apart."
And yet he and Micaleen Rodgers, Class of 2020, were able to unearth enough material to create the exhibit Ephemeral Artifacts: Remains of the Play, which is at the Suffolk University Gallery through Oct. 15.
Rodgers had proposed the exhibit as a senior thesis project and, after months of planning, works with Chambers and Gallery Director Deborah Davidson to install the remnants of Suffolk plays gone by.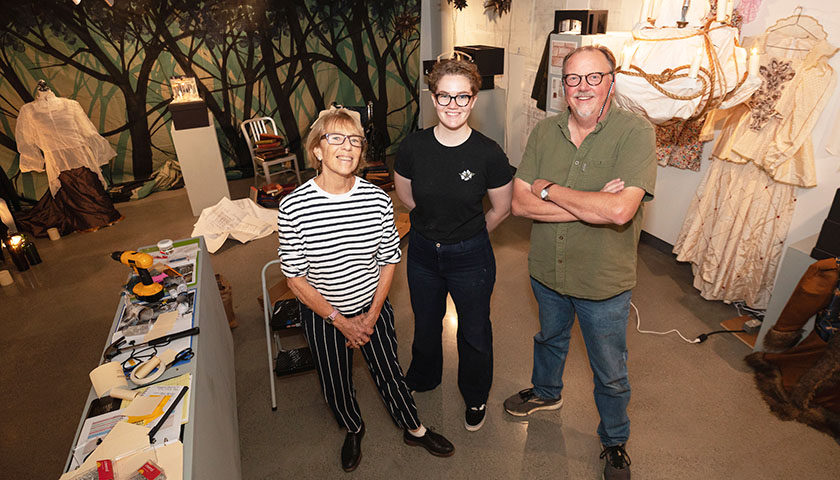 As she cuts and rolls manila folder segments to create "candlesticks" for a chandelier, Rodgers recalls her first visit to the campus art gallery to see an exhibit about fairy tales.
"I got talking with Deborah, and we agreed that it was kind of funny and strange that our worlds don't interact that much," says Rodgers.
That conversation led to the question "what if?"
The answer is an "exhibit that celebrates the Theatre Department by showing aspects of theater that you might not be aware of, such as props, and plans," says Davidson.
Learning by doing
Theatre majors have a plethora of options for their senior projects, including acting, directing, and playwrighting. One student designed and sewed all the costumes for the time-traveling play Orlando for her senior thesis. Rodgers, who played the title character, wore the Orlando costumes now featured in the exhibit.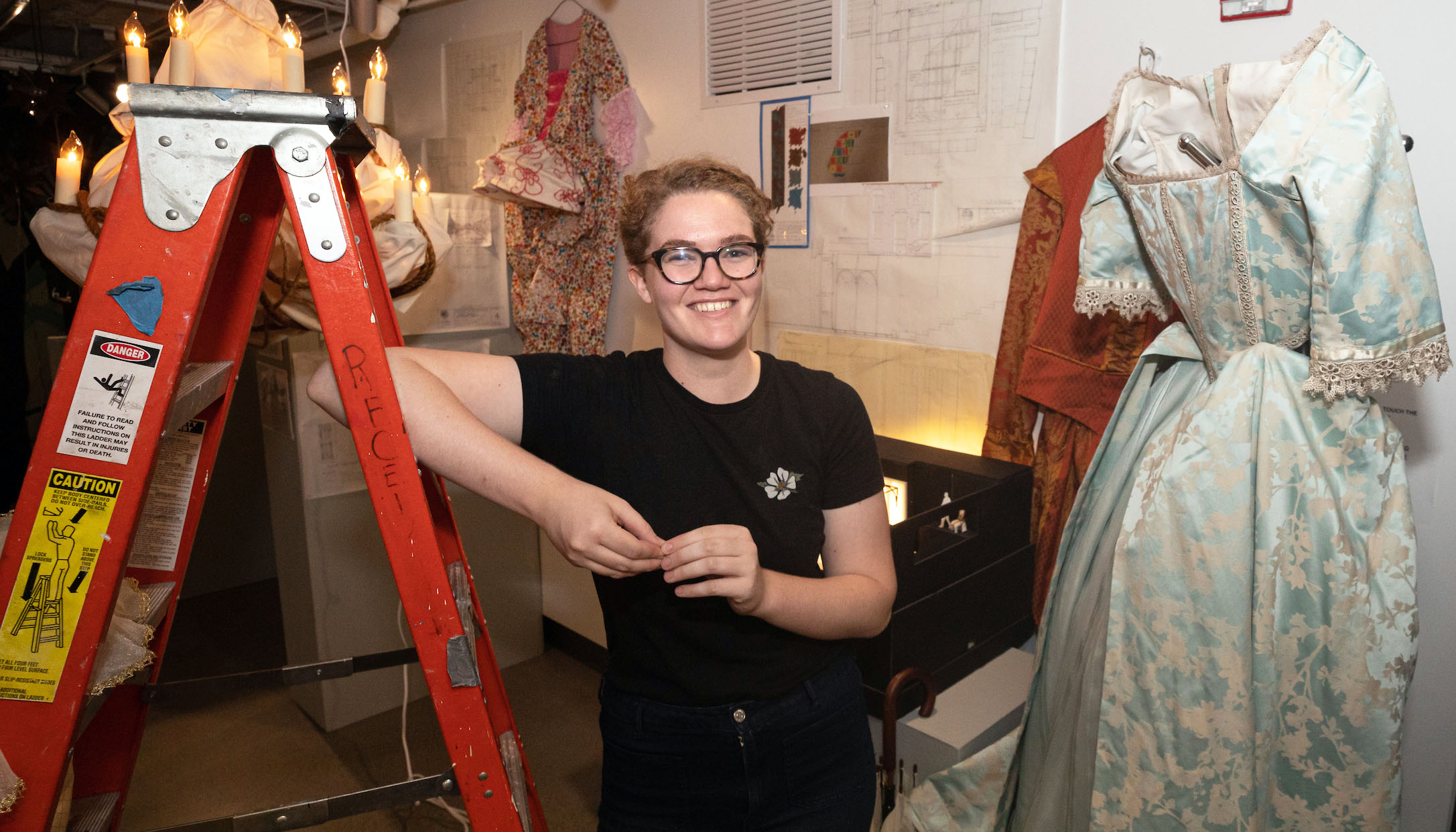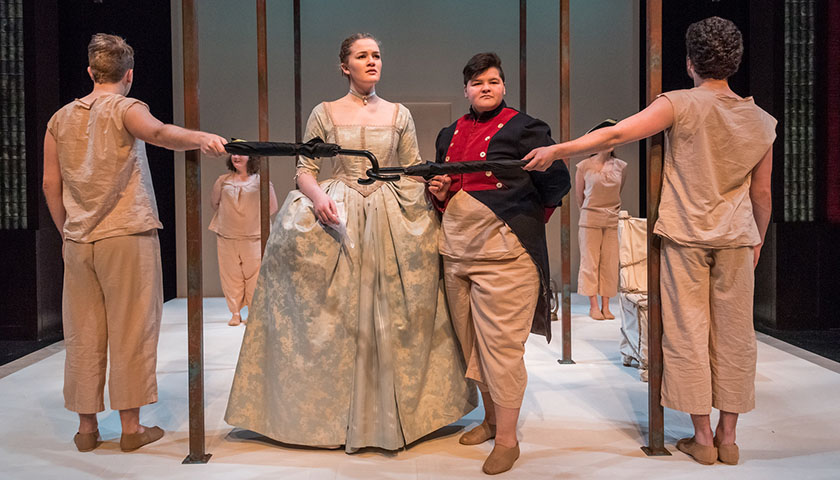 "One of my favorite things about the Theatre program is that you have to try a lot of things," says Rodgers.
At one time she thought she wanted to be a set designer, so she worked alongside Chambers on Suffolk's production of Loss of Breath as a scenic designer.
The experience was particularly valuable because it taught Rodgers that set design was not the right fit.
"Now I'm interested in directing and writing, but I also love acting," she says.
Sifting through the detritus
Rodgers is up on a ladder adjusting the chandelier. Then she's crawling on the floor attending to electrical components.
"It's important to me to have it lit," says Chambers, as Rodgers dims the chandelier lights after their heat loosens the glue bonding its makeshift candlesticks. "Light is so much a part of theater and things looking theatrical. Without it, a production doesn't have life."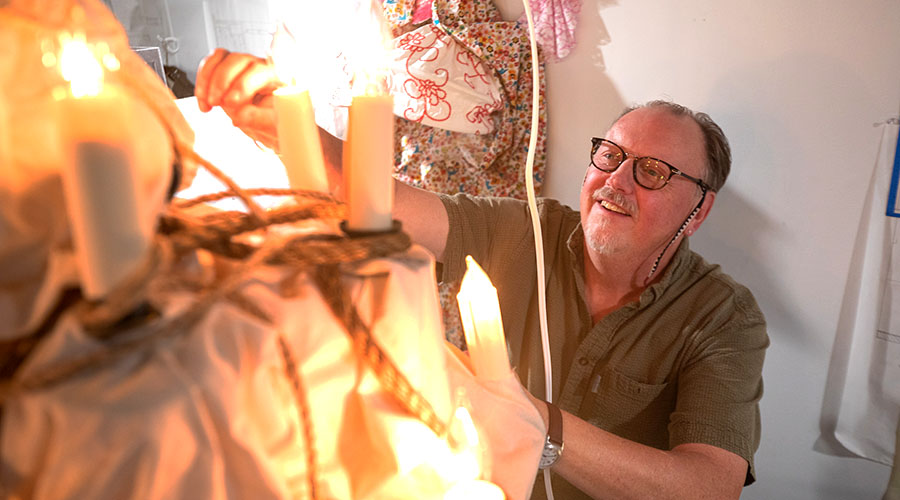 Rodgers says that in addition to learning practical skills, like electrical work, she's discovered "that we don't keep things."
She spent the summer as an apprentice with the Commonwealth Shakespeare Company but found time to get into the city to discuss the exhibit with Chambers. They sorted out which plays would be included, in part based on what remained of the plans, costumes, models, props, and lighting plans.
They settled on five Suffolk Theatre productions.
Chambers, who in addition to teaching is Suffolk Theatre's resident set designer, has grown accustomed to discarding ephemera once a production run ends.
"Sometimes it's heartbreaking, but you can't keep everything," he says. "I remember stomping on my grad thesis model. I was moving to a different apartment in a different state."
It's a process he's gone through again and again. "I ran out of room at home and then got a studio, and then that grew crowded…."
He points out a translucent drop created by designers Helen Pond and Herbert Senn for a production of Brigadoon, now serving as a backdrop for the exhibit. The designers allowed its use years ago for Suffolk's production of Dr. Faustus."
"That this drop still exists from 1963 and was used in a play in 2011 and is still here and in this exhibit" is highly unusual but also fortunate.