GOLD Council
Suffolk University's GOLD (Graduates Of The Last Decade) Council comprises undergraduate alumni of the last decade.
This dynamic group serves the young alumni and student communities through involvement with Undergraduate Admissions, Career Services, the Alumni Association, and the Annual Fund.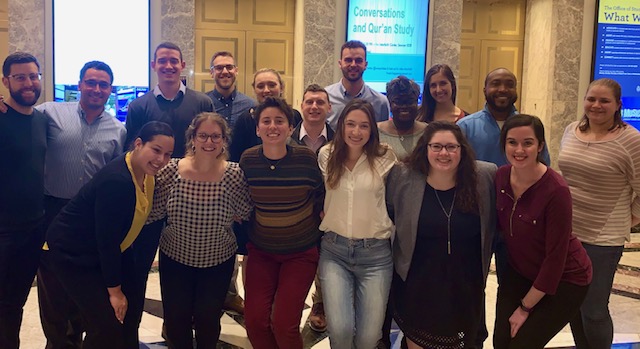 Position Description
A member of the Suffolk University GOLD Council is elected to hold the position based on demonstrated involvement, support and commitment to the Suffolk University. Alumni holding multiple degrees from Suffolk University may run for only one divisional directorship at a time.
In accepting the appointment, an individual agrees to fulfill the responsibilities associated with Board membership which include but are not limited to:
Attending and participation in (in person or by Zoom) scheduled meetings each academic year (meetings are typically scheduled quarterly).
Serving actively on committees.
Participating in the Annual Fund or one of the University's giving societies within the Annual Fund. It is crucial for the board to achieve 100% giving participation to model to alumni the importance of giving annually.
Being familiar with the programs and activities sponsored, organized, and coordinated by the Advancement/Alumni Office and participating in them to the extent possible, including major University events such as Suffolk Alumni & Family Weekend in the fall and Reunion Night in the spring.
Seeking out and encouraging talented alumni for the Council and other alumni activities.
Assisting the University in identifying and involving alumni in areas such as student career development, admissions outreach and alumni engagement and fundraising initiatives.
Assisting the University and the Advancement/Alumni Office in identifying and implementing programming that will enhance the student and alumni experience at Suffolk University - encouraging lifelong relationships with the University.
Being an ambassador and advocate of Suffolk University.
Become a GOLD Council Member
The GOLD Council is seeking new members with a start date of July 2022.
2021-2022 GOLD Council Officers
President
Colin Loiselle, BS'16, MPA/MSPS'18
Vice President
Tyler LeBlanc, BSBA'15
Secretary
Jacqueline Bresnahan, BA'14, MPA'16
2021-2022 GOLD Council Members
Shannon Alessandroni, BA'18
William Cerullo, BA'14, Career Development Chair
Briana D'Amelio, BS'19
Connor Demore, BSBA'20
Mounir Elhout, BSBA'19
Zachary Fayne, BA'16
Sydney Fonseca, BSBA'17, MBA'19, Advancement Chair
Serina Gousby, BA'16
Dennis Harkins, BSBA'15, MPA'17, Admissions Chair
Brian Hatch, BS'20
Victoria Ireton, BS'16
Matthew Larkin, BSBA'19
John Larrow, BSBA'16
Shannon McLaughlin, BS'19
Aisling Mehigan, BSBA'18
Vianelle Melo, BS'13
Marissa Musumeci, BA'14
Dylan Parsons, BS'18
Joseph Piemonte, BS'19, Events Chair
Emmanuel Pierre-Louis, BSBA'18
Morgan Robb, BSBA'19
Jarrod Smith, BSBA'14
Brittany Sullivan, BSBA'12
Sean Walsh, BS'17
If you are interested in learning more about the GOLD Council, or how to become involved as a young alumnus/a, please contact Sarah Baldauf, Associate Director, Alumni Relations & Annual Giving—Student & Recent Graduate Programs.