Vincent LePore grew up right next to Logan International Airport. Like most East Bostonians, he was used to the constant roar of aircraft overhead.
Sometimes they descended over East Boston Memorial Stadium, where he and his friends played, so low he could almost make out passengers' faces in the windows. Yet, he'd never actually taken a flight himself.

Suffolk University changed that.
"This Is What I Want to Do"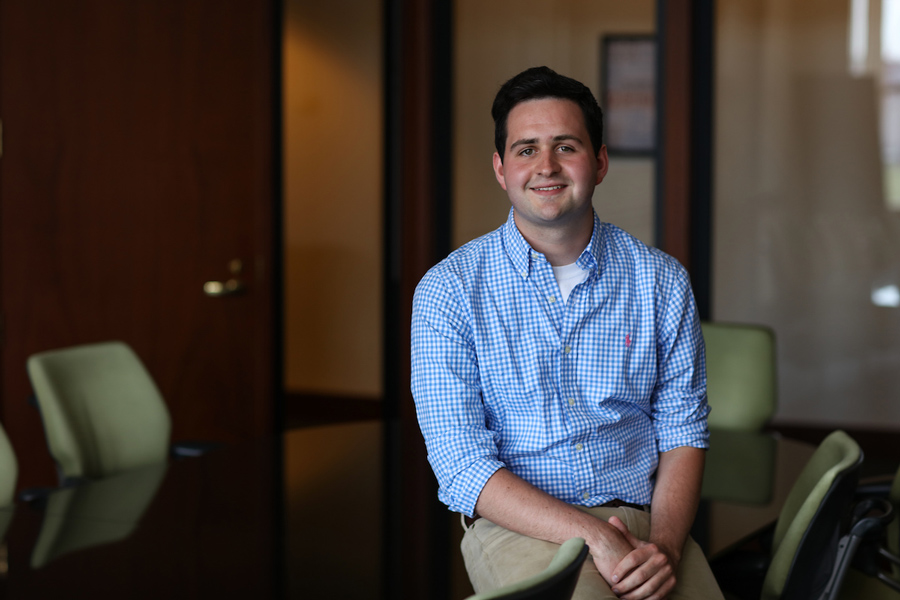 When Vincent was awarded Suffolk's Nathan R. Miller Scholarship—which covered his full tuition for four years—he eagerly enrolled at the University. After all, Suffolk was right on the other side of Boston Harbor. He figured going to school in Boston would keep him comfortably close to home and his friends. And it did—while also opening up new worlds of opportunity.

Like all new Rams, Vincent took a First-Year Seminar, a course that challenges students to solve problems using creativity and lateral thinking. For a student like Vincent, who loves the challenge of puzzles, this course provided the perfect opportunity to apply his curiosity in practical contexts.

"If people do this for a career," he thought, "this is what I want to do."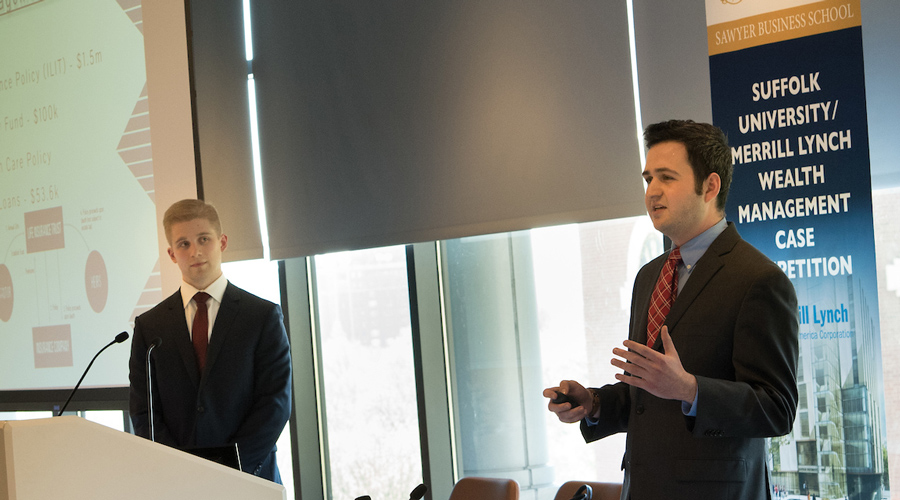 He put that ingenuity to use in a big way during his sophomore year, while majoring in finance in Suffolk's Sawyer Business School. An advisor in the University's Career Development Center told him about an unusual opportunity being offered by Hannover Re, one of the largest reinsurance groups in the world. They were sponsoring a competition, tasking teams of college students and recent graduates from around the country and across the globe with finding creative uses for information technology in the insurance industry.

"I was like, 'Yeah, insurance sounds boring. I don't want to do that,'" Vincent recalls with a laugh. "Little did I know that it would change the whole course of what I did."

He entered the competition. After several rounds of cuts, he was the youngest person, and the only undergraduate student, selected to join a team of six representing the United States in the competition's next phase. And that's how the guy who'd never flown on a plane found himself on a seven-hour nonstop flight to Germany for a weeklong insurance boot camp at Hannover Re's headquarters.
Building Something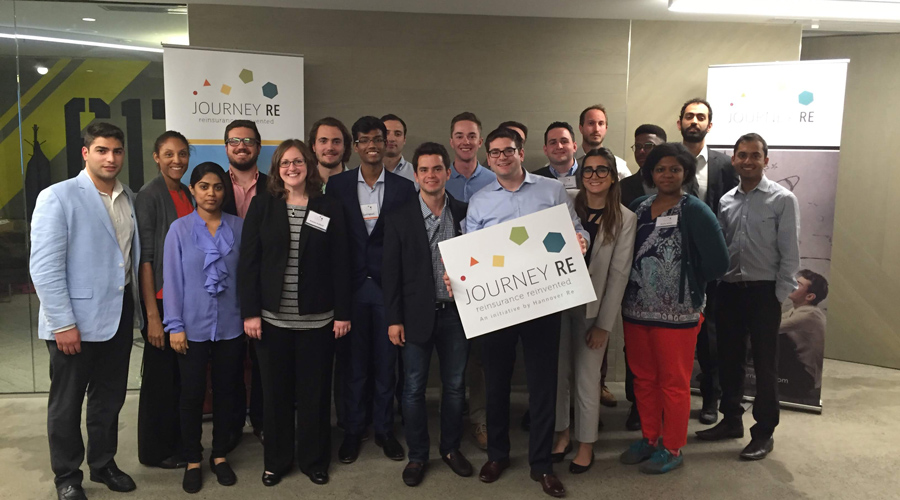 After that week of meetings and training in Germany, he continues, he and his teammates were given a blank slate. "They gave us the resources that we needed, a budget, and just said 'build something.' And they gave us six months to do it."

During those months, Vincent immersed himself in the rapidly expanding world of FinTech—the use of digital technology to streamline financial services. He would meet up with his teammates at a coworking space near Suffolk's campus to work on their entry, dividing his time between classes and the competition.

"That really got me hands-on experience in technology-meets-finance-meets-insurance-meets-risk management, this whole thing," he says. "And I learned that I really like the finance piece, because it goes back to what I originally liked: solving problems."

Despite Hannover Re executives' favorable reviews of their final pitch on Vincent's second trip to Germany, his team didn't win the competition. Yet this experience gave him something more valuable than a single accolade: professional connections.
A Career Takes Off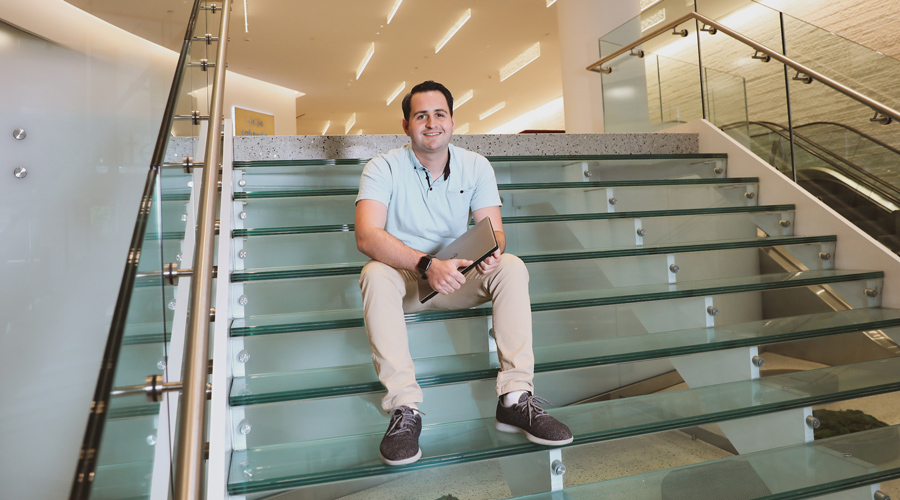 During his junior year, he applied for an internship he found through the Career Development Center, working for an insurance tech startup in nearby Downtown Crossing. He already knew the two founders, thanks to his network in the industry.

The company hired him as their second intern. It wasn't long before he became their first full-time hire.

"Back when I joined," says Vincent, "the company was at the ideation phase, still building a product. Now we're live in the market, actively issuing insurance policies to enable further deployment of solar energy. It's just been an awesome journey to see that from the beginning to where we are now—and hopefully to where we go in the future while working on something with tremendous meaning."
Spanning the Globe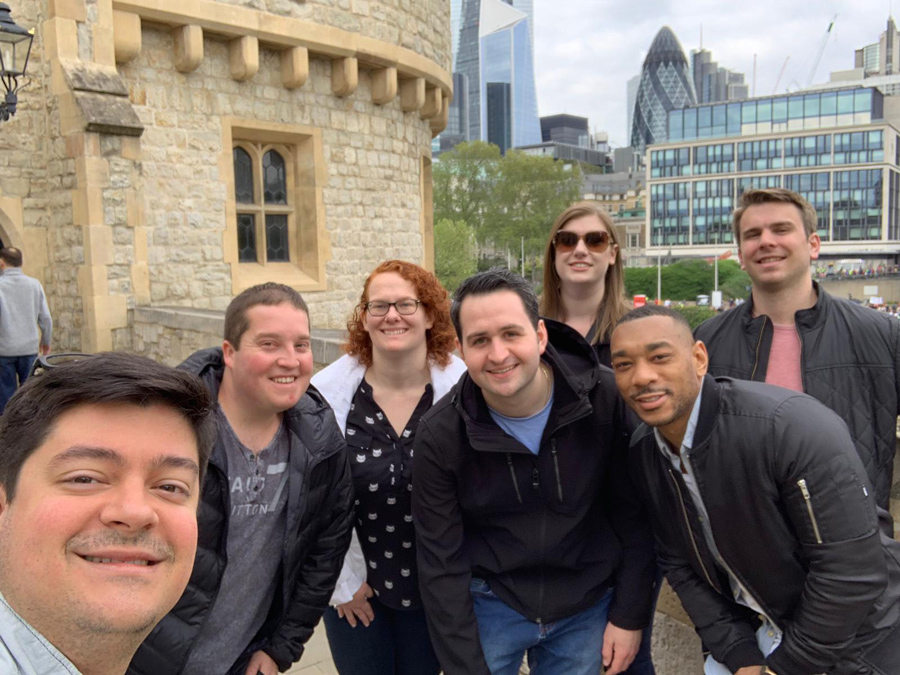 As for where he wants to go in the future, Vincent has an entire world of options. No longer a stranger to air travel, he's backpacked through Ireland, Spain, and Italy with one of his Hannover Re teammates and met up with his friendly rivals from the competition.

"I'm really close with the teams in Dublin and Johannesburg," Vincent says. "We all have a really good relationship still. It wasn't just work together for six months and then that's it. It was awesome to really build a relationship with all of them."

This East Boston kid turned globe-trotting professional has watched his world expand through his time and experiences at Suffolk. Thanks to a career he's passionate about, the sky may truly be his limit.

"Risk management is solving problems and being innovative about them. Where I am now is really what I want to do, and I think Suffolk's given me the opportunity to do that," he says.
Same City, New Perspective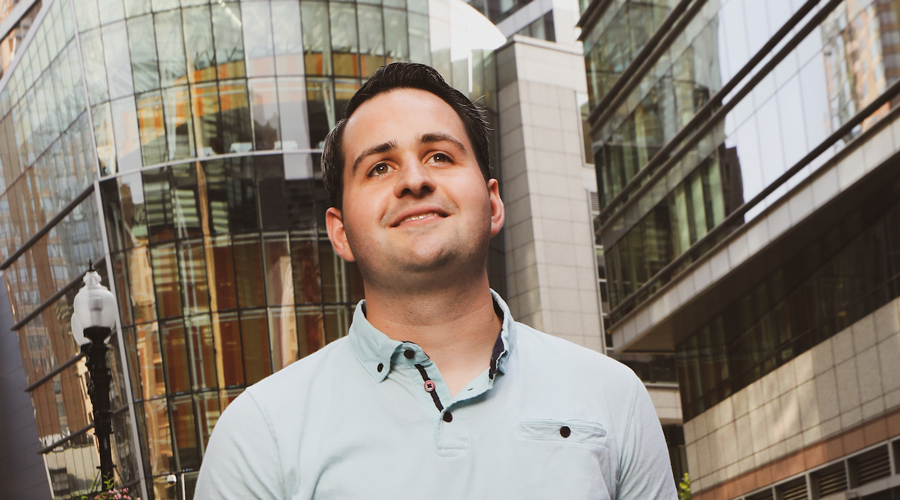 After a day at his company's coworking space in Downtown Crossing,
Vincent
walks by Suffolk's campus on his way to catch the Blue Line back across the harbor. He still lives in East Boston, and he still passes East Boston Memorial Stadium—where Suffolk's baseball, softball, and soccer teams now play their home games—on his commute home.
He's come a long way from riding his bike around Airport Station and playing on those fields. When he looks up at planes now, he knows exactly where they can take him.