2021 was filled with rapid change. Fortunately, Suffolk students, faculty, and staff excel at creating opportunities, finding solutions, and discovering resilience in unexpected circumstances.
As they have for decades, Suffolk students attended a Washington Center seminar in January, though this year's event was held online due to the continuing COVID-19 pandemic.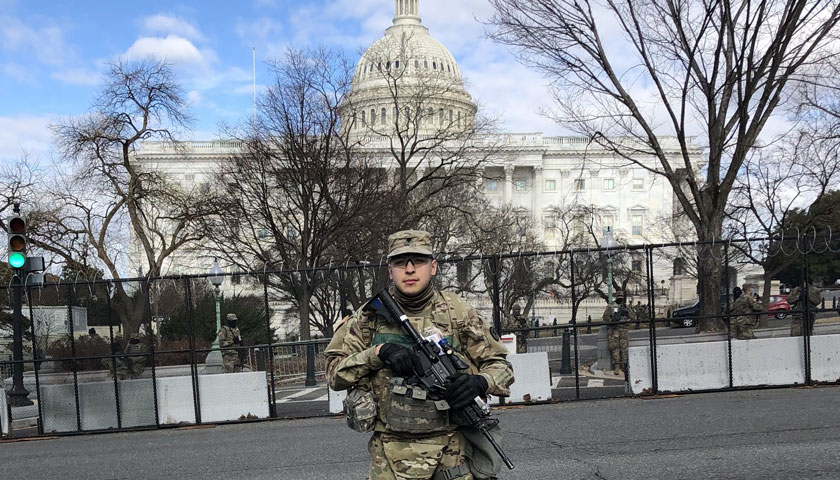 The January 6 insurrection at the Capitol called for candid conversations about America's political future. Our community engaged with these issues throughout the spring semester via the online public speaker series No. 46: Examining the First 100 Days of the Biden Administration. Kevin Luna-Torres, Class of 2021, pictured above, was deployed as a member of the National Guard to protect the Capitol during the inauguration of President Joe Biden.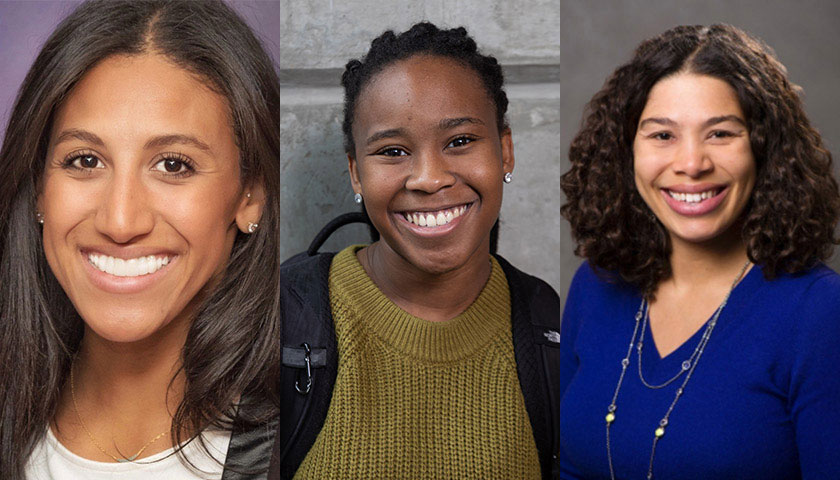 Other annual Suffolk traditions flourished online too, including the Dr. Martin Luther King, Jr. Celebration and Creating the Dream Award ceremony, at which students, alumni, and faculty were recognized for their efforts to nurture an inclusive, respectful, and safe environment for the University's communities of color. The honorees—Alexis Soares, Suffolk Law 3L; Mardochée Sylvestre, Class of 2021; and Natasha Torkelson, PhD, Counseling, Health & Wellness—are shown above.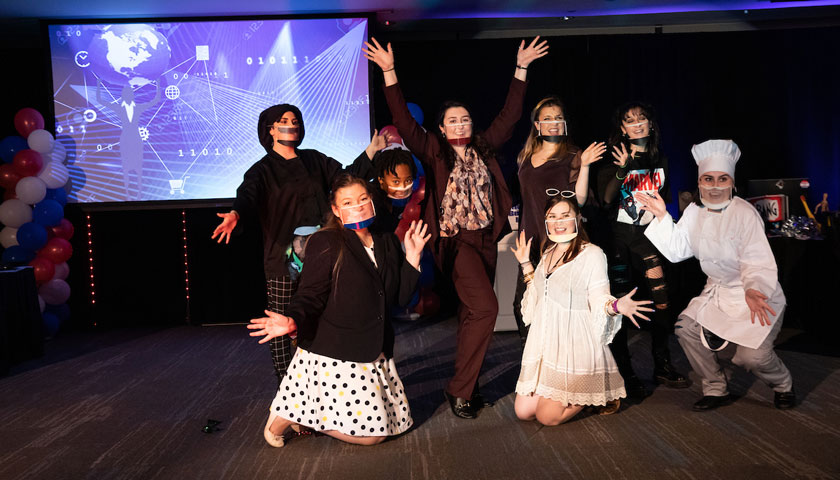 The show must go on—regardless of social distancing guidelines. As Suffolk headed into spring, the Performing Arts Office produced its annual dinner theatre event for an online audience. The cast of The Social Death Network, shown above, performed live over Zoom for our community.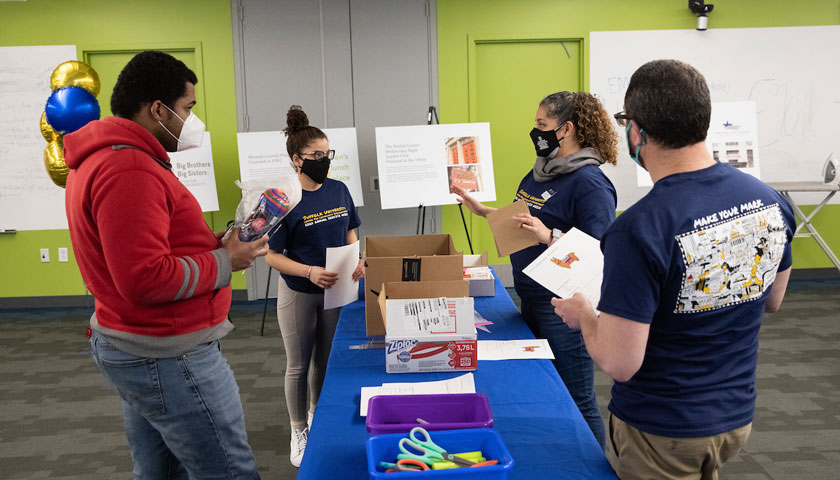 The Center for Community Engagement adapted Suffolk's annual Service Week as well, bringing students, faculty, and staff together—in person (when safe) and online—to volunteer for Boston-area nonprofits on critical community-based projects. Volunteers assembled donations for local charities in the Nancy Stoll Room, shown above.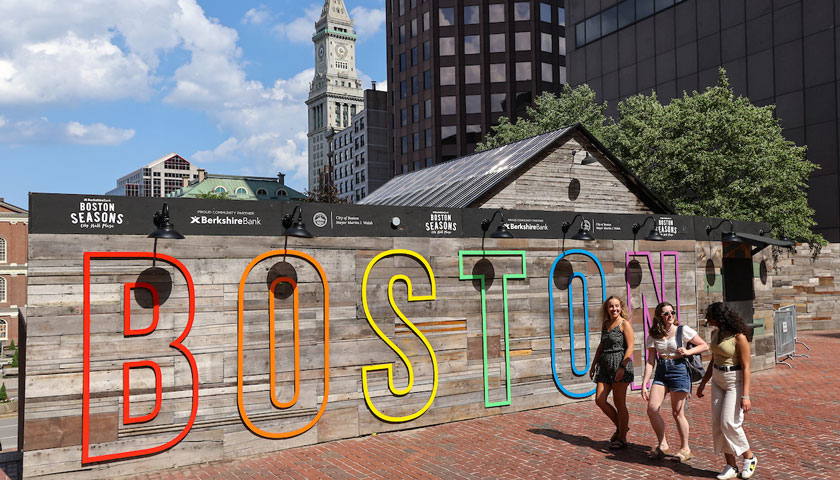 Springtime brought us warmer weather, green foliage—and COVID-19 vaccines. What a welcome reprieve from months of isolation! Orientation leaders, shown above, walk past the Boston sign in Government Center.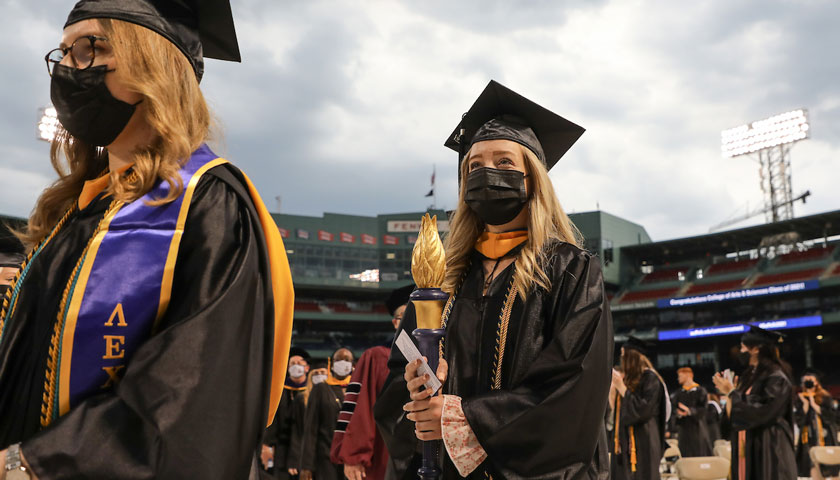 In May, we made good on our promise to graduates by holding dual Commencement ceremonies for the Classes of 2020 and 2021 at Boston's iconic Fenway Park. Among those receiving their degrees at this unforgettable event were the first graduates of Suffolk's MS in Medical Dosimetry program, shown below.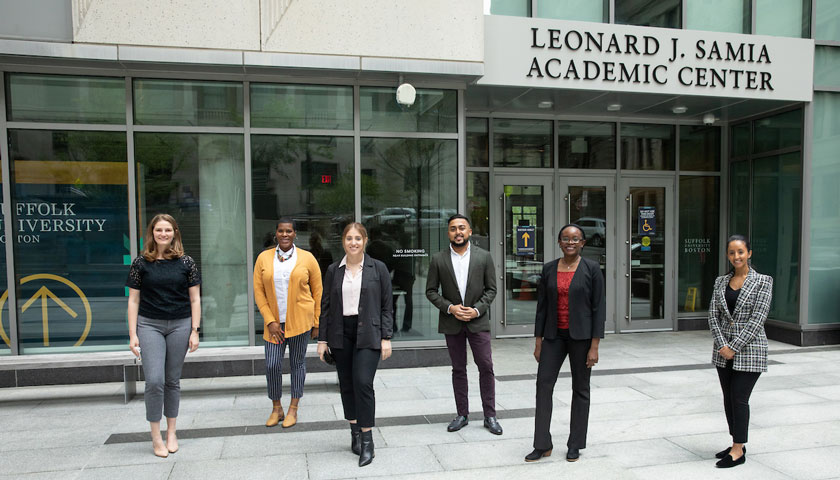 The University continued to grow and thrive over the summer, buoyed by two generous donations from College of Arts and Sciences alumnus Dick Rosenberg and his wife, Barbara, and Law School alumnus Warren Levenbaum and his wife, Judith. Another multi-million-dollar gift followed this fall, this time from an anonymous donor and in support of Suffolk's Center for Women's Health & Human Rights.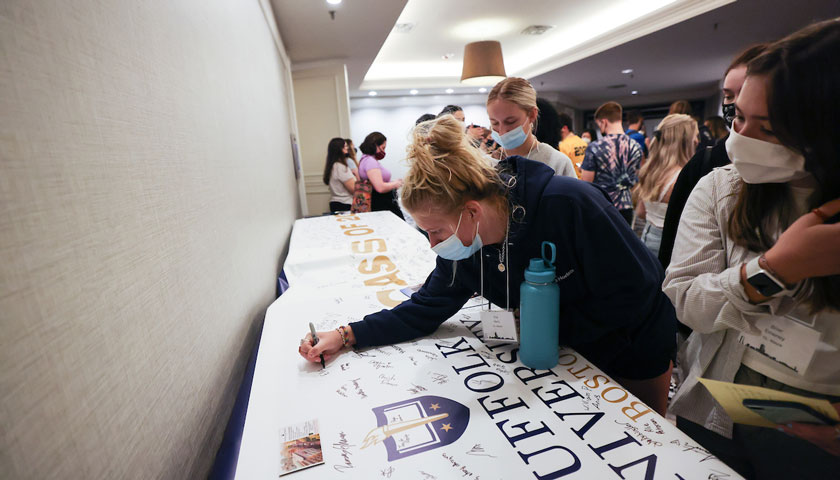 Summer at Suffolk means orientation. Incoming first-year students learned their way around their new campus community in the heart of downtown Boston. Our newest Rams sign the Class of 2025 banner, shown above.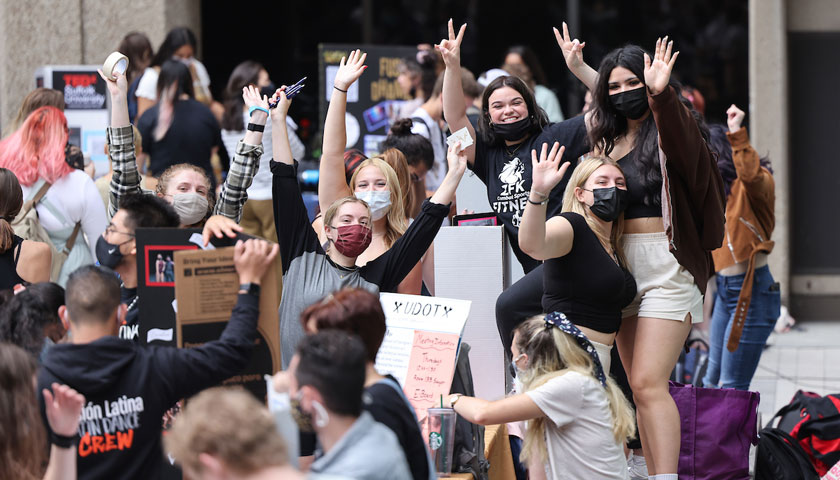 September looked a lot more familiar this year, complete with in-person classes and on-campus events. This return to normalcy was the direct result of the University community's extraordinary cooperation in masking up, getting vaccinated, and getting tested for COVID-19. Our annual Involvement Fair brought students together to join new clubs and make new friends, shown above.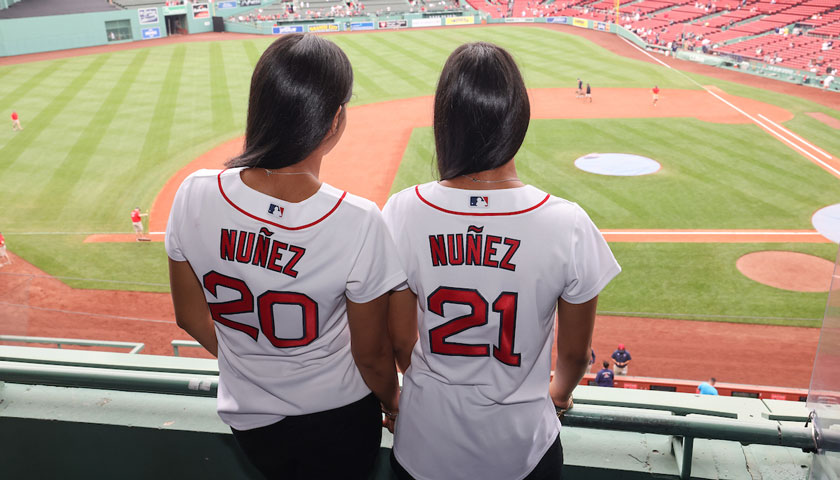 Also in September, Suffolk's leaders took care of some unfinished business. They returned to Fenway Park to hold a special Commencement ceremony for Emely and Evelyn Nunez, Class of 2021, shown above, who missed the May festivities due to a COVID-19 quarantine.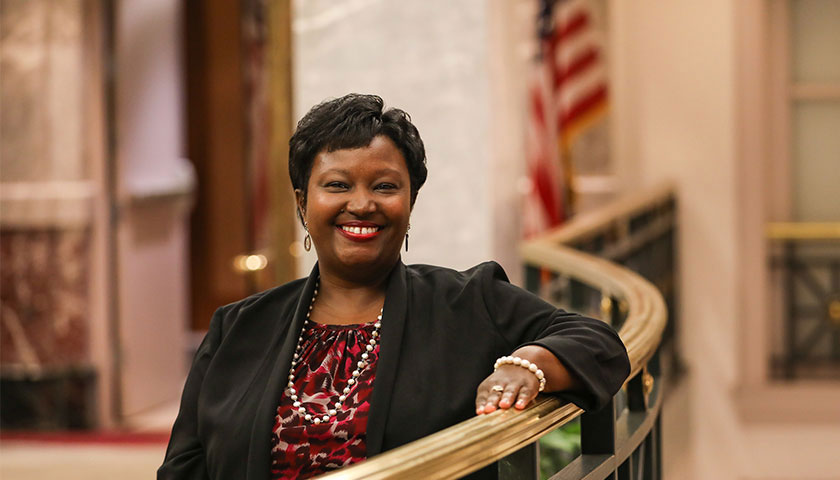 As the new semester got underway, Suffolk continued to gain national recognition. The University was honored with the 2021 Higher Education Excellence in Diversity (HEED) Award by INSIGHT Into Diversity Magazine. Joyya Smith, vice president of diversity, access, and inclusion, is shown above. Law School professor Sharmila Murthy was selected to serve on the Biden administration's Council on Environmental Quality. And Law School alumnus Gustavo Gelpi, Jr., JD'91, was confirmed to serve on the U.S. First Circuit Court of Appeals.
Rams athletic squads also came back strong in the fall. The women's cross-country team made a bold statement on behalf of Suffolk—the newest member of the Commonwealth Coast Conference—by bringing home a conference championship title. On the men's team, Matyas Csiki-Fejer became the first All-American cross-country runner in University history. All of our teams were thrilled to compete again. Shown above, our men's basketball team square off against Tufts University.
As students wrap up their finals and 2021 draws to a close, the entire Suffolk community can be proud of our enduring resilience, determination, and care for one another. These qualities have long defined Suffolk University—and position us well for the coming year.