"Am I really doing this? Why am I not in school? Did I make the right decision?"
These thoughts swirled through Gabriela Soto Cotto's mind as she pushed a seemingly endless parade of shopping carts up and down the aisles and around the parking lot of Costco.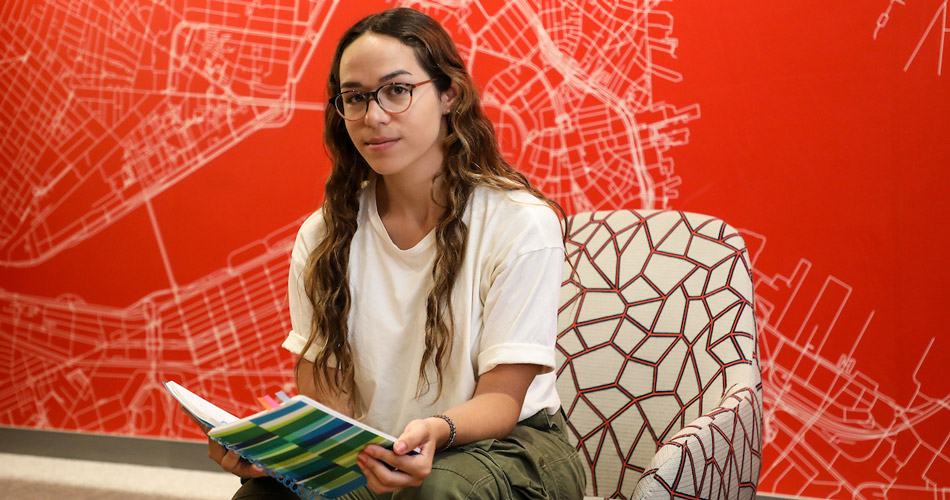 Back home, Gabriela '21 was a star student, earning a 4.0 grade point average in high school. She'd already wrapped up her first semester at the University of Puerto Rico. And she was determined to be an environmental lawyer, fighting to protect her island's pristine coastlines.

So, what drove her to uproot herself from the beaches of Puerto Rico and school—working a minimum-wage job and shivering through her first New England winter?

"The hope to do a lot more than I would have been able to do if I stayed there," Gabriela explains. "All I needed was to save up enough money so I could pay for school."

She did just that—working almost from the moment she said goodbye to everything she knew and loved and resettled in Stoughton, Massachusetts, in February 2017. Within months, she'd saved up enough to put her college degree within reach. She just didn't know where she'd earn it.

The answer came thanks to a nameless stranger at a college planning event.

There on her own, Gabriela stood out from the crowd of suburban high schoolers who came with their parents. "This family sees me by myself and asks me my story," she says. "The mother tells me, 'I suggest you look into private schools. There's a really good one—Suffolk University.'"

Gabriela did her homework and the rest is history. Actually, no. To be precise, the rest is politics, philosophy, and economics (PPE).
More Major Decisions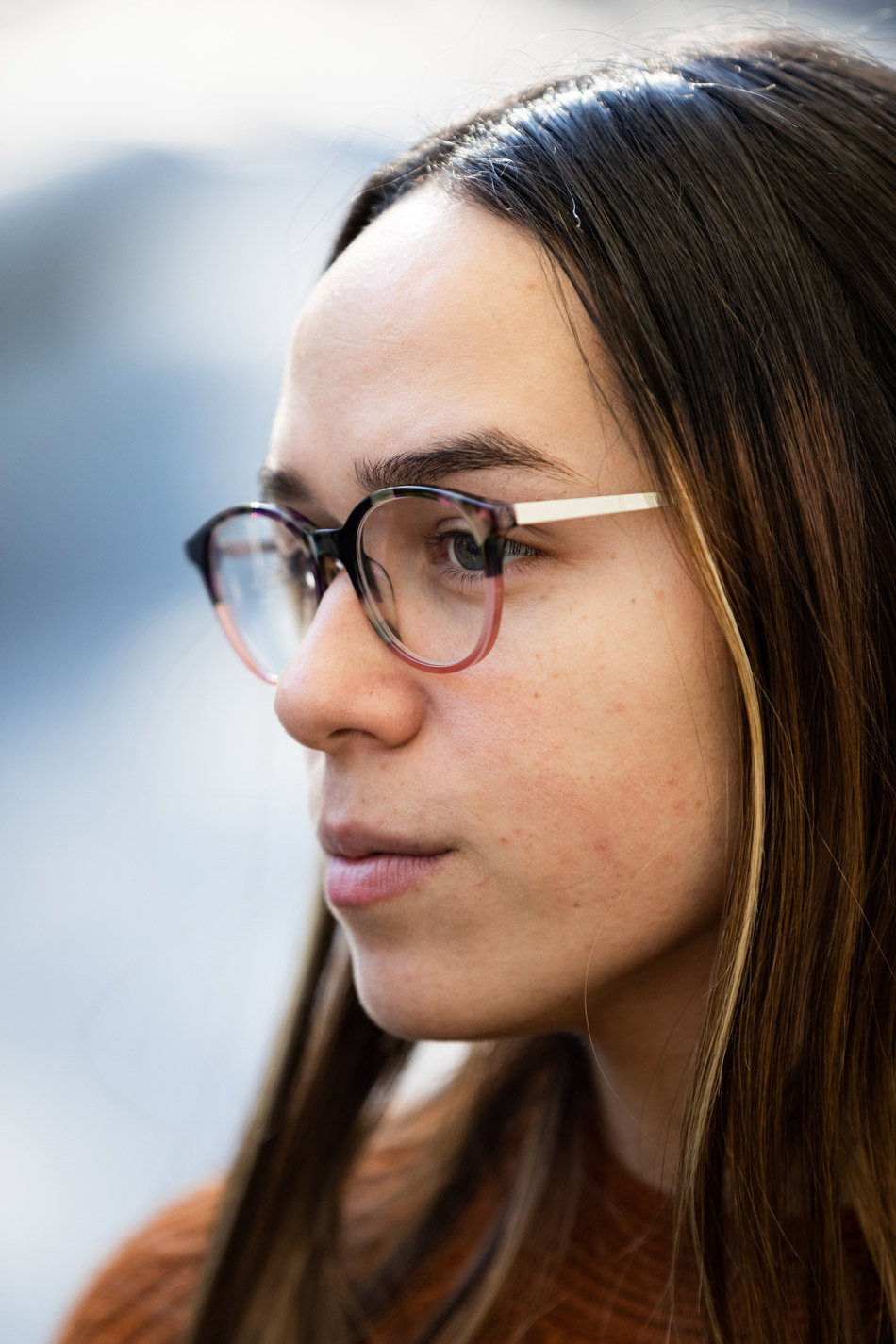 A lot of kids ask 'Why?' Some never stop.

Gabriela was once that rare sixth-grader who excitedly followed the twists and turns in Puerto Rico's election season.

"I like to question everything," she says. "All my life, I've really been into politics, and I like to know, 'How did this come to be?' I believe it's our duty as citizens to know what you're voting for. We have to know what's going on."

When she saw PPE—a rigorous interdisciplinary major that challenges students to analyze problems from multiple angles—on Suffolk's website, she just knew. "This is me in a major," she remembers thinking.

Gabriela entered Suffolk in the fall semester of 2017. "Once I started here," she says, "everything changed."

For this honors student, majoring in PPE is a dream come true. She's advanced her understanding of the complex issues facing humanity through different lenses.

"At any other school, I could have done political science, which sets me up for law school," Gabriela says. "But economics and philosophy open other doors for me."
Learning with Empathy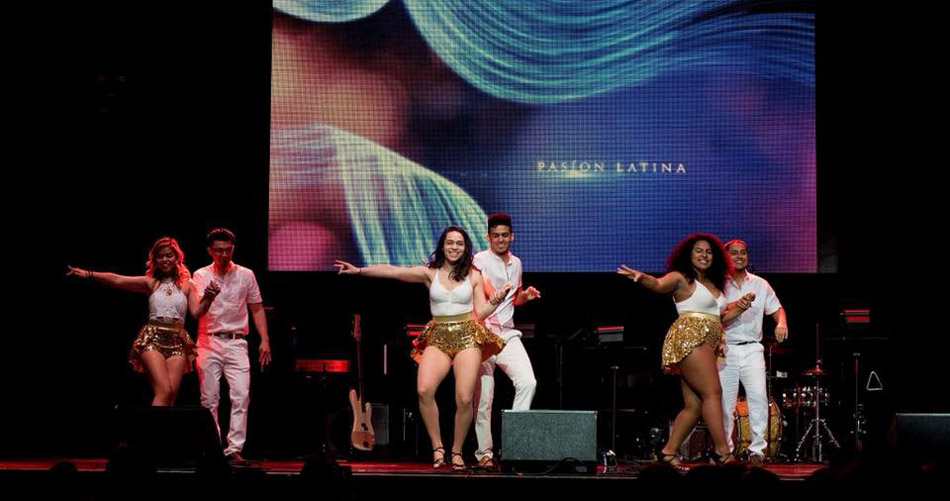 There is power in storytelling, whether you're narrating your own or learning from the lives of others. While mastering critical thinking and problem-solving skills in class, Gabriela's gained a truly global mindset from her fellow Suffolk students.

After so many months away from school and her peers, she made up for lost time by getting involved in campus life right away and forming new friendships. She's hit her stride performing with the Pasión Latina dance team. Thanks to this group, Gabriela has friends from Aruba, Venezuela, and even Russia and Iraq. "I didn't know anything other than Puerto Rico until I moved here," she says.
"Once you become friends with someone, you start sharing stories of how life is outside of your bubble. It's humbling to put yourself in other people's shoes. We all deserve the same respect and empathy." What's an ideal career for channeling all that empathy? Gabriela was about to find out.
A New Direction in DC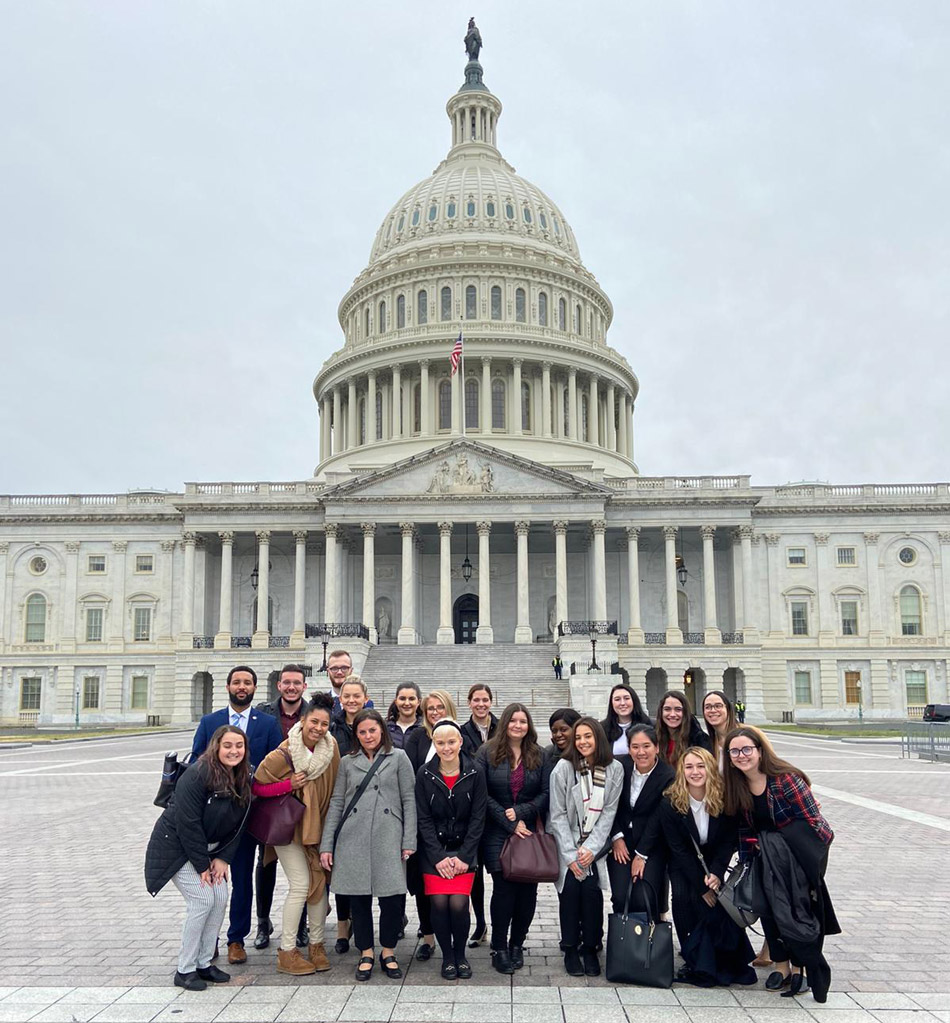 Gabriela had dreamed of being an environmental lawyer. Running for office? Not so much. It took just two weeks in Washington, DC, to change her mind—and her goals.

She journeyed to the nation's capital in January 2020 to attend the Inside Washington seminar. Offered by Suffolk's partner the Washington Center, this two-week experience doesn't just introduce students to the world of federal government—it immerses them in it.

Turns out, DC is her professional happy place. "If we're going on a school thing during winter break," she jokes, "you know we're all super geeked-out about this."

Early on in those action-packed weeks, she found an unexpected source of inspiration in the U.S. House of Representatives: the furniture.

In the House, you'll find two cloakrooms—one for Republicans, the other for Democrats. Each lobby has couches where legislators gather before entering the House floor to vote on bills.

"They're nothing fancy," Gabriela says, "and made me think, 'They're just couches. Politicians are people just like us.' This is where conversations happen—just like how I debate with my friends—before they vote on issues that impact our daily lives. It made me feel like I could run for Congress one day."
Leading by Example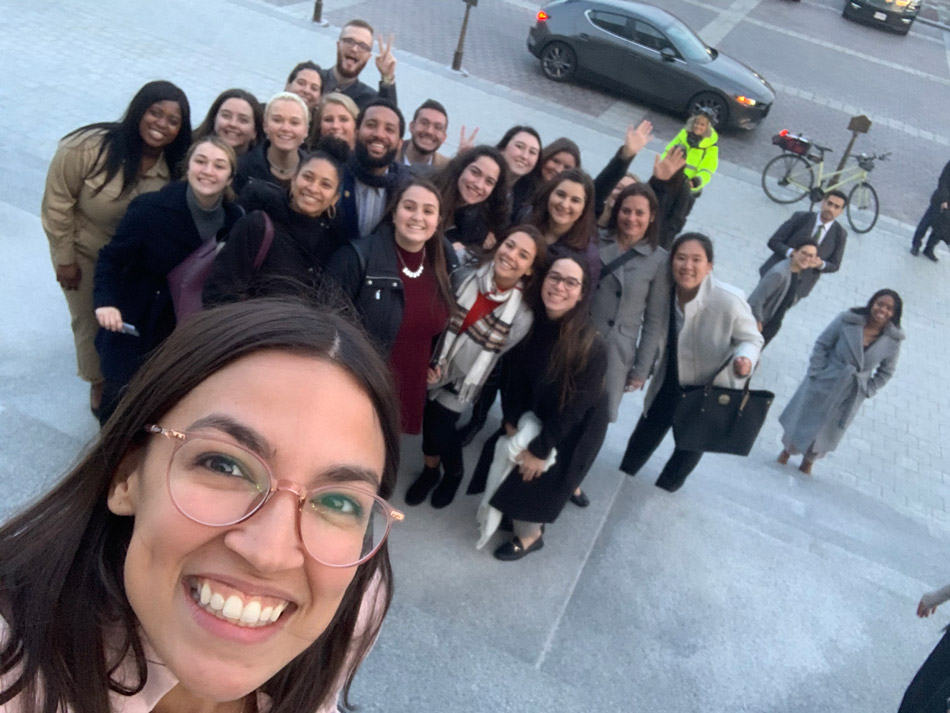 Imagine a movie montage of Congress members like Ayanna Pressley, Jim McGovern, and Joe Kennedy III. Now throw in beauty shots of the Supreme Court, Library of Congress, international consulates, think tanks, and more. That's who Gabriela met and where she went for a true insider's view of American politics.

McGovern, the chairman of the House of Representatives' Rules Committee, illuminated how the legislative process works, and how to work it. Kennedy almost missed a vote just so he could continue his conversation with Gabriela's group on healthcare and the unfolding presidential impeachment process. And Pressley told the students to look past her celebrity status as a "Squad" member and see her as just another public servant.

These politicians—plus Reps. Seth Moulton and Alexandria Ocasio-Cortez, who stopped in the corridors of power to greet Gabriela's group—spoke eloquently about who can represent Americans in Congress.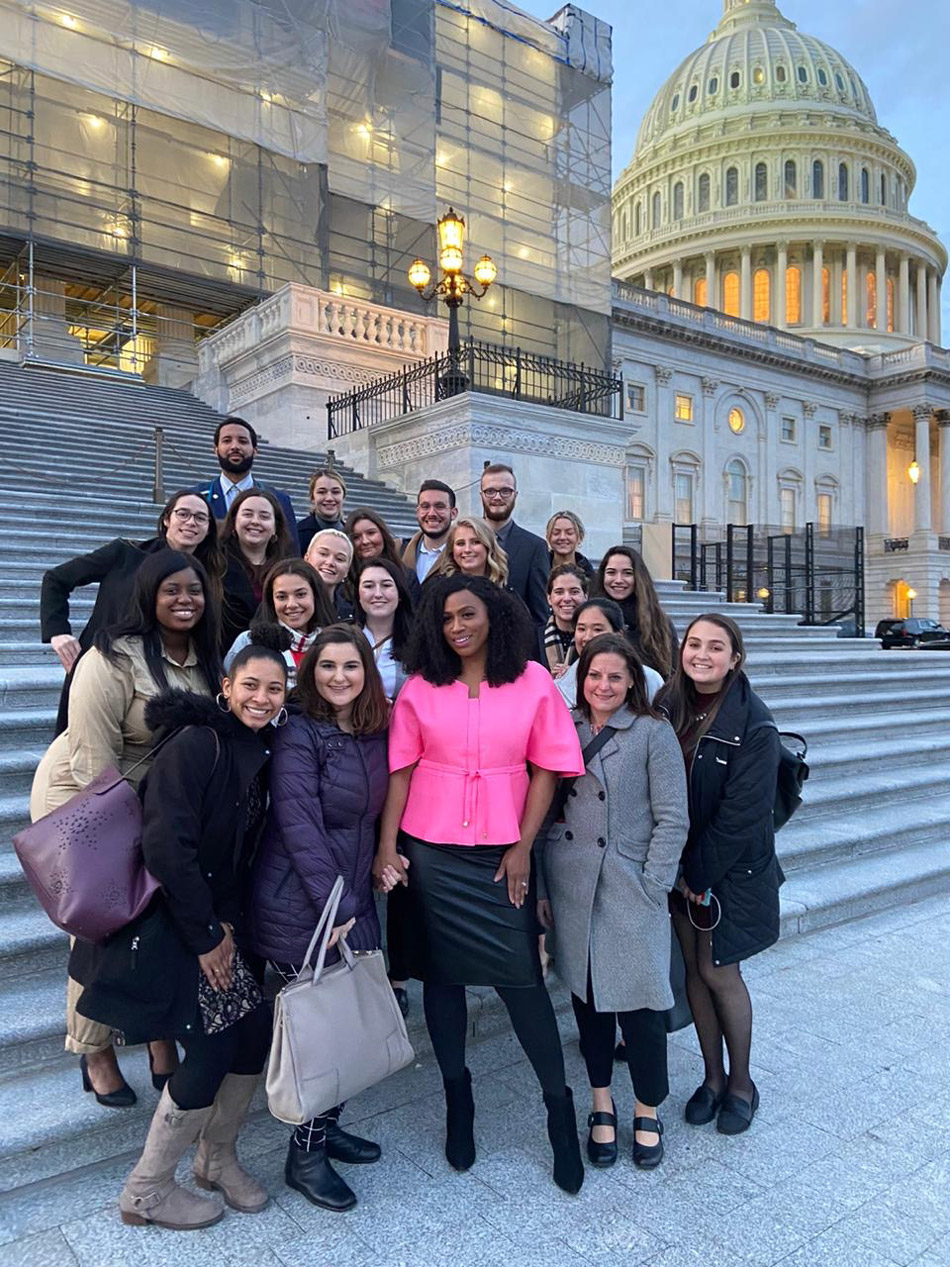 Newly inspired to run for office herself someday, Gabriela had a connect-the-dots moment thanks to Rep. Pressley.

"She was telling us, 'I am here to work for you and everyone in my district and community,'" Gabriela says. "'I lived through all you're living through and I'm here to change that for the better.'"

Given her own life experience in the months before she started at Suffolk, Gabriela realized, "What I was thinking was actually true!"
Bringing Her Education Home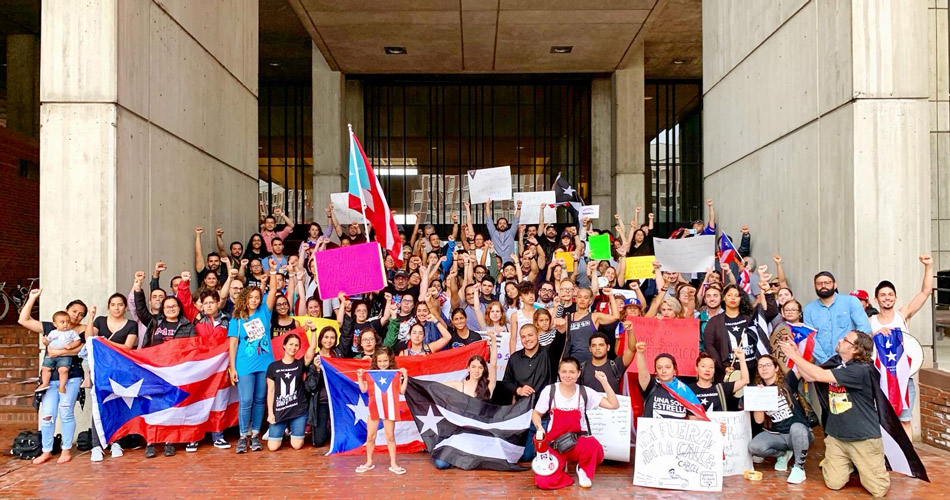 She connected even more dots while asking Rep. McGovern—whose congressional district includes many Puerto Ricans—how he addresses the needs of his constituents. "Serving the people—that's actually what the government's for," she says.

Some might take that for granted, but it's not always the case on her home island.

"I would definitely love to be part of something good back in Puerto Rico after having learned a lot and having had all these experiences," Gabriela says.

How can she make a difference? "The list is endless," she says. She has three issues in mind: making the government more transparent, clarifying the territory's status, and investing in clean energy.

"We're an island," she says. "The sun is shining all year long. There's no need to be losing electricity for weeks or months when things happen because the system is old, outdated, and not maintained."

She's already worked to change things up back home. During a summer 2018 Sierra Club fellowship in Puerto Rico, Gabriela learned how to spearhead a project, listen to a community's needs, and inspire people to follow her lead.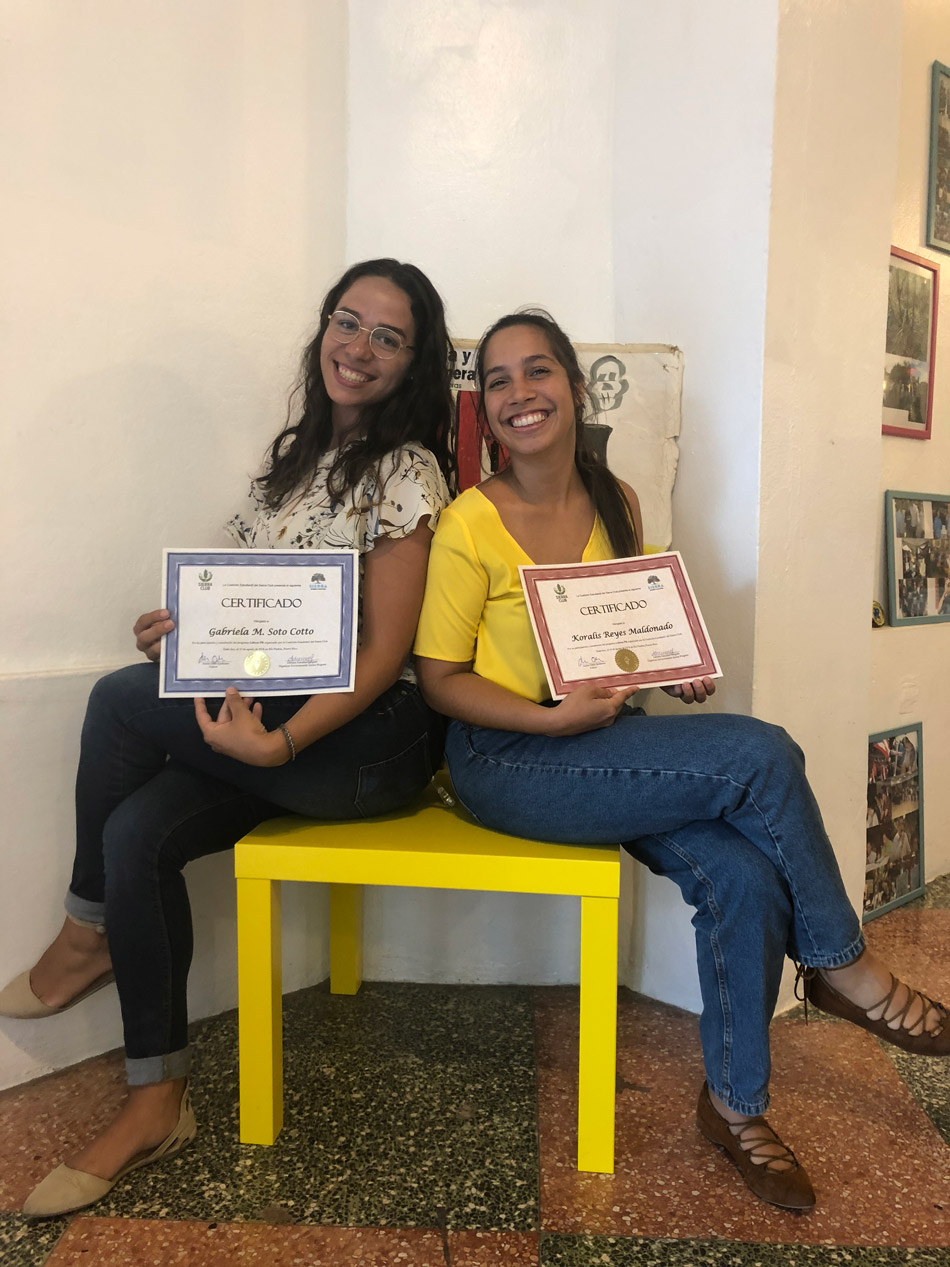 With these new skills, she helped start Naranjo Watt, a nonprofit that provides solar energy to low-income citizens severely affected by Hurricane Maria. "We went to the community," she says, "and it's little kids, it's old people, it's vulnerable people. You have to prepare yourself emotionally to see the conditions these people live in. Anything you can do to help that, it's rewarding."
Positive Peer Pressure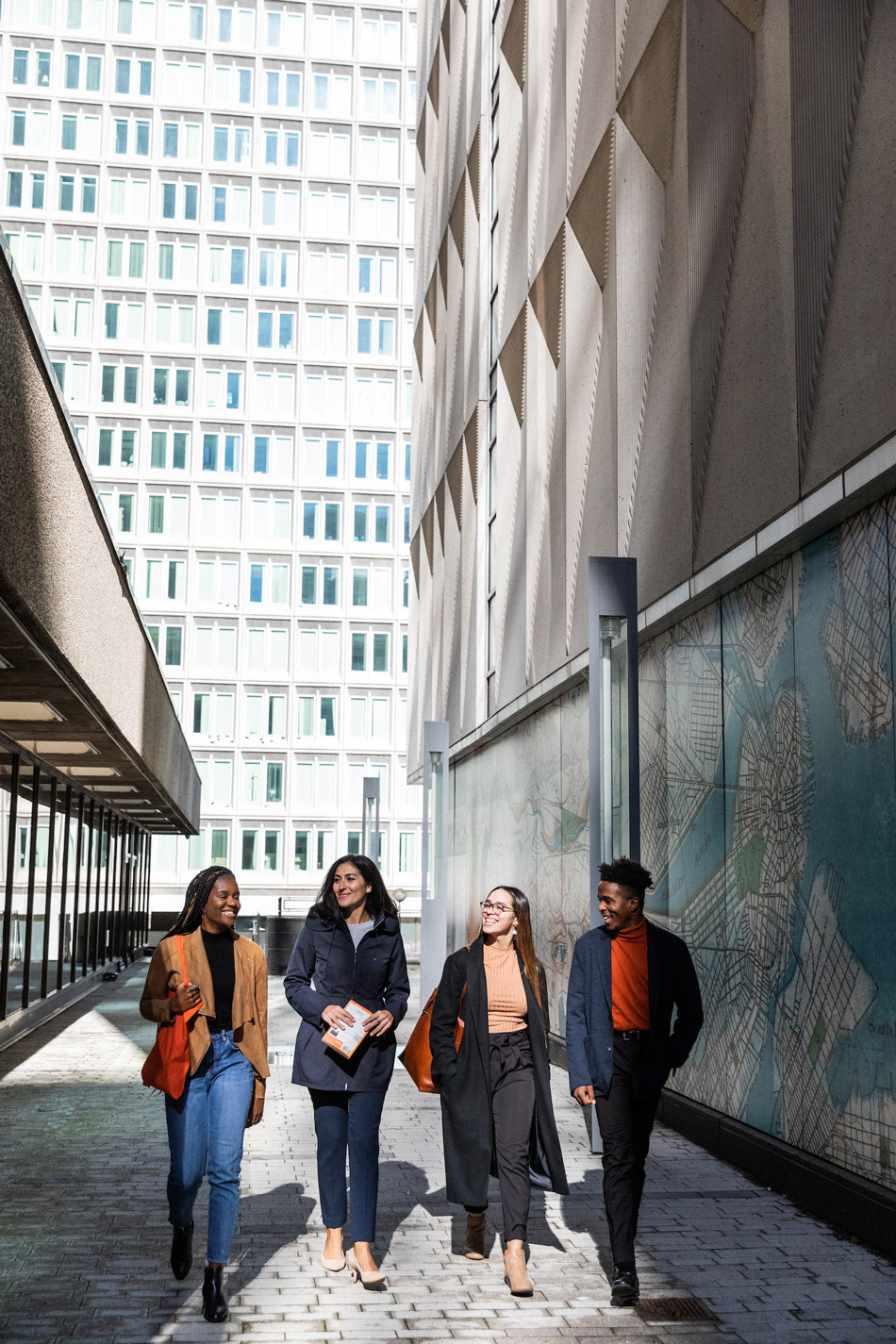 When Gabriela sees a problem, she challenges herself to solve it. It's the Suffolk way. From helping victims of the Beirut explosion to creating care packages for children in need here in Boston, her peers are shaping the future of communities near and far.

"When these people are your friends," she says, "and your friends are doing these things, it makes you a better person and makes you want to do that, too."

Knowing firsthand the emotional toll this kind of work can take, Gabriela texts frequent encouragement to her friends. Her message: "Keep doing it even if it gets hard. You're helping the world by inspiring others."
Gaining Perspective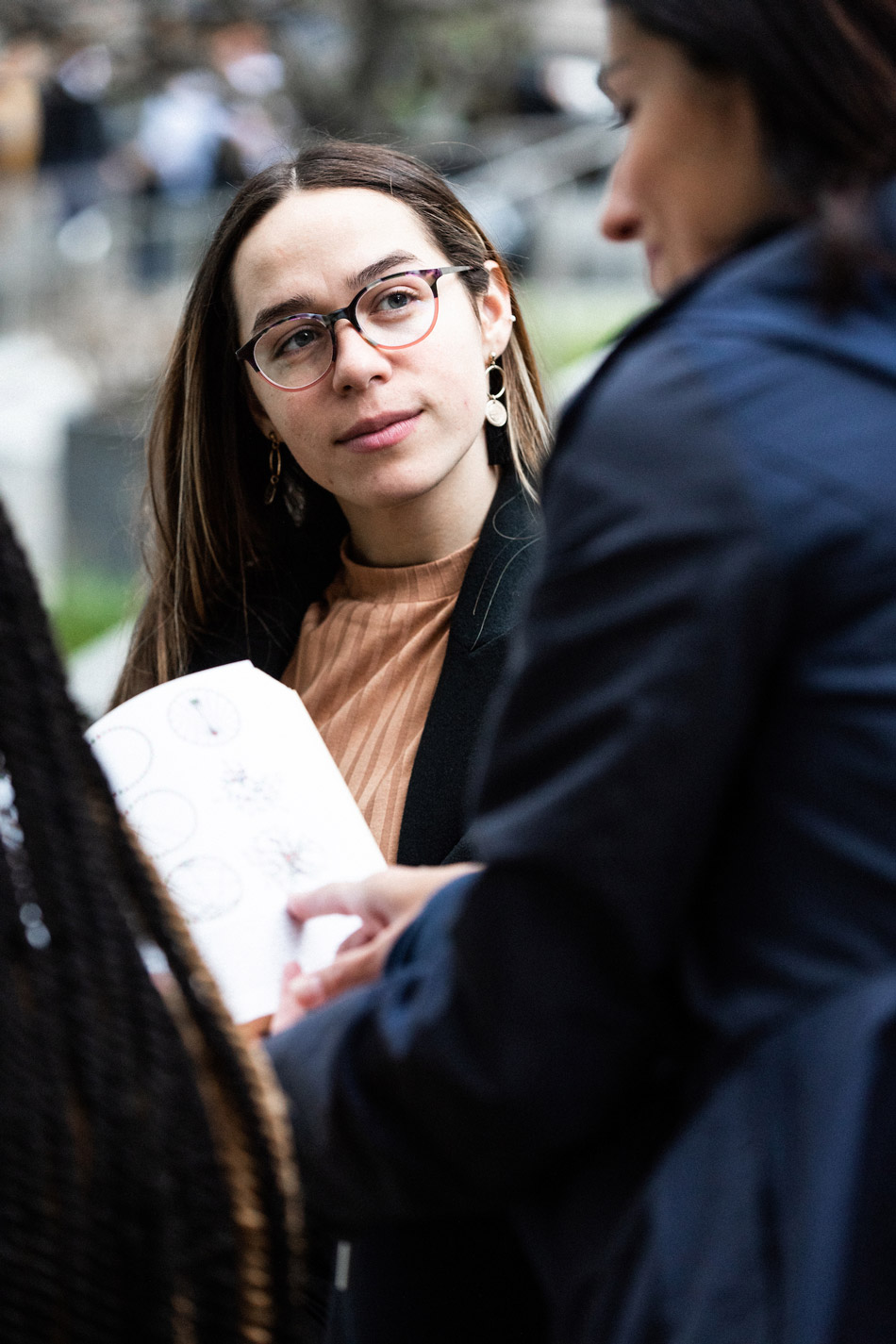 Gabriela is poised to graduate from Suffolk this December. She was set to return to Washington this fall, but COVID-19 had other plans. "I wish I could go back for the whole semester," she says, "but I'll be forever grateful for the two weeks I had."
Her time in DC also inspired her to successfully apply for an online summer externship with the U.S. Patent and Trademark Office. Using the research skills she's gained as a PPE major, Gabriela cowrote a report that helped get a new federal rule on the books.
There's still so much to do—getting her LSAT results, applying to law school, and putting her Suffolk paralegal certificate to work before law school begins next fall.
When it comes to her future legal practice area, Gabriela's keeping her options open. "I can take care of and advocate for the environment without being an environmental lawyer," she says. "I don't want to narrow myself down yet. Once I'm exposed to other types of law, I can make a better decision."
And what of her decisions to leave home and study at Suffolk?
As she looks back on the hard work and homesickness that chilled that gloomy winter of 2017, she appreciates the power of her own story and draws strength from the sacrifices she made to earn her higher education.
"My journey has been different," she says like a true philosopher, "and that's what makes it special."