When it comes to getting ahead, Maggie Randall doesn't waste time. She earned her Suffolk University education on an accelerated timeline. Now her career at the Massachusetts State House is on a fast track, too.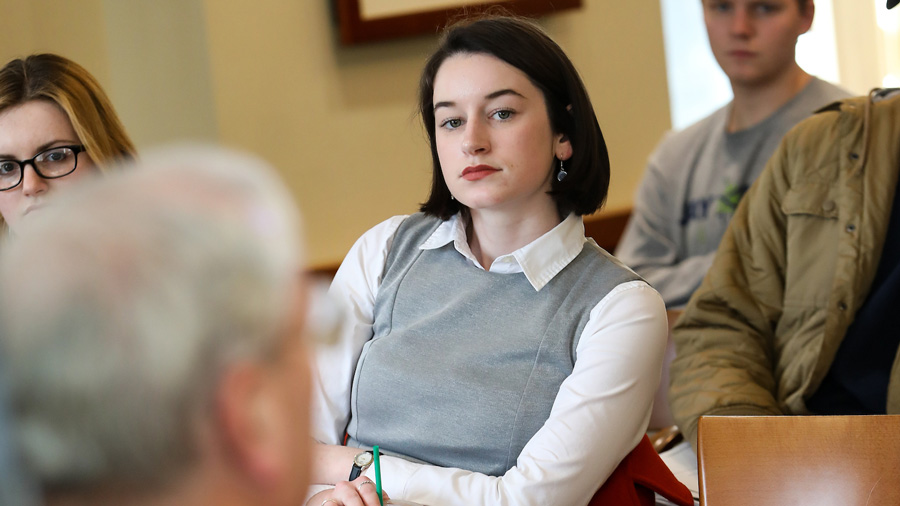 Maggie, BS in Political Science '18/MAAP '19, is the newly minted chief of staff to State Senator Joe Boncore. In an appropriately patriotic bit of timing, she assumed the title this Presidents' Day. "I was honored," she says, "and really excited to be trusted in this role."

It's her latest promotion at the State House. "I've been working there since I was 19," Maggie says, "so I feel like I almost grew up in the building."

How does someone achieve her level of civic-minded success? It helps when you've known public service is your destiny for a long, long time.
Heeding Her Calling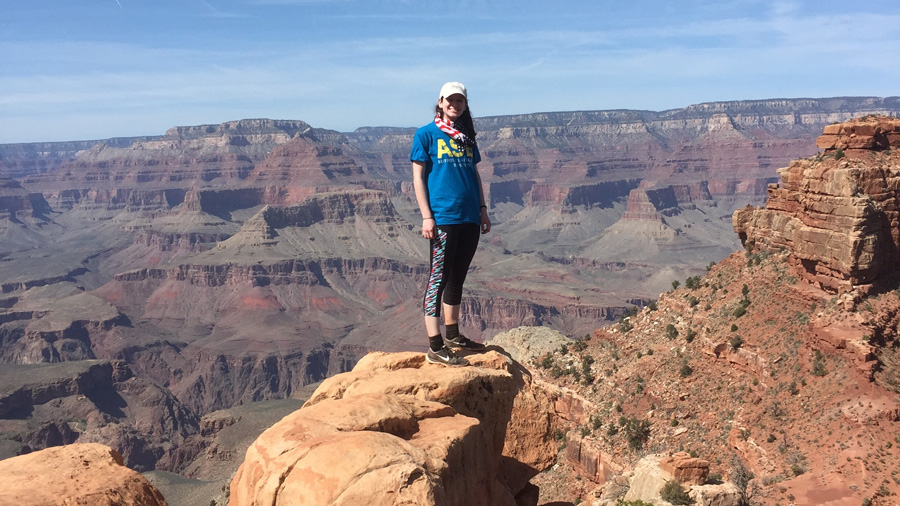 "Tip" O'Neill, Jr., the Massachusetts-born speaker of the United States House of Representatives, famously said, "All politics is local." Cape Cod native Maggie shares this icon's home state and mantra.

As she grew up, her parents emphasized the importance of voting and community engagement. And when you're from the Cape, that starts with the environment. "Everything that comes in has to go off," Maggie says. "So, trash disposal, erosion, all these things are just second nature. Even from high school, I knew I wanted to do something in public service."

By the time she graduated Sturgis Charter Public School, she was more than ready to study political science in depth.

Maggie, pictured above at the Grand Canyon for a Suffolk Alternative Spring Break trip a few years later, had an inkling she'd like to work at the Massachusetts State House someday. And when she began checking out her college choices, Suffolk University's downtown Boston address stood out. "There were no other schools where I could study government right next to the State House, City Hall, and everything that's around here," she says.

Her political stars were about to align in a big way.
Life In the Academic Fast Lane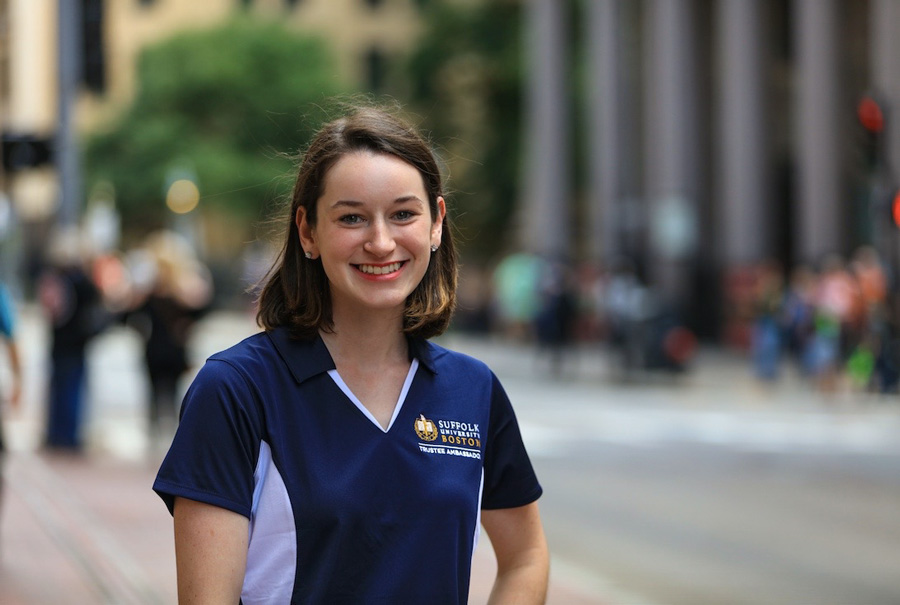 Maggie completed the rigorous International Baccalaureate program at Sturgis. Thanks to the 36 academic credits she earned, she skipped right over her freshman year at Suffolk and enrolled as a sophomore in September 2015.

So, was she the odd one out for jumping into her studies a year ahead of schedule? Anything but.

"I still felt like a part of the Class of 2019 because I lived on campus for two years and was doing all the freshman stuff with my friends," Maggie says.

And she wasn't the only Suffolk student following a different timeline. "There were so many other students going through their college journey on individualized tracks," she says. "I never felt out of place."
Learning the Political Ropes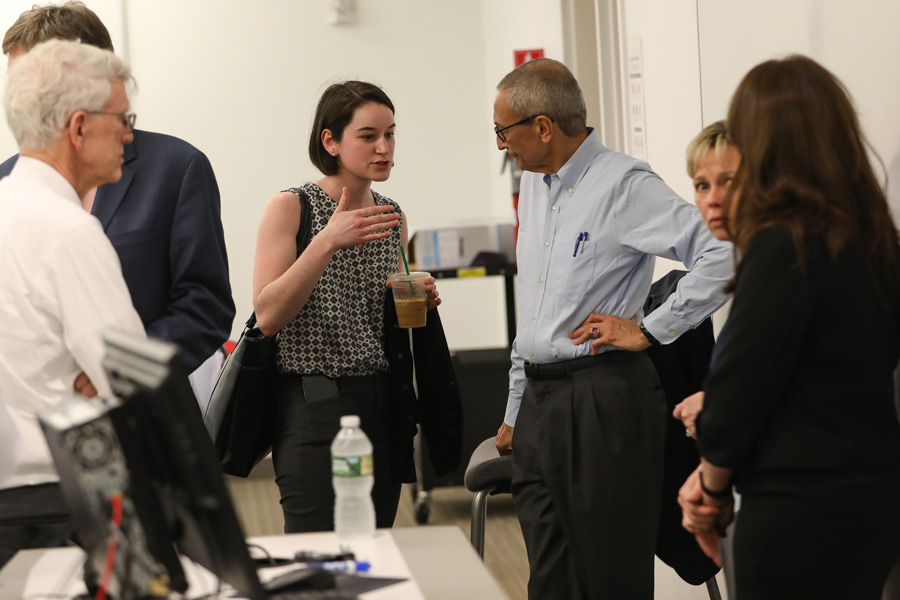 Maggie took a course called The Idea of America and devoured the works of Alexis de Tocqueville and Frederick Douglass. Her professors with deep professional experience and networks in politics were just as inspiring. She counts Rachael Cobb and Brian Conley—"who have all sorts of connections within Boston"—as caring mentors. And thanks to a course with Professor Cobb, Maggie discovered a new focus: voting rights and voter access.

She made her mark on campus early on. In October 2015, she wrote an article for The Suffolk Journal about attending a Bernie Sanders rally. It was a hit, and the editor asked her to write a politics column. "I was like, 'You're confused. I've never written for a school paper,'" Maggie says.

She accepted the challenge of writing weekly 500-word columns, interviewing Boston's election commissioner, former Massachusetts Governor Michael Dukakis, and other "people who knew that everything that they did wasn't for themselves."

While she excelled in class and in print, Maggie, pictured above with former White House Chief of Staff Jon Podesta, took full advantage of the many career-related opportunities waiting just off Suffolk's campus.

"I could easily weave what I was doing academically and what I wanted to do professionally," she says. "It never felt like those things were completely separate.

"I'm kind of anti–free time," Maggie continues. One look at her resume proves her point.
On-the-Job Training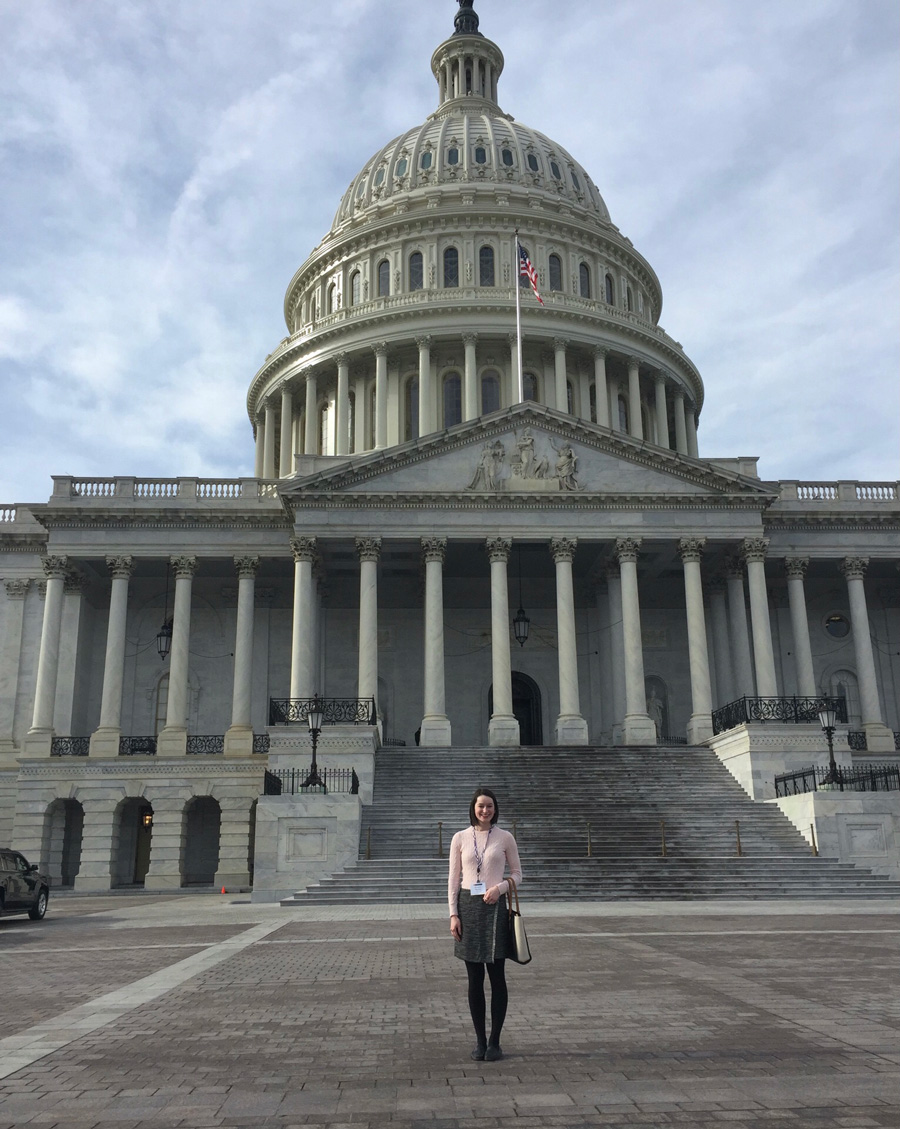 Maggie got her big break in October 2016 when she successfully landed a job designed for college students at the Massachusetts State House. As a Senate page, she helped make sure senators had everything they needed for productive sessions and sometimes worked reception for the Senate president's office.

She was also a policy intern for LobbyIt.com during her fall 2017 semester in the nation's capital with The Washington Center. But she didn't stop there.

"For the second half of my senior year, I wanted to do an internship just so I could get broader experience," she says. That's how she learned the ins and outs of running campaigns as an intern for the Blue Lab, a resource for Democratic candidates staffed primarily by college students.
Mastering Her Field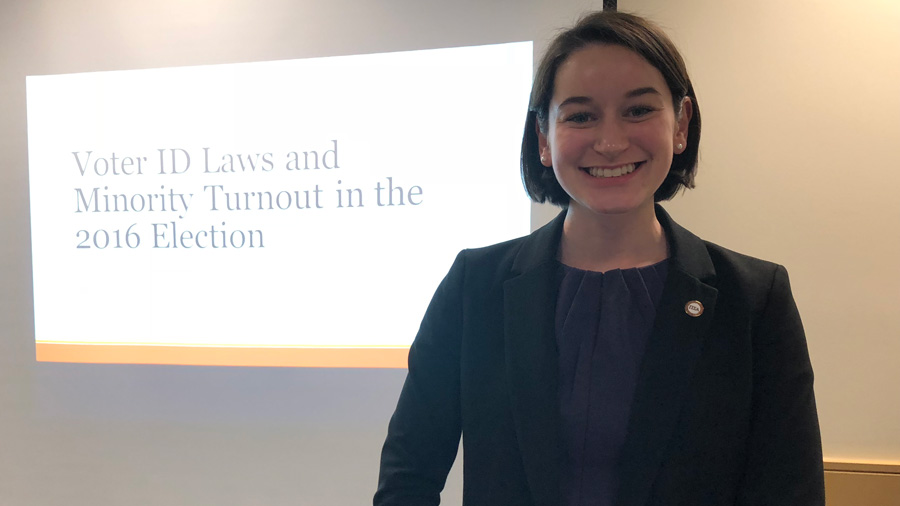 Despite her action-packed resume, Maggie's human. And like college students the world over, she became nervous as her senior year and life after graduation approached. That's when Professor Cobb calmed her fears and suggested Suffolk's master's program in applied politics.

"I was like, 'I have this job at the State House, but it will end when I graduate college. I'm not ready to be a real adult,'" Maggie recalls. "Professor Cobb was very good about nurturing me, and told me to apply to the master's program because it would be really affordable and really fast."

It was also really practical. In her graduate courses, Maggie fine-tuned the art of writing press releases, testimony before a congressional hearing, and white papers. She topped it all off with a master's thesis on—what else?—voting rights and voter access.
Advancing Under the Golden Dome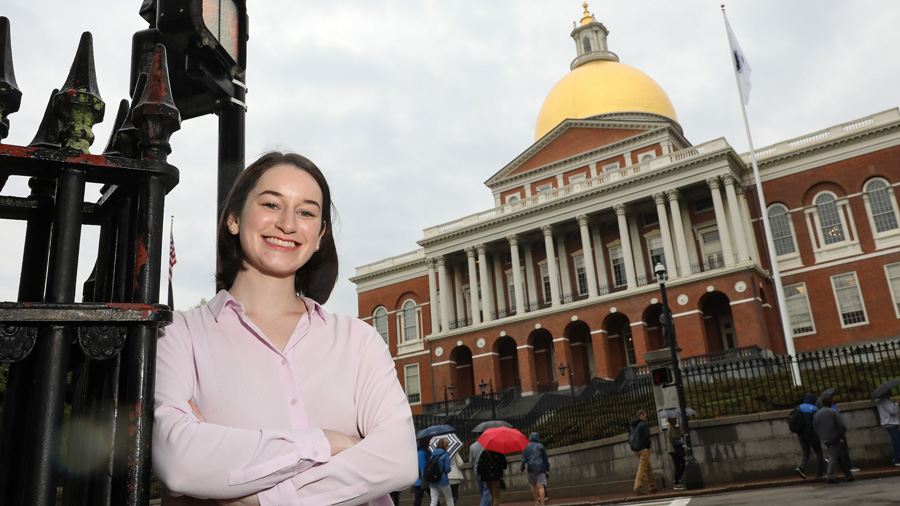 She didn't have to worry. Two months before earning her undergraduate degree, Maggie was hired as a full-time State House employee, working reception for the Senate president and planning large-scale events.

"Organizing those things and bringing them together was awesome," she says. "That's what I liked most: when you can see the final product when it's pulled off."

She's advancing her career, thanks to her professionalism, principles, and a little bit of Suffolk kismet.

While she'd seen Senator Joe Boncore around the State House, Maggie had her first real conversation with her future boss at Suffolk's Commencement Eve Dinner in May 2019. (She was a special guest at the event: Maggie gave the College of Arts & Sciences' student address the next day.) She struck up a conversation that night with Senator Boncore and his wife, Christine, BSBA '10/JD '13, pictured below.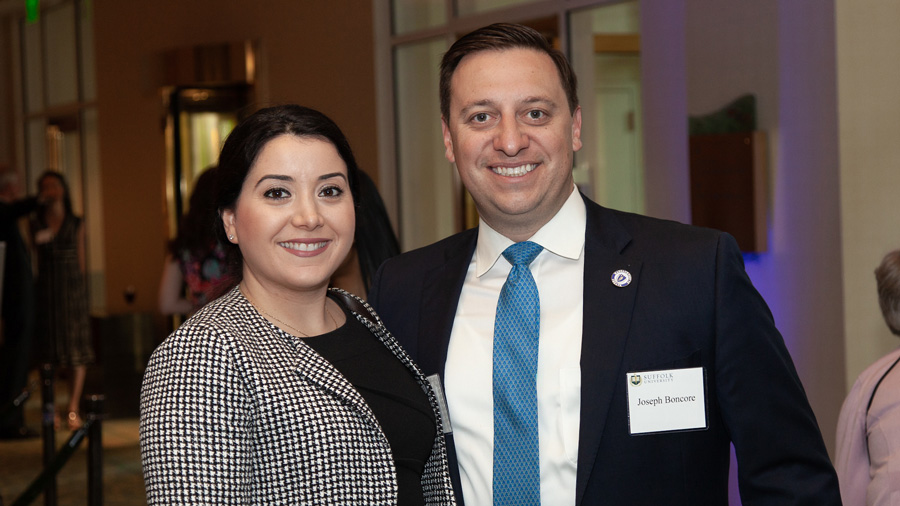 "It was one of those moments when you're just being friendly and don't expect anything to come of it," she says, "but then you have a new job that you love."

In September 2019, she became Sen. Boncore's legislative and communications director. While working from home during the pandemic, she kept track of the senator's legislative portfolio, which includes the issues she's passionate about, and met with his constituents and community advocates.

Maggie also continued to hone her writing skills, drafting the kind of incisive talking points and other communications she studied in grad school. "Adopting my boss's voice in my writing is not so much of a stretch," she says, "because I know that our value systems align. So I can write from the heart."

And then along came the opportunity to become his chief of staff. "It felt natural for me to stay in Senator Boncore's office," she says. "I was excited to be able to continue working with him and the staff in our office."
The Many Adjectives of Maggie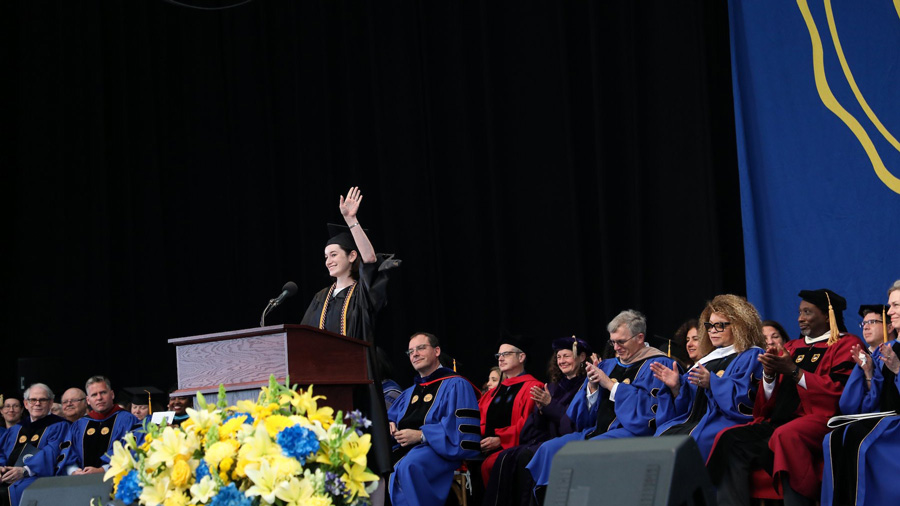 Driven. Idealistic. Able to juggle her studies with an almost overwhelming array of internships and work experiences. All these words describe Maggie. So does humble.

"I want to make clear I'm not this unique person," she says. "I'm not this special case of someone who took advantage of those opportunities. I think the nice thing about Suffolk is that anyone can do that."

So, should you look for her name on a ballot one day? "Oh gosh," she says, "I haven't thought about seriously running for office yet. I'm just keeping myself open-minded to whatever path my life and my career take."

Time is most definitely on her side.