The Suffolk University Gallery is the Art & Design Department's main exhibition space. Located on the sixth floor of the Sawyer Building, the gallery presents exciting exhibits and related programs that reflect our increasingly visual and image-driven world. The gallery aims to engage the whole Suffolk community while adding to larger conversations taking place in Greater Boston's cultural arena. Exhibits of student work from all departments, as well as themed curated exhibitions, provide an important link between and for students, faculty, and visitors.
Current Exhibit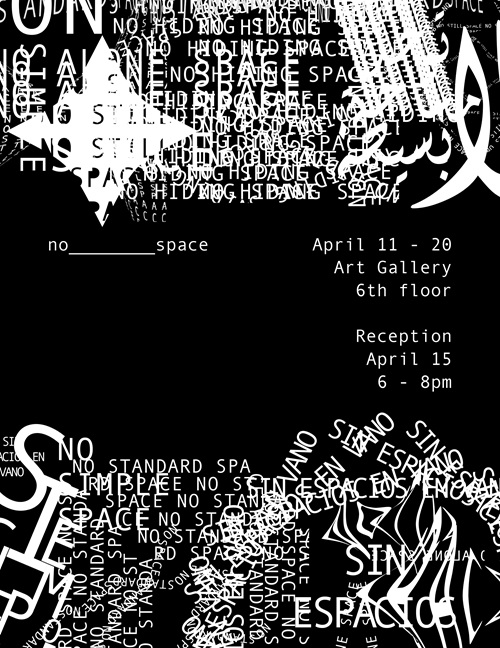 No____Space
MA Graphic Design Graduating Class Thesis Exhibit
April 11 - 20, 2022
Reception: April 15, 6:00 p.m. – 8:00 p.m.
The graduating class of Suffolk's MAGD Program thesis exhibition will run April 11- 20 in Sawyer's 6th floor gallery space. A reception will be held on Friday, April 15th from 6:00- 8:00pm.
Their space is not still. Their space is not standard. Their space is not hiding. Their space is not simple. Their space is not alone. Su espacio no es en vano. The space is their story, and they are taking their space. These designers work from the heart and dig deep into topics others may avoid.
They invite you to their space.
The Importance of Mentoring: Deborah Davidson and Keith Kitz in Conversation