The Suffolk University Gallery is the Art & Design Department's main exhibition space. Located on the sixth floor of the Sawyer Building, the gallery presents exciting exhibits and related programs that reflect our increasingly visual and image-driven world. The gallery aims to engage the whole Suffolk community while adding to larger conversations taking place in Greater Boston's cultural arena. Exhibits of student work from all departments, as well as themed curated exhibitions, provide an important link between and for students, faculty, and visitors.
Current Exhibit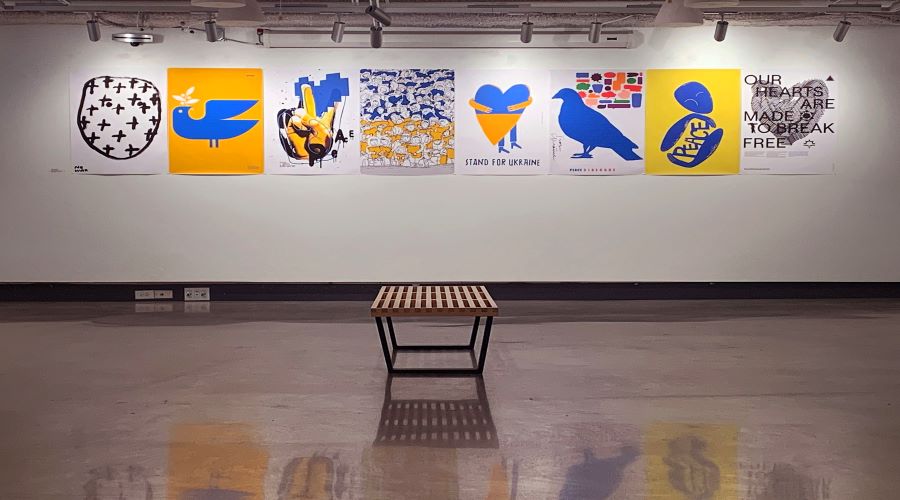 Stand With Ukraine
August 3 - 30, 2022
The 4th Block Graphic Designers Association (Ukraine) together with PosterTerritory (United States) has initiated a global call requesting socially responsible designers express their views on the war in Ukraine. To date the Stand With Ukraine poster call has amassed thousands of submissions. The Suffolk University Gallery is honored to share this collection of 50 images curated by Keith Kitz, Assistant Professor, Art & Design. Our heartfelt thanks to Oleg Veklenko, Olga Severina, and the contributing designers.
For more information visit 4th Block or PosterTerritory.
Gallery hours will be extended for this exhibit:
Monday - Thursday 7:00 a.m. - 10:00 p.m.
Friday 7:00 a.m. - 7:00 p.m.
Weekends 7:00 a.m. - 5:00 p.m.
The Importance of Mentoring: Deborah Davidson and Keith Kitz in Conversation