one state, two state / red state, blue state
an american musical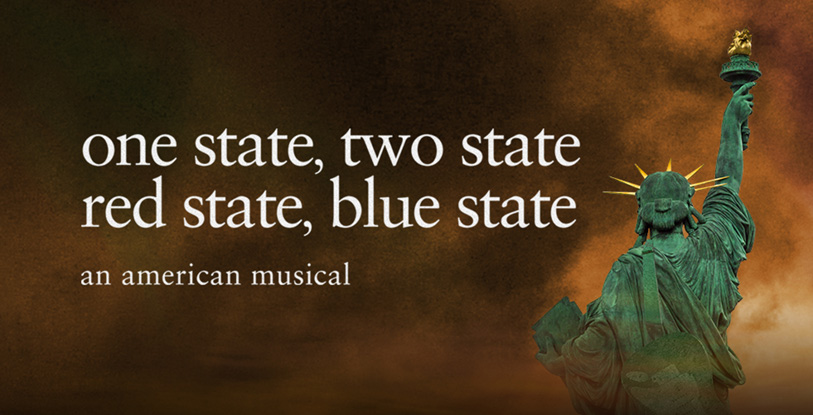 An uplifting, heartbreaking musical comedy about the volatile mix of drama and democracy in a nation divided by irreconcilable differences.
one state, two state / red state, blue state is the new, musical created by Suffolk University theatre professor Wesley Savick. Inspired by Arlie Russell Hochschild's Strangers in Their Own Land: Anger and Mourning on the American Right (2016 National Book Award Nomination for Nonfiction), one state, two state / red state, blue state leaps into the cultural cracks of the 'Divided States of America' and asks: Is it still possible to climb the "empathy wall" and reclaim what unites us before we're irreversibly torn apart?
The musical features new songs in the indigenous American languages of folk, country, blues, jazz and Broadway. The story focuses on what happens when "Betty" and "Bill" – former lovers living on opposite sides of the country - rekindle their relationship after a long separation.
For more information contact:
Wesley Savick or Jim Kaufman
Email: [email protected]
Phone: 617-573-8282
one state, two state
red state, blue state
an american musical

Book, lyrics and direction by Wesley Savick
Music by Brian Bernhard, Scott Nicholas and Wesley Savick
Press
Red State/Blue State Divide on Stage
Suffolk University, March 30, 2018

Democracy vs. Drama, withstanding the tests of time
The Suffolk Journal, April 6, 2018

Feeling blue, seeing red
The Suffolk Journal, April 11, 2018
About Wesley Savick
Wes has served as Artistic Director of Theatre X in Milwaukee, interim Artistic Director of the Drama League of New York's Directors Project, Artistic Associate of Chicago's Organic Theatre and guest director-in-residence at the DARTS Subaru Theatre in Tokyo, Japan. He received the prestigious Bunka-cho grant from the Japanese Ministry of Culture which enabled him to study traditional Japanese theatre and music in Tokyo. He has directed or acted in over one hundred professional productions, almost all new works. He has written, co-written or adapted twenty-six plays including a musical based on the NPR show "Car Talk," adaptations of two novels by Alan Lightman, a full-length opera based on the life of Liberace and, most recently, "one state, two state/red state, blue state," a new musical about our divided nation inspired by Arlie Hochschild's "Strangers In Their Own Land," which premiered at Suffolk University. Wes is the Founding Director of The National Theatre of Allston, an independent initiative established exclusively for Suffolk students and alumni to transition into the professional Boston theatre. He has taught acting, directing, theatre history and dramatic theory at Suffolk University since 1999. Wes is a proud winner of the Outstanding Teacher Award at Suffolk. Wes received his BA at Dartmouth College and has subsequently collected graduate degrees at Boston University, Marquette University, and Northwestern University.
Cast
Betty
Bill
The Greek Chorus
Cassandra
The Blue Chorus
The Red Chorus
Red Soloist
Referee
MCNC
White House Press Corps
White House Strategist
White House Press Secretary One
White House Press Secretary Two
White House Press Secretary Three
Zeus
Hera
Judge Boris
Athena
Orchestra
Piano/Conductor (Keyboard)
Bass (Upright, Electric, Acoustic)
Percussion (Drum Set)
Fiddle
Guitar (Electric, Acoustic, Mandolin)