Our Theatres
Suffolk University in Boston is home to two vibrant performance spaces—the beautifully restored Modern Theatre and the state-of-the-art Sullivan Studio Theatre.
The Sullivan Studio Theatre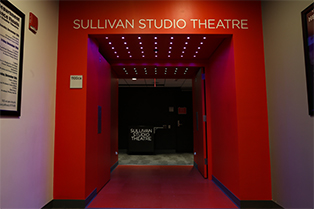 In the fall of 2016, the Theatre Department opened its brand-new, state-of-the-art Sullivan Studio Theatre on the 11th floor of the Sawyer building (8 Ashburton Place, Boston). The Sullivan Studio Theatre is the Theatre Department's primary classroom and performance space. At 50 seats, the Studio provides students with an intimate laboratory space to explore all aspects of theatre. The program's emphasis on student-generated work offers several opportunities throughout the year to get involved including Showcases and our newest initiative, Spotlight.
The Modern Theatre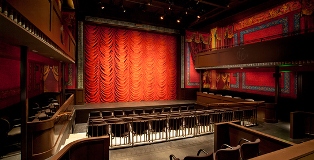 In 2010, the Theatre Department celebrated the re-opening of the historic Modern Theatre. Located at 525 Washington Street in the heart of Boston's Theatre District, the 185-seat, state-of-the-art theatre is a cultural center for the Suffolk and greater Boston communities. The interior walls are covered by a stunning original mural by Tony award-winning Broadway set designer, John Lee Beatty. The Modern Theatre was a 2011 recipient of the prestigious Preservation Honor Award from the National Trust for Historic Preservation.
For tickets, visit the official Modern Theatre website.
Modern Theatre in the News
C. Walsh Theatre (1920 – 2016)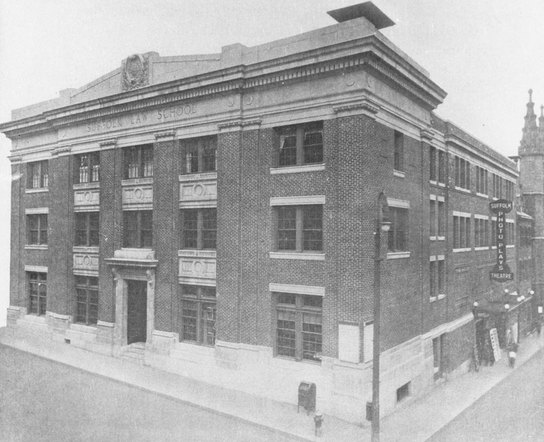 Exterior of the Archer Building, 1920. Entrance to the C. Walsh Theatre is at right of photo (on Temple Street).
The C. Walsh Theatre (1920-2016) at 55 Temple Street hosted professional performing arts and Theatre Department programming, lectures and academic conferences for nearly a century. Suffolk University and the Theatre Department will never forget the performances, influential speakers, and all of the talent that graced the stage of the C. Walsh Theatre for nearly 40 years.
History of the C. Walsh Theatre
Suffolk University founder Gleason Archer built the C. Walsh Theatre in the early 1920s to accommodate large gatherings of Suffolk Law School students. One of Suffolk University's premier performance spaces, revenues from its daytime use as a movie theatre financed Law School operations. The building's marquee boasted of having the "largest pipe organ in New England."
From 1977 to 2016, the Suffolk University Theatre Department managed the C. Walsh Theatre. Renovated in 2006, the 399-seat theatre welcomed visitors with a warm, modern design that recalled the essence of the original space and reflected the youthful energy of the University. In addition to Theatre Department faculty productions, the C. Walsh hosted a wide variety of events and programs from Student Activities, the Performing Arts Office, and other academic departments around the University. Historical photos from the Moakley Archives can be found here.
Many esteemed guests appeared at the C. Walsh Theatre during its 90+ year history, including:
Nobel Prize winners Shirin Ebadi (Peace) and Derek Walcott (Poetry)
Congressional candidate John F. Kennedy
Supreme Court Chief Justices William O. Douglas and Clarence Thomas
Scholar Henry Louis Gates, Jr., Director of Harvard's W.E.B. Du Bois Institute
Robert Brustein, scholar, playwright, and founder of the American Repertory Theatre at Harvard
Human rights activists Coretta Scott King and Samantha Power
National Book Critic's Circle Award winner Maxine Hong-Kingston
Pulitzer Prize winning composer John Harbison, pianists Russell Sherman and Robert Levin, and opera director Sarah Caldwell
Academy Award winning actor Jane Wyman and nominees Greer Garson and Felicity Huffman; novelist and Academy Award-nominated screenwriter John Irving; actors Ed Begley, Jr., Christopher McCann, Jennifer Westfeldt, and Paul Guilfoyle; and filmmakers Frederick Wiseman and Tamara Jenkins
Tony Award winning composers William Finn and Jeanine Tesori
The C. Walsh Theatre has hosted visiting professional performing artists and arts organizations, including:
Hagoromo – "The Feather Robe" – presented by the Kanze School of Noh Theatre, Japan
Classical ensemble Emmanuel Music presenting the work of Franz Schubert
Me Am I – presented by the Milwaukee Dance Theatre
Requiem for Srebrenica, a production of the French director Olivier Py and Centre Dramatique National
Moll presented by OPENINGS Theatre Company of Dublin
Collage New Music's presentation of cutting-edge modern classical music
United States premiere presentation of the Daita International Nagauta Music Ensemble of Tokyo
The American Repertory Theatre's Obie-award winning production of The Cryptogram
Productions at the C Walsh Theatre by Year