Politics in a Pandemic: Misinformation Wars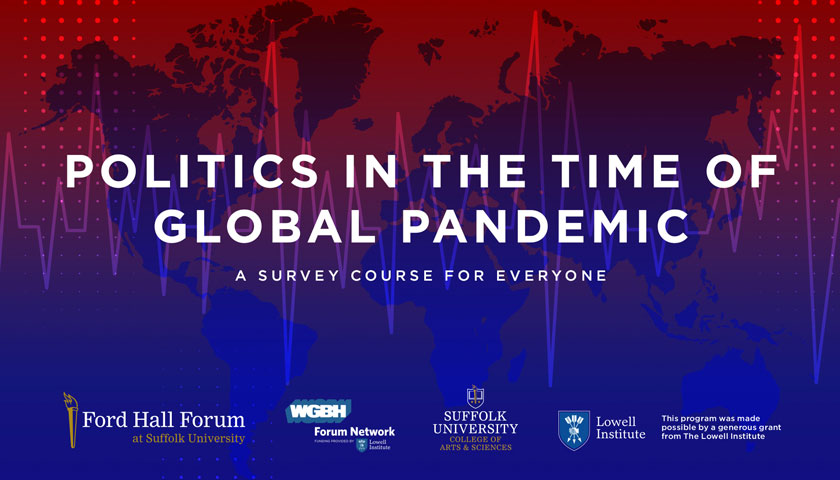 Event Details
Date & Time:
July 1, 2020
4:00 PM - 5:00 PM
Event Description
The COVID-19 pandemic is a global event unlike any other experienced in the contemporary era. Its size, scope, reach, and implications are enormous, ongoing, and unequal. Outcomes from how people all over the world will live their daily lives to whether democracy will survive are all in question.
This virtual lecture is the second in a nine-week series designed by Suffolk University's Political Science & Legal Studies Department, Ford Hall Forum at Suffolk University, and WGBH Forum Network.
Step into the virtual classroom to delve deeper into the pandemic-related themes incoming Suffolk students are exploring in a novel summer survey course.
Distribution of information in this global crisis plays a powerful role in shaping public understanding and behavior. The novelty of the virus itself means that scientific knowledge rapidly evolves and shifts based on new data. In Politics in a Pandemic: Misinformation Wars a panel of experts — Jonas Kaiser, Jennifer Kavanagh, and Felice Freyer — will examine the rapid decline in trust in public institutions, public figures, and the media and discuss the resulting impact on the health of not only citizens, but of their democracy. The afternoon's moderator is Shoshana Madmoni-Gerber, associate professor in Suffolk's Department of Communication & Journalism.
A Q&A session with Suffolk students will follow the talk, and then bring in questions from the audience.
This event is free and open to the public. Registration is required.