Global Leadership in Innovation & Collaboration Award
The Global Leadership in Innovation and Collaboration (GLIC) Award was developed by the Center for Innovative Collaboration & Leadership (CICL) to recognize an organization that fosters and inspires innovation and collaboration.
The award is just one of several CICL initiatives to integrate best practices of innovation and collaboration within the research, teaching, and service missions of CICL and Suffolk University's Sawyer Business School.
2015 Winner: Nypro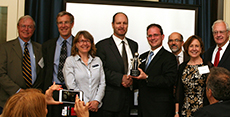 Watch the interview with Nypro CEO Courtney Ryan, recipient of the 2015 GLIC Award.
2013 Winner: World Wide Web Consortium