Study Spaces
Study Areas in Sargent Hall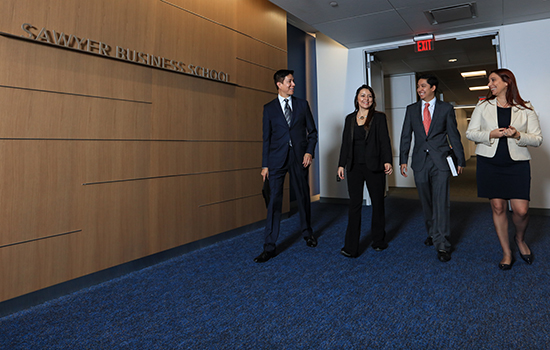 The fifth floor of Sargent Hall is our designated space with faculty, deans' and advisors' offices, and a variety of designated study and meeting spaces for Business School students.
The Commons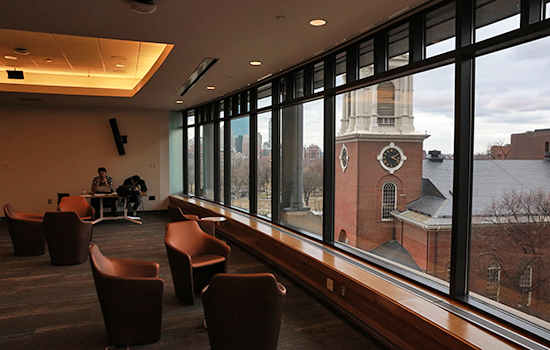 Wide open, with lots of natural light and sound absorbing surfaces above and below, the Commons offers a variety of seating and table options for quiet reflection and individual study, collaboration, and casual networking with your fellow SBS grad students.
Huddle Spaces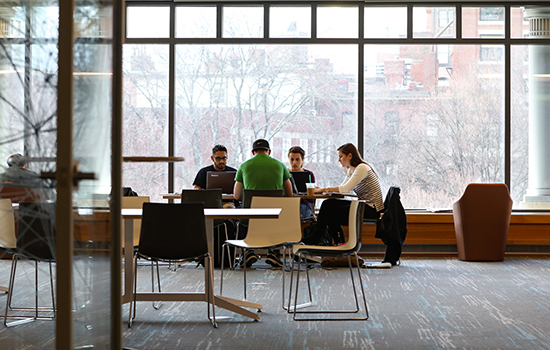 Huddle spaces for two, three, or four students line the perimeter of the fifth floor of Sargent Hall. Coffee-table seating and gentle halo lighting offer a great environment for comparing notes, preparing for a presentation, or getting ready for an exam.
Mills Family Lounge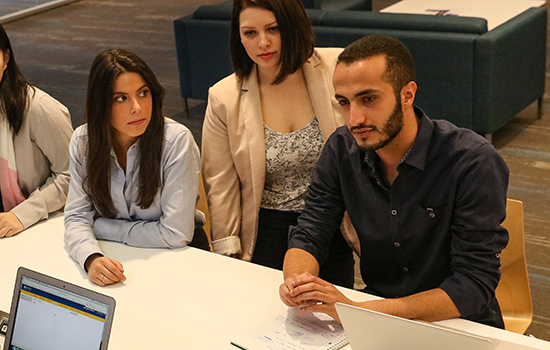 An ideal location to meet a fellow student or faculty member, the Mills Family Lounge offers high-top seating, computer plugins on both sides, and plenty of room to spread out. It's ideal for a last-minute touch-up on your laptop or tablet, an impromptu meeting of the minds, or a planned get-together.
Study Spaces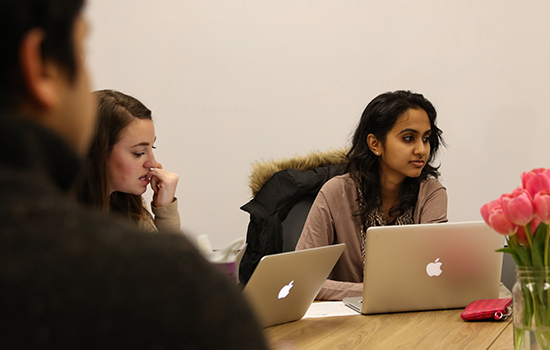 These public spaces have tables, chairs, couches, and raised workstations. Email the Sawyer Business School Graduate Programs Office to make a request.
Reserved Study Rooms
Group study rooms #5511 through 5515 can be reserved through the Law School reservation system. Students must check in to the study room within 30 minutes of the reserved time at the check-in terminals next to the circulation desk on the 6th floor of the library. Group study room #5207 can be reserved by email. Complete policies and procedures for study rooms appear on the reservation page. Note that:
Rooms can be reserved up to one week in advance.
Each reservation can be a maximum of three hours.
A student is limited to one reservation per day and nine hours of reservations (within a week) at any given time.
There are a number of workstations along window wall sections of floors that can be reserved by faculty and staff. When not reserved, they are available first come first serve for students.
Other Study Areas in Sargent Hall
Study Carrels in designated quiet zones: Floors 6 & 7
Grad Student Lounge: 5th Floor (To reserve this space, email the Suffolk University Graduate Business Association.)
Cafe: 4th Floor