Internships & Careers
Chemistry students have a wealth of options and opportunities available to them—look where some of our alumni have ended up after leaving Suffolk.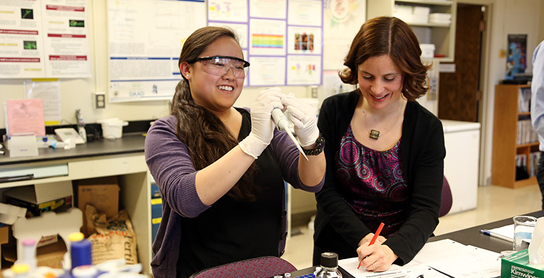 Our Alumni
Employers of our alumni include:
Acceleron Pharma
Biogen
Boston Police Department Crime Laboratory Unit
Harvard University
Massachusetts General Hospital
Novartis
Health professional schools enrolling our graduates include:
New England College of Optometry
Tufts University School of Dental Medicine
Massachusetts College of Pharmacy and Health Sciences (MCPHS)
Graduate programs enrolling our graduates include:
Tufts University
University of British Columbia
Vanderbilt University
University of Southern California
University of Rhode Island
Harvard School of Public Health
Preparing for Graduate Study - Graduate Studies
General Information
Many students may decide to continue their studies in graduate school. While undergraduate degrees primarily focus on completing coursework, graduate programs often focus on the development of an independent research project under the guidance of a thesis advisor. The following provides a brief overview of graduate school and the application process. As programs and applications vary widely depending on the program and field, students are advised to consult with their academic advisors to obtain more specific information.
A student can apply to either or a masters or Ph.D. degree program. Master degrees generally require two years for completion while Ph.D. degrees may require up to six years. A Ph.D. is usually required in order to obtain a faculty position at a four-year college or university.
Graduate school fees and tuition vary considerably between disciplines and programs. Students often pay for tuition while obtaining a masters degree. In contrast, most Ph.D. programs waive tuition for graduate students and provide a modest monthly stipend. For example, a graduate student typically earns ~$15,000-30,000 per year, depending on the program. Fellowships and teaching assistantships are also often available to finance graduate work.
Choice of Graduate Program
Students majoring in chemistry, biochemistry, or a related field are able to pursue a graduate degree in a wide range of studies. To name a few of the many programs available, there are graduate programs in biochemistry, molecular and cellular biology, biological and biomedical sciences, genetic counseling, biophysics, computational biology, chemical biology, toxicology, neuroscience, pharmacology, virology, chemical engineering, chemical physics, chemistry, medicinal chemistry, polymer chemistry and material science.
The Peterson's Guide, found online and in the library, is a useful source to search for graduate schools in a particular field. The Peterson's Guide provides an exhaustive list of most accredited graduate programs. You can search this list by graduate program (e.g. polymer chemistry) or by institution name. The American Chemical Society (ACS) also publishes online and hard copies of a comprehensive list of chemistry-related graduate programs, called the "ACS Directory of Graduate Research."
Applying to Graduate Schools
After identifying the institutions and graduate programs that you are interested in, you will need to obtain the application materials from those programs. Applications are usually due Dec. 1 or Jan. 1. Therefore, students wishing to attend graduate school immediately after graduation are advised to obtain the necessary application materials in the fall of their senior year. Some applications are filled out online.
Applications often require that the student take the General Record Examination (GRE). The General GRE evaluates verbal and math skills, as well as critical thinking and analytical writing skills. Students should take these exams at latest in the fall of their senior year if they are applying that fall, as the scores should be reported by the time of application.
Some programs also require GRE subject tests. There are eight GRE subject exams, offered in: 1) Biology, 2) Chemistry, 3) Biochemistry, Cell, and Molecular Biology, 4) Computer Science, 5) Literature in English, 6) Mathematics, 7) Physics, and 8) Psychology. Students majoring in chemistry will likely do best on the chemistry GRE. Students in biochemistry are encouraged to look at the subject content on the Chemistry, Biology, and Biochemistry/Cell/Molecular Biology subject GREs. Depending on the electives that they choose, one of these three subject GREs will be the best option. For example, the subject GRE on Biochemistry, Cell, and Molecular Biology covers biochemistry, cell biology, genetics, and molecular biology. Therefore, students desiring to take this subject GRE should plan to take the appropriate biology electives.
For some programs, students whose native language is not English may have to submit TOEFL examination scores to show their proficiency in English. The ACS also has some very helpful advice on their website for international students who desire to attend graduate school in the United States. See the following website.
For many program applications, students will need to submit a personal statement and/or a research statement. Personal statements typically are short essays in which the student describes their short-term and long-term professional goals, and why they are interested in the graduate program chosen. Research statements allow a student to describe any prior research experiences that they have had, the details of their project, and the significance of their work. This research experience can be obtained on campus in the form of a CHEM L428/L429 project or off campus in the form of an internship. Make sure to have a professor or friend with good writing skills give you feedback on your essays before you submit them with your application.
Those students considering graduate study in the sciences are strongly encouraged to have had an independent research laboratory experience prior to graduate school in order to write a compelling research statement. If a research experience is not possible, a student often has the alternative to describe why they did not have such an opportunity and explain what other experiences have prepared them for graduate school. Students without independent undergraduate research projects may want to consider working for one to two years in a technical position in an academic, company, or governmental laboratory. This work can provide them with the required research laboratory experience to write a strong research statement.
Graduate programs often require up to four recommendation letters. These letters are most often from professors. If you have had research experience, one of your letters should come from your research supervisor. You should contact your professor several weeks in advance of the application deadline to request a letter to make sure they have adequate time to write it. In addition, you should provide your reference with your CV/resume and speak to them about your long-term goals prior to their writing your recommendation letter.
Graduate admissions committees will generally evaluate a student based on a combination of their grades, GRE scores, statements, research experience, and letters of recommendation. Oftentimes, letters of recommendation are considered to be the most important components of your application.
Additional resources
The following ACS site publishes a very useful pdf brochure called "Planning for Graduate Work in Chemistry" about graduate school in chemistry and related fields and the application process:
The following ACS site focuses on "Getting Ready for the Workplace: Career Resources for Chemistry Graduate Students and Post-doctorates." This ACS site contains links to help you get a job, write a resume, network, and interview.