Suffolk University Law School's Second Annual Intellectual Property & Innovation Conference (October 2019) brought together over 150 members of the intellectual property community to assess what motivates innovators and the law's intended and unintended effects on creativity and invention.
Our Third Annual IP & Innovation Conference is scheduled for spring 2021.
Here are a few highlights form the October 2019 conference:
Professor Jake Sherkow, Edmond J. Safra/Petrie-Flom Centers joint fellow-in-residence, Harvard University and professor of law at the Innovation Center for Law and Technology, New York Law School, spoke about the ongoing legal battles in the CRISPR gene editing field.
The first panel, moderated by Professor Lolita Darden, included in-house counsel and law firm practitioners discussing the use of non-infringement opinions to avoid enhanced damages in light of recent case law after the 2016 Supreme Court decision in Halo Electronics, Inc. v. Pulse Electronics, Inc. 579 U.S. (2016).
Craig Smith of Lando & Anastasi argued that it is not feasible for a large company to obtain a written non-infringement opinion from outside counsel every time the company gets a letter or other notification of purported patent infringement without depleting the entire IP budget in a matter of weeks.
Smith spoke about the need for in-house counsel to weigh the potential risk and use their discretion and judgment to determine which letters are worth exploring. David Schuler, Chief IP Counsel at Bose Corporation, explained that sometimes in-house counsel needs "the additional weight or gravitas" that is associated with a written opinion from outside counsel.
Eric Bensen, the co-author of Milgrim on Trade Secrets, presented on the advantages and disadvantages of federal law versus state law for trade secret protection. Bensen provided an overview of the Defend Trade Secrets Action (DTSA), a federal law enacted in 2016, before delving into considerations that trade secret holders should consider when deciding whether to seek relief for misappropriation under the DTSA, under state trade secret laws, such as the Uniform Trade Secrets Act (UTSA), which has been adopted in most U.S. states, or even under both federal and state law.
The keynote address by Maggie Chon, Donald and Lynda Horowitz Professor for the Pursuit of Justice at Seattle University School of Law, explored the intersection of emotion and intellectual property and addressed the consequences of failing to contend with emotional content when formulating IP and innovation policies.
Professor Chon noted that the best and most creative ideas come from breaking down silos and working across disciplines, and lauded Suffolk's IP & Innovation Conference for bringing together practitioners and academics.
The keynote address was followed by a panel discussion on the growing right to repair movement, and its intersection with intellectual property and innovation. This panel, which was moderated by Associate Dean for Academic Affairs for Suffolk Law School Leah Chan Grinvald, explored current calls for legislation to protect the right to repair in a digital world, and the impact that IP laws should have on a consumer's right to repair what they own.
On the morning of Day 2, Erich Andersen, corporate vice president and chief intellectual property officer at Microsoft Corporation, discussed open data opportunities and shared Microsoft's procedures for creating better consistency for model data use by artificial intelligence.
Mr. Andersen explained that preserving computation use rights is critical for broad research efforts and the "democratization" of artificial intelligence and described some recent advancements in privacy protective technologies.
The next two panels built on Mr. Andersen's presentation. The first panel, which was composed of industry leaders, policy makers, and academics, including Suffolk Law Professor Michael Rustad, reviewed the current state of intellectual property protection for artificial intelligence. The next panel, moderated by Suffolk Professor Stephen McJohn, discussed the future of open source software with industry leaders and legal practitioners.
Dr. Rena Conti, associate research director of biopharma and public policy for the Boston University Institute for Health System Innovation & Policy, gave an overview of generic and biosimilar competition in the United States and elsewhere.
After her presentation, Dr. Conti joined a panel that included in-house counsel, trade association members and law firm practitioners, who provided an update and spirited discussion on the current state of affairs in the biosimilars space.
The conference concluded with a lively discussion on the state of trademark "overprotection" by the courts and the US Patent and Trademark Office by a panel of trademark experts, including Suffolk Law Professor Rebecca Curtin and Associate Dean Grinvald.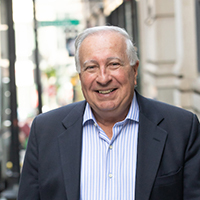 The 2nd Annual IP & Innovation Conference was supported by the generosity of Meg and Mark Sullivan, JD '79. Sullivan is Vice Chair of the Suffolk Board of Trustees and served as Chief Legal Officer of the Bose Corporation (read alumni magazine coverage of Sullivan's IP work at Bose).
There were also several corporate sponsors:
Gold sponsors: Dechert LLP, DLA Piper, Lando & Anastasi, Lathrop Gage, McCarter & English.
Silver sponsors: Clark + Elbing