Orientation & Welcome Trip
¡Bienvenidos a España! Our eight-day academic and cultural orientation will help you get your bearings abroad.
You're here to explore Madrid, Spain, and Europe. That's why Suffolk Madrid offers a two-part orientation: Four days to get to know your new home, and four days in another scenic Spanish destination to explore the culture and get to know your fellow students.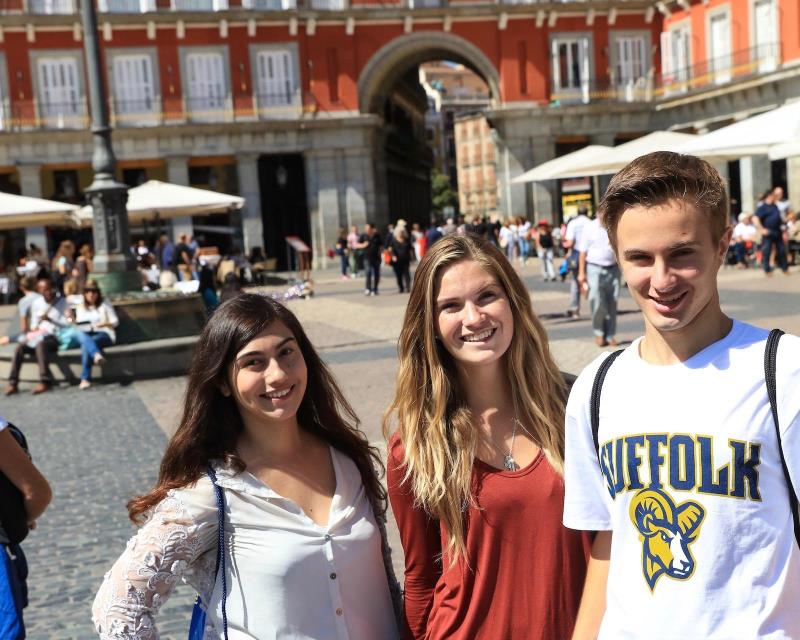 Orientation in Madrid
Now it's time to immerse yourself in your new city! In Madrid, you'll learn more about the year ahead at our special academic orientation. You'll take intensive "survival" Spanish workshops to help you get around town, and get important cultural, logistical, and social information.
Day One: Arrival Day
If you arrive between 7am and 2pm at Madrid's Barajas Airport, our staff will receive you there and arrange your transport to the residence hall. If you had arrived earlier in Madrid, we ask that you meet us at the residence hall at 10am sharp for Orientation. Please check your email a few weeks prior to arrival day for more details.
Upon arriving at the residence hall, our staff will get you checked in, have a quick meeting about need-to-know information, then you'll be free to get settled into your new room and meet your roommate. Lunch will be served in the residence hall's dining hall, or if you are staying with a host family, enjoy your first taste of your host family's cooking. Today you'll also receive your Spanish SIM card, so you can connect with your new friends and your family back home.
In the afternoon, our Orientation Assistants--SUMC upperclassmen--will host events where you can mingle with your fellow students. They'll give you a walking tour of the neighborhood around the residence hall and campus, and help you get tickets for the metro.
Day Two: Orientation Kick-Off
Today you'll visit the Suffolk Madrid campus, possibly for the first time. Our staff will lead a series of information sessions that are mandatory for all new students. We'll go over the student handbook, how to stay safe in Madrid, housing policies, and discuss some cultural differences between the U.S. and Spain.
Join us for a typical Spanish tapas lunch, featuring delicious homemade dishes like tortilla de patata, croquetas, jamón, queso manchego, and more. After lunch, we'll have a group cultural activity, like a guided tour of the Prado Museum or rowing the rowboats in Retiro Park.
Day Three: Student Life
Today we'll talk about the "fun stuff": Traveling, cultural activities, and all the ways you can get involved on campus. We'll start off with a quick course on "survival Spanish," enough to get you by for the first few weeks until you improve. Learn about campus activities, clubs, and volunteer opportunities. We'll discuss our weekend excursions and teach you some tips on how to be savvy when traveling on your own. A representative from the U.S. Embassy will visit campus and explain what resources the U.S. State Department offers to Americans studying abroad.
In the afternoon, we'll offer more cultural activities, like a guided walking tour of downtown Madrid to help you get your bearings, or a movie night. SUMC students will also host a "clubs fair," where you can see what student clubs and organizations you might want to join.
Day Four: Academic Orientation
Our goal is to set you up for success in your coursework. We'll review everything you need to know about your classes, credits, and academic life at SUMC. We'll go over what resources our library offers, and introduce you to our tech support team in case you need them.
In addition, you'll meet our collaborators at Universidad San Pablo CEU, the Spanish university we partner with and where you can take classes. Need to change your course schedule? No problem, our Academic Coordinator will be on hand for registration changes.
Welcome Trip
The Welcome Trip—which is included for all students in their program fee—is the best way for you to get introduced to Spain and some of its most scenic locales and to meet your fellow students who will become your best friends at SUMC. Our goal is to introduce you to the best of Spanish culture: its cuisine, history, music, and customs. The destination changes every semester, but it's always somewhere exciting. You might watch the dancers' feet fly at a live flamenco performance in Córdoba, stroll through the serene gardens at the Alhambra Palace in Granada, take a boat cruise through the Valencia rice fields, take a cooking class, relax on Mediterranean beaches, or take an easy hike for breathtaking views.