Rising to the Challenge
Suffolk teams take first and second place in Legal Design Challenge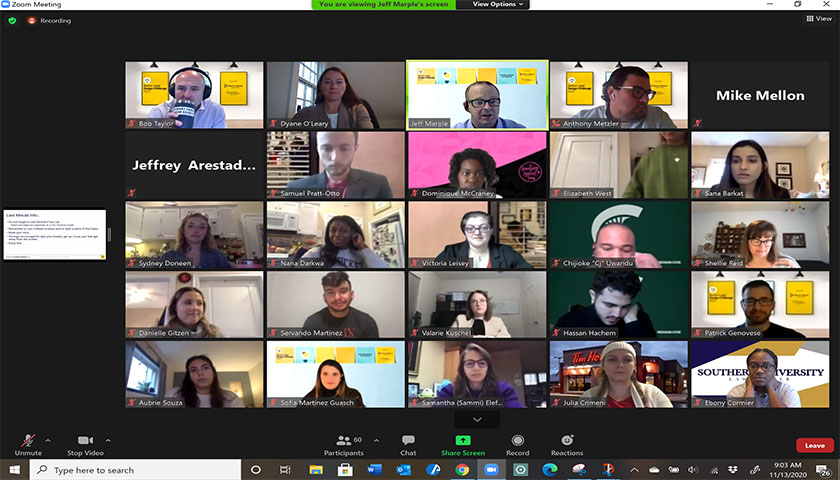 Imagine if a new lawyer could find a way to test out different legal strategies with a client without wasting the client's time and money. An enterprising team of Suffolk law students did just that, and walked away with top honors at the fourth annual Legal Design Challenge, co-sponsored by the law school and Liberty Mutual.
Conducted virtually this year, the competition brought together law and business students from Massachusetts, Louisiana, Michigan, Nevada, and British Columbia to invent and prototype products that solve legal problems, and often social ones as well.
Think Shark Tank, but more collegial and for legal products. Participants had one day to generate their ideas and then deliver a five-minute presentation using pitch decks and prototypes. Suffolk teams captured both first and second place, earning not only bragging rights, but cash prizes of $5,000 and $3,000 as well. Third place and $1,000 went to Thompson Rivers University from British Columbia, Canada.
"This competition encouraged students to think beyond the basic JD skills they learn in law school, and use design thinking principles to think creatively about solving some of the major problems in our legal system," said Dyane O'Leary, professor and director of the Legal Innovation & Technology Concentration at Suffolk Law, and one of the event's organizers.
"I learned that there are a lot of ways to solve the same problem, and that you need a team that works well together under pressure to be successful," said Conner Marshall JD'22, a member of the second-place team.
Suffolk's winning team, known as LITLab (they named their crew after Suffolk's Legal Innovation and Technology Lab), used concepts from gaming to help close the gap between legal theory and the practical concepts lawyers employ when working with real clients.
The LITLab team designed a virtual online legal training simulation (VOLTS for short), which presents students with a legal issue to resolve using game-like, real-world interactions with their virtual client.
"Real clients have real problems that lawyers cannot experiment with," said second-year student Aubrie Souza, a member of the LITLab squad, along with 2Ls Mia Bonardi and Eleni Constantinou and 3Ls Michael Cronin and Christina Gregg. "But a computer simulator is low risk, repeatable, and reviewable. Our goal was to prioritize the community that lawyers serve by making it easier and more comfortable for them to interact with each other."
Suffolk's MBA2K20 team, comprised of JD and MBA dual degree candidates, took home second place honors by addressing the social isolation that some law school students have experienced during COVID.
MBA2K20 created B.R.I.D.G.E.S. (Building Relationship and Implementing Development of Greatly Effective Students), a centralized online portal where students can go for study groups, academic resources, networking events, and socializing.
"We used a little outside-the-box thinking in what we came up with," said Conner Marshall, whose fellow Class of 2022 teammates included Victoria Leisey and Cassandra Nedder, along with Jackson Place and Sam Pratt-Otto, both Class of 2021. "Instead of focusing on classroom work, we looked at the other components of education."
The third-place Thompson Rivers University team, Tru Legal Architects, also targeted COVID. To assist small firms and solo practitioners struggling to move their paper practices to the virtual world, the team created Simon Says, which provides automated transition advice and services from legal experts.
Other schools represented in the Legal Design Challenge were Michigan State University College of Law, Southern University Law Center in Louisiana, Southern Methodist University Dedman School of Law in Texas, and the University of Las Vegas William S. Boyd School of Law.
The judges were Bob Ambrogi, a Massachusetts lawyer, legal blogger, and media consultant; Jason Barnwell, assistant general counsel-modern legal at Microsoft; and Cat Moon, professor and director of innovation design at Vanderbilt University Law School.