Undergraduate & Graduate Ceremony, May 19, 2019
Undergraduate Ceremony Photo Gallery
Graduate Ceremony Photo Gallery
Keynote Speaker & Honorary Degree Recipient
Ruth E. Carter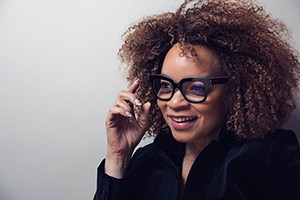 Revealing a character's essence through costume design has brought Ruth E. Carter accolades as an "essential visual storyteller of Afrofuturism."
Carter, originally from Springfield, Mass., has played a significant role in shaping the personas of characters in more than 60 film and TV productions during a three-decade career. She won an Oscar for best costume design for her work on the 2018 Marvel Studios blockbuster Black Panther, with costumes that not only gave authenticity to an imagined world but also are influencing the world of fashion. The Wakandian attire melds a sci-fi vibe with carefully researched African motifs. Among the influences were the color symbolism of the Maasai people of Kenya and Tanzania and the jewelry of the Ndebele women of Southern Africa.
Previous Academy Award nominations for costume design came for her work on Spike Lee's Malcolm X—one of more than 10 films she worked on with the director and actor—and Steven Spielberg's Amistad. Carter also was nominated for an Emmy for the 2016 reboot of Roots.
Carter's imagination is a key to her designs, but she also is known for her comprehensive research in recreating the clothing of different times and places. She created clothing that might have been worn by a 19th century Spanish queen and by African slaves for Amistad. The look and feel of the civil rights era was recreated for actors playing the Rev. Martin Luther King, Jr., his allies, and adversaries for Ava Duvernay's Selma. And she captured the fashion vibe of 1980s Bedford-Stuyvesant for Lee's Do the Right Thing.
A "Heroes and Sheroes" exhibit of her work has toured the United States in 2018-19, and the fashion industry recently honored Carter for her iconic work in some of the most influential films in U.S. history. She told the industry guests that she was attracted to costume design through "these stories of African-American culture, this story of our journey. When I started, I didn't see very much of us, and I really in my heart wanted to tell my stories."
Carter holds a BA from Hampton University.
Image of Ruth Carter: Jaxon Photo Group