Law School Ceremony, May 19, 2019
Keynote Speaker & Honorary Degree Recipient
Congressman Joe Kennedy III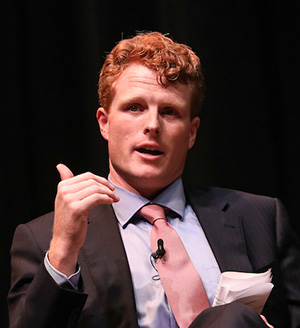 U.S. Rep. Joe Kennedy III is pursuing a national agenda focused on social justice as he serves his fourth term in Congress, while also addressing mental health and addiction, energy costs, manufacturing and STEM education, reflecting constituent priorities.
Kennedy, a former prosecutor and legal aid volunteer, in 2015 helped establish the first Congressional Access to Legal Services Caucus, which in recent years has fought to retain Legal Services Corporation funding. He also is working to strengthen protections for transgender students and military service members as chair of the Congressional LGBT Caucus's Transgender Equality Task Force.
He is a member of the House Energy & Commerce Committee and an original sponsor of the Green New Deal resolution.
The congressman's name is well recognized across America, and the spotlight was on him in 2018, when he delivered the Democratic response to the State of the Union report, during which he described the highest American ideal as: "…the belief that we are all worthy, we are all equal and we all count. In the eyes of our law and our leaders, our God and our government. That is the American promise."
The Massachusetts congressman represents the Fourth District, which ranges from suburban Boston to the industrial cities of the South Coast region. He has participated in Suffolk University campus events, most recently discussing mental health at a Ford Hall Forum, and students have visited his Capitol Hill office.
Before his election to Congress, Kennedy was an assistant district attorney for Middlesex County and for the Cape and Islands.
Kennedy, who is fluent in Spanish, served as a Peace Corps volunteer in the Dominican Republic, where he designed and implemented an economic development project.
He holds a bachelor's degree in Management Science and Engineering from Stanford University and a JD from Harvard Law School.