What is Service-Learning?
Service-learning is an experiential learning pedagogy that moves students beyond the classroom to become active participants in their learning and develop civic knowledge and skills. Students who take service-learning courses work with local, national, and international non-profit and public organizations to deeply learn and practice course content by working on a real, community-identified need. Students learn the course material, get to work directly on an issue facing the community, and learn about their communities in the process. At Suffolk, service-learning pedagogy can be incorporated into any discipline.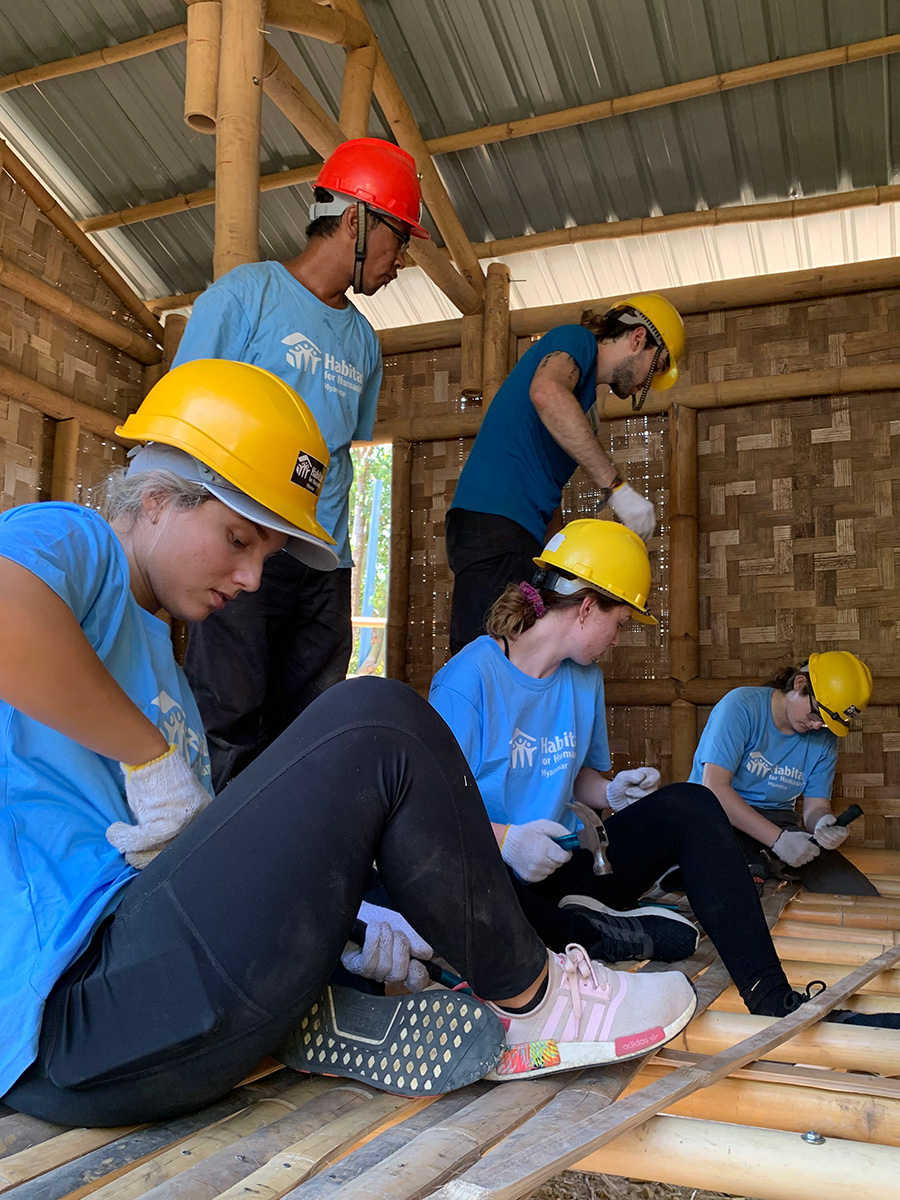 Suffolk University students working with a Burmese community to build a home in Bago, Myanmar with Habitat for Humanity International. After returning from their trip, students learn about Burmese culture, society, and international nonprofit organization development as part of their Political Science course, "GVT 387: Conflict and Development."
"I was amazed by the cultural experience [in Myanmar], from the pagodas, to the markets. Interacting with the people, whether it be the workers or the school children was a great way to learn about the Burmese culture."
Charles Gobert
Pre-Law, Class of 2022
As part of a service-learning course, students participate in direct, indirect, research-based, or advocacy-based service-learning projects (described below) on projects that address a multitude of issues. Some service-learning courses at Suffolk have included:
An education course that has Suffolk students tutor in Boston Public schools, learning and practice teaching pedagogies they study in their courses.
An environmental studies class that develops protocols that monitor water and sediment quality in Dorchester to learn about environmental sustainability best practices.
A sociology class that provides service with local healthcare organizations, learning about the effects of current health care policy and how different populations experience the healthcare system in the United States.
A public service class that researches resources, stakeholders, and programs that support local families to help improve their socioeconomic status. Students use their research to make recommendations to local organizations and community leaders on how the programs and stakeholders can be more effective.
A creative writing class that teaches creative writing to students from low-income neighborhoods in the Boston area to better learn creative writing techniques and how to improve their local communities.
For Faculty: Want to learn more about how to incorporate service-learning into your course?

For Students: Want to learn more about how to take service-learning courses? Reach out to the Center for Community Engagement for a list of service-learning courses offered at Suffolk University, or search for service-learning courses by searching for "SL" under "Course Types" when you register for classes.
What is Service Learning?
Service-Learning
In 2015, the faculty of the College of Arts and Sciences and the Sawyer Business School approved the following service-learning definition:
"Service-learning is a pedagogy integrating academically relevant service activities that address human and community needs into a course. Students connect knowledge and theory to practice by combining service with reflection in a structured learning environment."
Direct Service
Involves student engagement with the client population on an interpersonal level. The engagement is performed at the site of service. Examples of direct service include tutoring, reading to the elderly, coaching a youth activity in a low-income area.
Indirect Service-Learning
Students fulfill a community need identified by a community partner without engagement with the client population. Examples of indirect service may include planning fundraising activities for a community organization, developing a social media strategy for a community action group, designing posters or flyers for a local nonprofit, building low-income housing, cleaning a community park.
Research-Based Service-Learning
A type of service that involves collaboration with a community partner to conduct research that addresses community issues or needs. Partners may be nonprofit groups, government agencies or community leaders. Examples of community-based research projects would include testing water reports provided to a local community, auditing energy use in public housing, gathering data for a community grant application, gathering research that assists in the development of a video for a nonprofit or government agency.
Advocacy-Based Service-Learning
A type of service where students create awareness or educate others on public topics that are of concern to the community partner and/or the greater community. Examples of this type of service would include planning and executing public forums that address community issues, writing and distributing information that illuminates a problem experienced by the community, helping to draft legislation that helps solve a community need, organizing a letter-writing initiative that addresses a social issue.
Delve, C.I., Mintz, S.D., & Stewart, G.M. (1990). Promoting values development through community service: A design. In C.I. Delve, S.D. Mintz & G.M. Stewart (Eds.) Community Service as Values Education. San Francisco, CA: Jossey-Bass.
Jacoby, B (2015). Service-Learning Essentials: Questions, Answers and Lessons Learned. San Francisco, CA: Jossey-Bass.
For service to have value and meaning and to build effective partnerships between students, faculty and community members, there are five critical elements that must be included in the design and direction of courses and community service programs:
Community Voice/Student Voice
Community and student voice is essential to build bridges, drive change, and solve pressing problems. Academic courses which include service and campus community service programs must ensure that the voice and needs of the community and students are included in the development of programs and service placements.
Thoughtful Action
Thoughtful action means that the service that is being done is necessary and valuable to the community itself. Meaningful action benefits both the community and student in that both feel that the service makes a difference in a measurable way and is a productive use of time and resources. When service is not perceived as necessary and valuable, students and community members will quickly lose motivation for the service and the partnership.
Orientation and Training
Orientation and training are important first steps for any service experience. The students, faculty and community members should be provided with information, which will help them prepare for the experience. For example, community agencies or members working with students should receive information about the course, a list of contacts on the campus, an academic calendar, and information about any expectations regarding their participation in the training, supervision, and evaluation of students. Students should receive information about the community, the issue, agency or community group they will be working with as well as specific training for their service placement and expectations regarding their participation, supervision and evaluation.
Reflection
Reflection is a crucial component of the service-learning experience and works as both a vehicle to process the experience and apply academic work. Students, faculty and community members share reactions, stories, feelings and facts about the service and the issues, which help to place the experience into a broader context.
Evaluation/Continuous Improvement
Evaluation measures the impact of the students' learning experience and the effectiveness of the service in the community. Students, faculty and community partners should evaluate the effectiveness of the partnership and the service. Continuous improvement measures give direction for improvement, growth and change.