Templates
The Office of Marketing & Communications has developed a series of editable PDF templates that can be downloaded and used to create promotional materials quickly and easily by anyone with Adobe Acrobat Pro Version 10 or newer.
For each type of template, we have provided University and school versions, as well as size variations and two style options.
Instructions for Using Editable PDF Templates
Select the template that best suits your needs. Click on the link to download it to your desktop, and rename it something relevant to what you are using it for.
Each template provides a predetermined type style/font and word count in specific text boxes. You are strongly encouraged to follow these established styles as closely as possible. The fonts are common to all computer systems and were chosen because of their similarity to our brand fonts. To input your own copy, click "Tools" to open the Tools pane, and then click "Edit Text & Images." Swap out the template-provided words by typing in the text box or by cutting and pasting your own copy into the box. Note that you will have to create hard returns to maintain the integrity of the copy block.
Some template options provide space for an image or graphic illustration. If you have an image or illustration that you want to use, place it into the designated box and move it around or crop it to fit. If you need to find an image for your piece, you can search for one using our online photo database (coming soon). This template image gallery is comprised of five different categories that you can choose the appropriate image from; they include:

Academics
Campus Life
Student Activities
Events
City & Campus

Choose the appropriate size image based on the size of your template. Please note the orientation of the box allotted for an image or graphic. A horizontal box will need an image or graphic that is horizontally oriented. A vertical box will need a vertically oriented image/graphic. Depending on the version of Acrobat Pro you are using, you can edit images by using the tools panel; add image or edit image. Once the image has been imported into acrobat, click and hold the corner to resize to your layout.
While there is some room for flexibility, you are encouraged to follow the style of a given template as closely as you can. You may change font color and, if necessary, font weight or point size for more impact.
Adherence to University brand guidelines is very important, especially regarding the proper use of the Suffolk University logo, so we ask that no alterations be made to the logo or changes made to its placement on any template. When selecting your template, be sure to choose the template with the correct logo.The Office of Marketing & Communication is happy to assist with the use of these templates. Ongoing training sessions will be offered as well as weekly open office hours for anyone to stop by with questions or to receive guidance for pieces being worked on.
Flyer & Poster Templates (PDF)
8.5x11
Version 1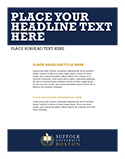 Version 2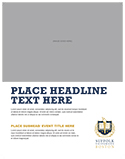 11X17
Version 1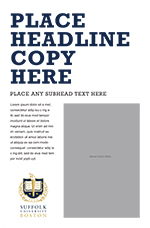 Version 2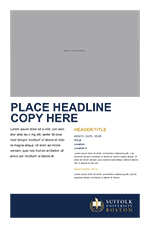 24x36
Version 1
Version 2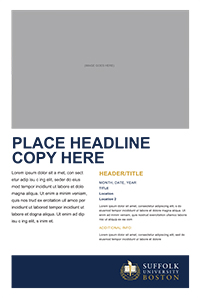 Postcard Template (PDF)
5x7
Version 1

Version 2

6x9
Version 1

Version 2

Powerpoint Templates
University: Blue Background
University: Blue Background with laurels
University: White Background
University: White Background with laurels
College of Arts & Sciences: Blue Background
College of Arts & Sciences: Blue Background with laurels
College of Arts & Sciences: White Background
College of Arts & Sciences: White Background with laurels
Law School: Blue Background
Law School: Blue Background with laurels
Law School: White Background
Law School: White Background with laurels
Sawyer Business School: Blue Background
Sawyer Business School: Blue Background with laurels
Sawyer Business School: White Background
Sawyer Business School:
White Background with laurels