Workday Financials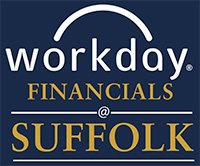 The Workday Financials project is now underway, with a goal of making it available to the Suffolk community in March 2021.
Starting with the Financials module and culminating with the Student module, Suffolk will build on the success of the previously deployed Workday modules for Human Resources and Payroll to create a fully integrated system providing flexible and real-time data in a mobile and user-friendly manner. The University is being assisted by its implementation partner, Collaborative Solutions.
Workday@Suffolk is the number one ITS strategic initiative in the Suffolk 2025 strategic plan. The multi-year initiative aligns with the strategic plan's goal of embracing the challenges in the work and academic environments by investing in appropriate infrastructure.
The University will keep the campus community informed as it works to create a forward-looking technology environment and appreciates the Suffolk stakeholders' help in making Workday@Suffolk a success.
Workday Financials will unite University financial functions in a fully integrated environment.
It will provide access through a secure, online mobile dashboard for employees who:
Purchase items or services

Submit purchase requisitions
Submit invoices for payment

Use Suffolk Corporate credit cards
Receive travel or expense reimbursements
Manage a budget for a school, division, or department
It will improve reporting capabilities and enhance management tools for:
Procurement
Budgets
Endowments
Cash management
Travel and other expenses
Suppliers
Grants
Business assets
Full information and training will be made available to users well in advance of launch, assuring a smooth transition from current systems.
Questions?
If you have questions or suggestions, please contact us at WorkdayatSU@suffolk.edu.
Workday Financials LinkedIn Learning Library
A collection of Workday Financials@Suffolk related materials as we begin to unite University financial functions in a fully integrated environment.
Watch the videos