Workday Financials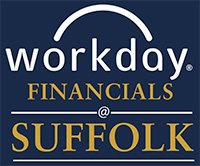 With the Financials module, Suffolk has built on the success of the Workday modules for Human Resources and Payroll to create a fully integrated system providing flexible and real-time data in a mobile and user-friendly manner.
Workday Financials unites University financial functions in a fully integrated environment, while improving reporting capabilities and enhance management tools for:
Procurement
Budgets
Endowments
Cash management
Travel and other expenses
Suppliers
Grants
Business assets
Questions?
If you have questions or suggestions, please contact us.
Workday Financials LinkedIn Learning Video Library
A collection of Workday Financials related training materials to assist you with processing and approving financial transactions.
Watch the videos