About Us - Political Research Center
The Suffolk University Political Research Center's cutting-edge research of public opinion and the body politic has won acclaim across the country and around the world. David Paleologos is the center director.
Leadership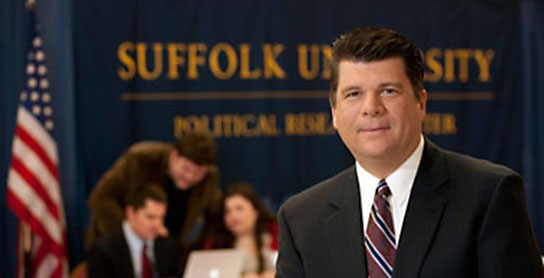 Director David Paleologos has worked at Suffolk University since 2002. He is also a lecturer in the Political Science & Legal Studies Department, where he teaches Political Survey Research each spring. Students in this course are immersed in questionnaire design, sampling, interviewing, coding data, and analyzing results.
Before entering academia, Paleologos was one of the most sought-after pollsters and field operatives in Massachusetts. He gives frequent guest lectures on the political survey process at many Boston-area institutions. In July 2017, he was invited to present his outlook for the 2018 midterm and 2020 presidential elections to 15 members of Congress at the Edward M. Kennedy Institute for the United States Senate.
A graduate of Tufts University, he is a member of the American Association of Public Opinion Researchers and the Northeast Political Consultants Association. The Rendon Group voted him "Pollster of the Year" at their inaugural ELKEY Awards in 2015.
Publications
"Usage and Performance of Bellwether Polls for Election Forecasting" with Dr. Elizabeth Wilson; International Journal of Market Research (February 2018)
"Use of Bellwether Samples to Enhance Pre-Election Poll Predictions: Science and Art" with Dr. Elizabeth Wilson; American Behavioral Scientist (February 2011)
"A Pollster on Polling"; American Behavioral Scientist (August 1997)
File Photo
Members of the media may download a file photo for David Paleologos below.
David Paleologos File Photo [JPEG] (3.45MB)