When you live in the Modern Theatre residence hall, you will be staying in one of the crown jewels of Boston's historic Theatre District. The Modern opened in 1914 as the first venue specifically designed to show motion pictures in Boston. In 2010, Suffolk completed a full renovation of the valuable landmark, which included residence hall space for students.
Here, you will be at the center of Downtown Crossing's energetic street life and shopping centers.
The Modern features exercise rooms and on-site laundry facilities, and has earned a LEED Silver rating from the U.S. Green Building Council for its sustainable design, construction, and operation.
An Unbeatable Downtown Location
The Modern Theatre is located near the following Boston landmarks: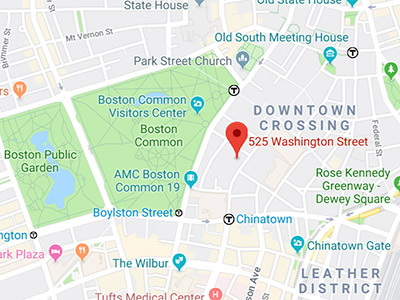 Accommodations at Modern Theatre
The are a variety of accommodations at Modern Theatre. Take a virtual tour to see the space!
Suite
The majority of rooms at the Modern Theatre are a part of a suite. A suite is two rooms that share an adjoining bathroom. Most suites consist of two double rooms each housing four students, although there are a few that have single, double, and triple bedrooms within the suite.
Double/Triple
There are a few double/triple bedrooms in the building. Each double/triple houses two students who share a bathroom. Residents are responsible maintaining the bathroom, including providing supplies and cleaning the bathroom