The building sits in Boston's bustling Downtown Crossing neighborhood, amid marquee shopping destinations and historic theaters, with Chinatown's eateries a short walk away.
Nearby MBTA stations stand ready to connect you to the rest of the city. The residence hall features on-site laundry facilities.
10 West earned Leadership in Energy and Environmental Design (LEED) Gold certification from the U.S. Green Building Council. Sustainability highlights in this residence hall include water and energy efficiency, low-emitting materials, and using more than 20 percent recycled materials in construction.
An Unbeatable Downtown Location
10 West is located near the following Boston landmarks:
Just 0.5 miles from the Boston Public Garden
A shocking 0.2 miles from the Boston Common
The AMC Boston Common movie theatre is just 0.2 miles away
Take a trip to Chinatown by walking just 0.4 miles
Attend a show at the Wilbur Theatre by walking 0.4 miles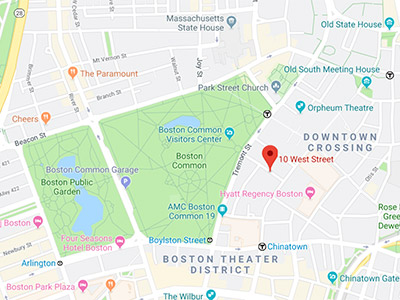 Accommodations at 10 West
There are a variety of housing options offered at 10 West. Take a virtual tour to see the space!
Suite
The suites house three to six students. There are two to four bedrooms and all of the students within a suite share a bathroom. Like the Miller Hall Suite, there is no shared living room. All suites open into a furnished common area. Residents are responsible for maintaining their own bathroom, including providing supplies and cleaning the bathroom.
Standard Apartment
The apartments house two to eight students (typically sophomores). Each apartment has the same bedroom furniture as the residence halls. In addition, there is a fully furnished kitchen (table, chairs, refrigerator, electric stove, microwave, etc.) and living room. There is a bathroom—many with a bathtub—in each apartment.
Studio Apartment
A large open room, housing beds, living room furniture and a kitchen.
Semi-Private Apartment
A traditional apartment for three or four people with single and/or double bedrooms. Some of the single bedrooms are smaller than a standard single and have 8 ½ foot walls (walls do not go floor to ceiling) and have sliding doors.
Duplex Apartment
A two-story apartment housing a living room, kitchen, bedroom, and bathroom on the first floor and one or two bedrooms on the second floor. These apartments are for four to eight students.