This 19-story high-rise building is just steps from the Massachusetts State House, Boston Common, and other historic and cultural attractions. Lounge spaces on its upper floors offer an ideal view of the sunset over the city skyline.
About 85 percent of the bedrooms in the building are for two people (doubles). Single rooms, which are priced at a higher rate, are available to new students on a very limited basis. Approximately 30 percent of incoming students will be assigned to Miller Hall. The Miller Hall dorms also feature exercise rooms and on-site laundry facilities.
An Unbeatable Downtown Location
Miller Hall is located near the following Boston landmarks:
Just 0.6 miles from the Boston Public Garden
A short 0.4 mile walk from Faneuil Hall Marketplace
Catch a concert or a game at the TD Garden, only 0.6 miles away
Only .9 miles away from the Hatch Shell on the Esplanade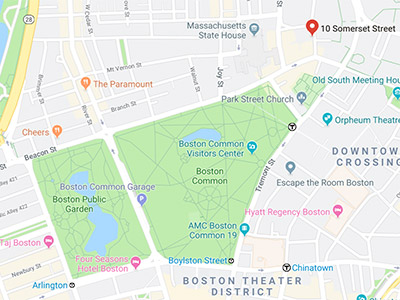 Accommodations in Miller Hall
There are a variety of housing options at Miller Hall.
Doubles/Triple/Quads
There are double, triple, and quad bedrooms in the building. Each bedroom houses two, three, or four students who share a bathroom. Residents are responsible for maintaining the bathroom, including providing supplies and cleaning the bathroom.
Suites
Most rooms at Miller Hall are a part of a suite. A Miller Hall suite comprises two rooms that share an adjoining bathroom. Most suites consist of two double rooms housing four or five students each, although there are a few suites that have one double and one single, both of which house three students.