Suffolk CARES Pantry
The Suffolk CARES Pantry aims to provide food and necessary products to Suffolk University students in need at no cost. Items available to students in the Pantry include food items, personal hygiene products, cleaning and household supplies, and school supplies.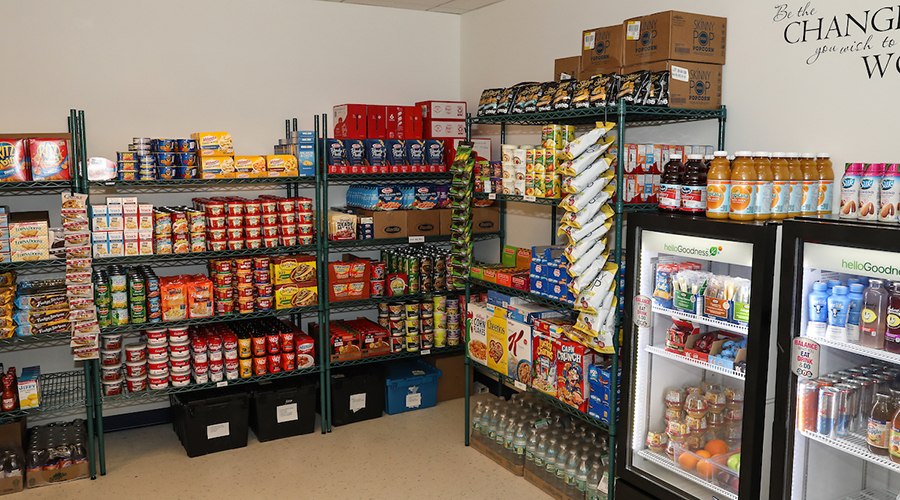 Suffolk CARES Pantry Request Form
Need to request items from the food pantry? Complete the food pantry request form.
About the Pantry
On October 10, 2018, the Suffolk CARES Pantry officially opened its doors to the Suffolk University community. Due to a generous gift by Suffolk Executive EMBA alumni, Gene Lee and the Darden Restaurant Inc. the pantry became a reality. Other generous donors including Harvard Pilgrim Health Care, Sodexo, and Pepsi Co. Since opening, the pantry has served more than 500 unique students, and staff have worked diligently to establish partnerships both on and off campus to help students who might need additional assistance.
Follow us on Instagram!
Donations
The Suffolk CARES Pantry operates solely on donations from our community and established partnerships. The pantry accepts donations during monthly donation drives with donation bins placed around campus or directly to the pantry on the 12th floor of 73 Tremont Street.
To see items the Pantry needs, please visit our Amazon Wish List.
If you wish to give a monetary donation, please visit the Give Now page and select "Suffolk CARES Food Pantry Fund."
Hours & Location
73 Tremont Street, 12th Floor (outside Student Affairs Office*)
617-573-8239
Open M-F: 8:45 a.m. - 4:45 p.m.
*The Pantry is open during normal business hours. If the Pantry appears to be closed, students should go to the Student Affairs Office for assistance.
You can also contact the Student Affairs Office via email or telephone at 617-573-8239 with any questions regarding this resource.
Other Suffolk CARES Resources
Contact the Student Affairs Office via email or telephone at 617-573-8239 with any questions regarding any of these resources.
Emergency Funding Grant
Students can apply for an emergency funding grant of up to $500 through Suffolk CARES. Students must submit a short application (available at the Student Affairs Office, located on the 12th Floor of 73 Tremont) and meet with a case manager or dean to ensure eligibility.
Food Insecurity Grant
Students in need can receive $50 on their RAM card so they can buy food and supplies at retail locations around campus. Learn more about locations that accept the RAM card.
Emergency Housing
Students needing housing must meet with a case manager or dean in the Student Affairs Office regarding their need and future planning. Every effort will be made to place a student in University housing, pending availability.