Provost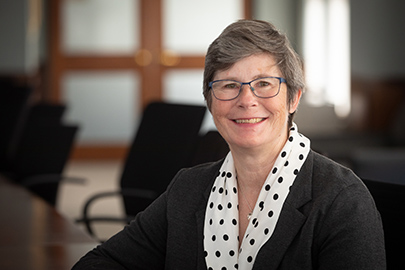 Provost Julie H. Sandell is a dynamic leader who uses her unique role at the nexus of academic and administrative affairs to reach strategically across the University, connecting great ideas with the means to implement them.
About Provost Sandell
Provost Julie Sandell oversees the academic enterprise and academic personnel at Suffolk University; she is focused on creating opportunities for students and faculty to excel academically and professionally. She works closely with the deans of the College of Arts & Sciences, the Law School, and the Sawyer Business School to shape and support an evolving student-centered experience that fosters engaged learning, rigorous scholarship, and innovative thinking. In her role as Suffolk's chief academic officer, her work helps to ensure that Suffolk's emphasis on experiential learning, career readiness, community engagement, and global perspectives are well integrated into the student experience and supported in ways that maximize student success. Much of her work supports the Suffolk 2025 Strategic Plan, including the University's investments in career education, professional development, and expansion of cross-disciplinary partnerships at the University. Additionally, Provost Sandell oversees many key departments and services, and her office coordinates the University's accreditation process.
Provost Sandell holds an AB in Psychology from Princeton University and a PhD in Neuroscience from the Massachusetts Institute of Technology. She came to Suffolk from Boston University, where she served as senior associate provost and a member of the BU School of Medicine faculty. As a faculty member, Sandell was awarded the BU School of Medicine's highest teaching award in 2001 and was nominated as one of that school's Educators of the Year eight times. She has published widely and has received more than $5 million in research funding as principal investigator or coinvestigator at BU. In her administrative role at BU, Sandell oversaw faculty recruitment, compensation, promotion and tenure, diversity initiatives, work/life balance, and more. She worked to develop and implement BU's first university-wide strategic plan, paving the way for one of her responsibilities at Suffolk: collaborating with colleagues to implement the University's 2025 strategic plan.
"Suffolk has a wonderfully aligned vision and mission that permeates the faculty, staff, and students. Suffolk has taken wonderful advantage of its unique location to craft a distinctive experience for students that's in concert with that mission. Suffolk is able to leverage its location in Boston to draw students to the University during a very formative period of their lives—and then send them out to change the world with that Boston experience at their core."
Julie H. Sandell, PhD
Senior Vice President for Academic Affairs and Provost
Learn more about Provost Sandell