Located in Spain's capital city, the Suffolk University Madrid Campus offers outstanding American academics within a breathtaking European backdrop. Our diverse international student body comprises about 150 students from all over the world, many spending their semester abroad.
The program's intimate size, distinguished faculty, and student-centered philosophy ensure each individual receives the right guidance and support toward their academic goals as they study abroad in Spain. Suffolk students are also invited to partake in courses, athletics, and extracurriculars at neighboring Universidad CEU San Pablo, one of Spain's top private institutions.
Study in Spain
An Unbeatable Location
Located in a modern brick building at the intersection of Avenida del Valle and Isaac Peral – a quiet residential neighborhood – the Suffolk University Madrid campus is just a five-minute walk from the Metro, and is easily accessible to the city center.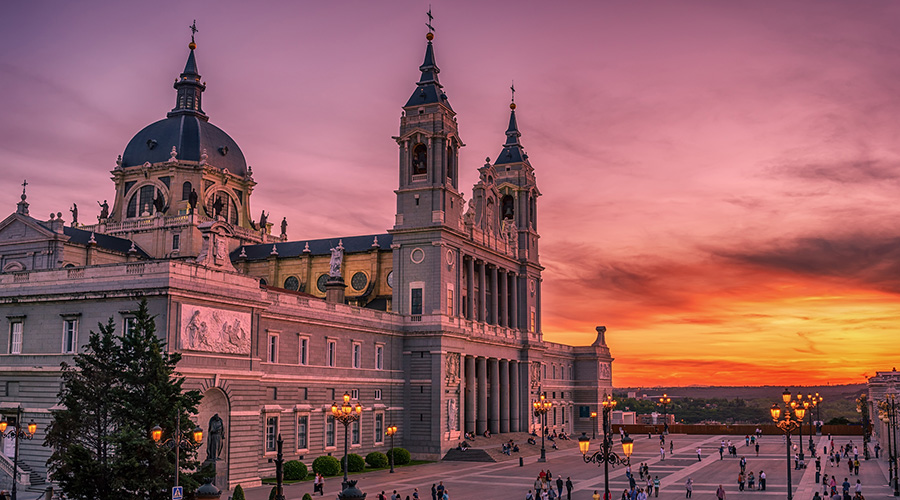 Speaking Your Language
While most classes are taught in English at the Suffolk Madrid campus, students have the opportunity to be immersed in the local language upon arrival. Our study abroad program also offers opportunities for those wishing to improve their English before continuing their education or career in the United States and abroad.
Old World Meets Modern Amenities
Our library features high-speed internet connections and access within the Suffolk study abroad campus to our extensive Boston library and databases.
Here for You
From the application process to greeting students at the airport to graduation, we provide academic, social, and cultural support in order to facilitate the best overall educational experience for program participants.
Maximize the Experience
Whether you're looking to travel abroad for a semester or spend more time in Madrid, we offer hands-on assistance to make the most of life in Spain, via housing arrangements, travel arrangements, suggestions of things to do in Spain – plus development of the intercultural communication skills that will serve as a lifelong benefit of living abroad.
Beyond the Classroom
Making friends from around the world is easy at Suffolk University Spain. Students can also mingle with locals at Universidad CEU San Pablo, where classes, extracurriculars and social gatherings are open to all Suffolk students. Participation in student government, theater, film and music programs are all part of our well-rounded college experience.
Life in Madrid
Download the video transcript [PDF]
What Do Students Say About Suffolk Madrid?
What do students say about Suffolk Madrid? Learn more about specific study abroad experiences and read about students who spend all four years in Spain.
What Our Students Say