Tom Biedermann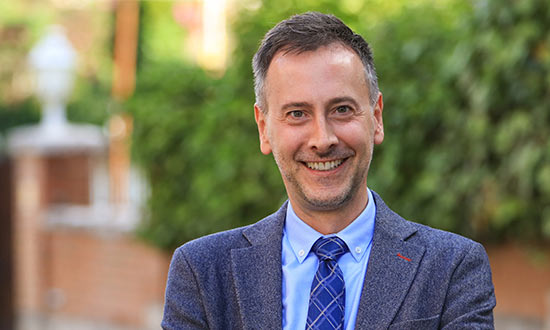 Associate Director, Madrid Campus
Pronouns: he/him
Additional Language(s) Spoken: Spanish
Counselor Assignment
Western Europe and Africa
Please email to schedule an appointment that will work for your time zone.
Hometown
Ankeny, Iowa
Favorite Book(s)
The Signature of All Things by Elizabeth Gilbert
Most Underrated Movie
The Prestige
Why Madrid?
Suffolk's branch in Spain offers students a unique opportunity to start their university studies abroad. All the coursework is equivalent to what students study in Boston: classes in English, fully-accredited American university program—with the added advantage of cultural and linguistic immersion to broaden horizons and get a global perspective. Madrid is an exciting capital city, and since there are no classes on Fridays, students can explore other parts of Spain and spend weekends traveling around Europe, too.
Favorite Food(s)
I live in Spain—so everything from traditional paella and Spanish omelet to new fusion.
Advice to Applicants
Read your email and keep in touch. Most of our communication is by email, so be sure to check on the status of your application and sign up to attend our showcase events to take a tour and talk to current students.