The Power of Inclusive Academics
Issues of diversity, equity, and inclusion don't stop at the edge of campus—they continue to evolve in social, political, economic, and other contexts across our country and the world. That's why Suffolk students engage these questions in myriad ways throughout our curricula.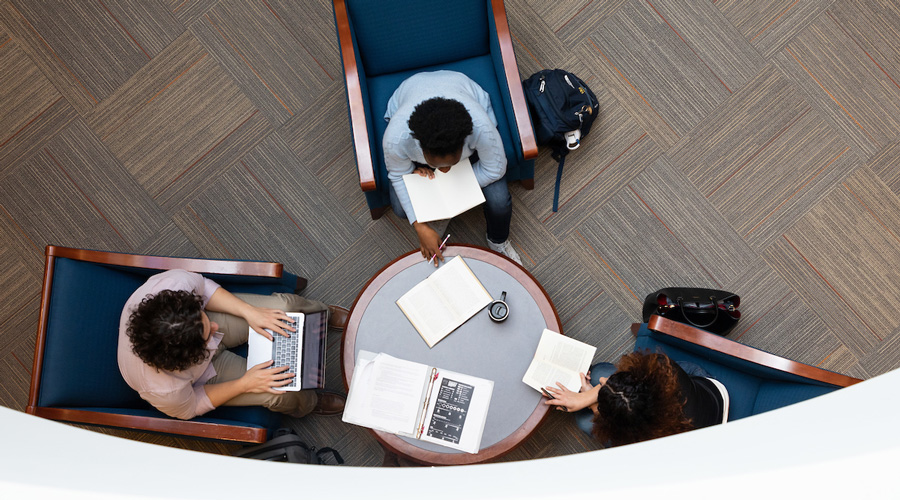 The academic work our students do lays the foundation for meaningful change in the world. By viewing their majors and areas of study through a more inclusive lens, and questioning long-held assumptions about them, they are able to transform their studies in ways that benefit a wider range of people.
Business students learn not only how to manage workplaces, but how to make them more equitable and welcoming to employees of all identities.
Government students learn not only political science, but how to engage diverse constituencies and craft public policy that benefits all.
Psychology students learn not only cognition and personality development, but how to build resiliency in minority and immigrant communities facing racist speech and acts.
Law students learn not only the intricacies of statutory and case law, but how to use them to combat housing discrimination and overturn wrongful convictions.
Undergraduate students choose to pair these and other areas of study with interdisciplinary programs like Black Studies, Asian Studies, Women's Studies, and Global Cultural Studies.
Suffolk students, across areas of study, are preparing for life and work in a world that is both increasingly interconnected and increasingly diverse. We invite you to learn more about how we're adapting our academic programs to make sure they're successful.
Faculty and Teaching
Students learn best when they feel respected and when they can share their perspectives openly. That's why Suffolk faculty are continuously reassessing and updating curricula to increase representation in their course design and content, as well as equity in the classroom experience. Assisting them in these efforts are:
Equity in the Curriculum Series
All students and faculty members benefit from an equitable approach to curriculum design, not just students and instructors of color. Suffolk continuously updates curricula by creating a repository of diversity and inclusion teaching materials and curriculum enhancements found on LinkedIn Learning that contains submissions from Suffolk faculty.
Throughout the year, workshops are delivered by instructors on best practices as the toolkit is updated with new resources over time. Log in to LinkedIn Learning and learn more about the Equity in the Curriculum Series.
Race on Campus
The Race on Campus Faculty Professional Learning Community (FPLC) is a cross-disciplinary group of faculty, staff, and administrators who meet throughout the academic year to share their experiences and learn from one another.
The Race on Campus group explores strategies and tools that can be used by faculty and staff to effectively engage Suffolk students in courageous discussions about race and the development of an anti-racist framework. Learn more about the Race on Campus FPLC or get involved.