Resources for Recent Graduates
Congratulations Graduates! We look forward to working with you as you enter the profession.
All graduates should be sure to review their Symplicity profile and update your personal information to include your preferred email address. If you are still seeking employment, update your academic information to designate desired practice areas, employer types and locations, update your privacy settings to receive job blasts, and create a job search agent to receive all new job postings for recent graduates.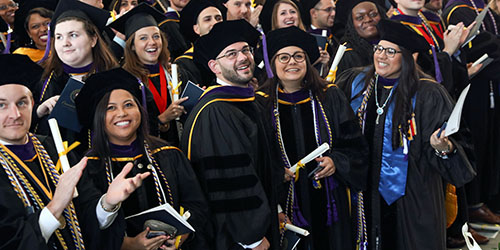 Graduate Job Search Guide
All graduates seeking employment should review and follow the steps set forth in PCD's Graduate Job Search Guide found in Symplicity's Document Library under the 'graduate job search' tag. This gives you step-by-step instruction on preparing your marketing tools, commanding job search resources, networking and gaining experience through part-time and pro bono opportunities.
Job Postings
We post new job opportunities on a regular basis. Check regularly for job postings for recent graduates. Contact PCD at (617) 573-8148 or by email if you need login information or assistance. Graduates also have access to CareerShift to mine the web for additional job opportunities.
Temporary employment can often be an excellent opportunity to gain experience in different areas of law and industries on a short-term basis. Our Temporary Legal Employment handout found in Symplicity's Document Library under the 'graduate job search' tag gives more information about temporary legal work and contacts.
Pro Bono Opportunities for Experience
Volunteer opportunities are a great way to increase your experience and marketability. Visit the MassProBono website and contact our office for more information. You should also check the Volunteer Lawyers Project website.
Career Counseling
Graduates seeking employment should schedule an individual counseling session with a PCD advisor to create your strategic professional development plan. To schedule an in-person or phone appointment, logon to Symplicity and click on the "Request An Appointment" link in the shortcuts menu.
Programming
Please check back soon.
Networking
Join local bar associations to gain access to their professional development resources and excellent networking opportunities.
Westlaw Access
As part of a new 3-year contract with Thomson Reuters, recent Suffolk Law graduates now have 18 months of free Westlaw access.* For May 2018 graduates, access runs through November 2019. Alumni can extend their Westlaw access at any time up until November 2018 by logging into their Westlaw accounts using the same username and password they used as students.
Alumni can use Westlaw up to 60 hours per month during this period, and there's no limit on what they use it for, including paid work. They can access everything they could as students plus some new resources that were added as part of the new contract. Some of these new resources could be especially useful to attorneys who are working alone or in small firms, like Practical Law Connect, Doc & Form Builder, Drafting Assistant, and West LegalEdcenter.
*Subject to change.