Master of Science in Finance (MSF)
Suffolk's downtown Boston campus is near the heart of the Financial District—you can get your MSF just steps away from where you're working. Our STEM-designated MSF program helps you build your knowledge of finance, broadens your internship and career opportunities, and provides access to an extensive professional network during and after your time at Suffolk.
■
Full-Time
in as few as 9 months
⬓
Part-Time
in as few as 21 months
*Non-business majors, or business majors who did not earn a B or better in certain courses in the last 7 years, may need to complete up to another 4.5 credits.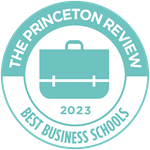 While earning your MSF at Suffolk, you'll:
Learn from industry experts who are each a mix of practitioners and accomplished scholars
Study from a curriculum that aligns with professional practice and is guided by the cutting-edge industry trends identified by our Young Alumni Advisory Board
Benefit from academic partnerships with the CFA Institute and the Global Association of Risk Professionals (GARP)
Get excellent preparation for both the CFA Exam and FRM Exam
Tailor your degree to one of five concentration areas—like Corporate Finance, Financial Services & Banking, FinTech, Investments, or Risk Management—that help you to develop your analytical skills and build your specialty experience
Suffolk's MSF is built on practical coursework that simulates the financial conditions of today—and tomorrow. Suffolk is the ideal downtown training ground for future finance leaders like you.
MSF Program Overview
Suffolk's Master's in Finance
Suffolk's MSF degree gives you a high-level understanding of corporate finance, portfolio management, investment banking, and international finance, among other topics. You can earn your MSF degree in as few as nine months through a customized track that lets you focus on career-relevant curriculum.
Our STEM-designated program is affiliated with the CFA Institute and the Global Association of Risk Professionals (GARP) to provide the highest level of practice-driven insight to ensure that students are prepared for the demands of the global financial industry.